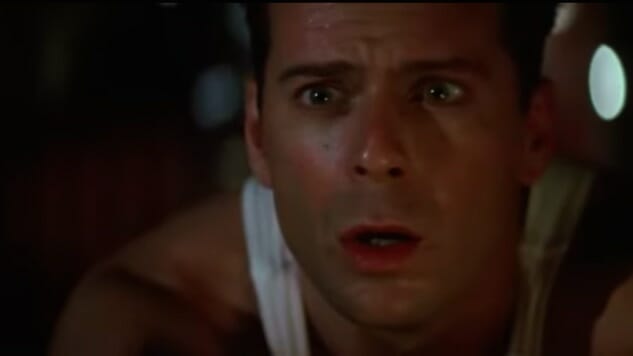 The National Film Registry has announced its annual list of 25 films to be preserved in the Library of Congress, and it's got a few blockbuster smash hits to go along with the important historical artifacts.
The National Film Registry selects film it deems "culturally, historically or aesthetically significant" to be preserved in the library for future generations. This year included things like the Fuentes family home movies collection, which is some of the first footage of a Mexican-American community in Texas, according to THR. Other films included for their academic value are footage from 1905 showing a train running through the New York subway and a documentary shot during the Spanish Civil War.
Alongside those chosen for their historical value are smash box office hit films like Die Hard, Titanic, Dumbo, Superman, Field of Dreams and The Goonies. Christopher Nolan's backwards-in-time thriller Memento will be preserved, as well as Stanley Kubrick's Spartacus, famous for helping to break the Hollywood blacklist during the Red Scare.
Spartacus isn't the only film preserved because of its cultural importance—there's also Guess Who's Coming to Dinner, a groundbreaking film that showed an elderly white couple (Spencer Tracy and Katharine Hepburn) coming to terms with their daughter marrying a black doctor played by Sidney Poitier, and La Bamba, the 1987 Ritchie Valens biopic.
You can find a complete list of this year's films below.
Ace in the Hole (aka Big Carnival) (1951)
Boulevard Nights (1979)
Die Hard (1988)
Dumbo (1941)
Field of Dreams (1989)
4 Little Girls (1997)
Fuentes Family Home Movies Collection (1920s and 1930s)
Gentleman's Agreement (1947)
The Goonies (1985)
Guess Who's Coming to Dinner (1967)
He Who Gets Slapped (1924)
Interior New York Subway, 14th Street to 42nd Street (1905)
La Bamba (1987)
Lives of Performers (1972)
Memento (2000)
Only Angels Have Wings (1939)
The Sinking of the Lusitania (1918)
Spartacus (1960)
Superman (1978)
Thelonious Monk: Straight, No Chaser (1988)
Time and Dreams (1976)
Titanic (1997)
To Sleep with Anger (1990)
Wanda (1971)
With the Abraham Lincoln Brigade in Spain (1937-1938)