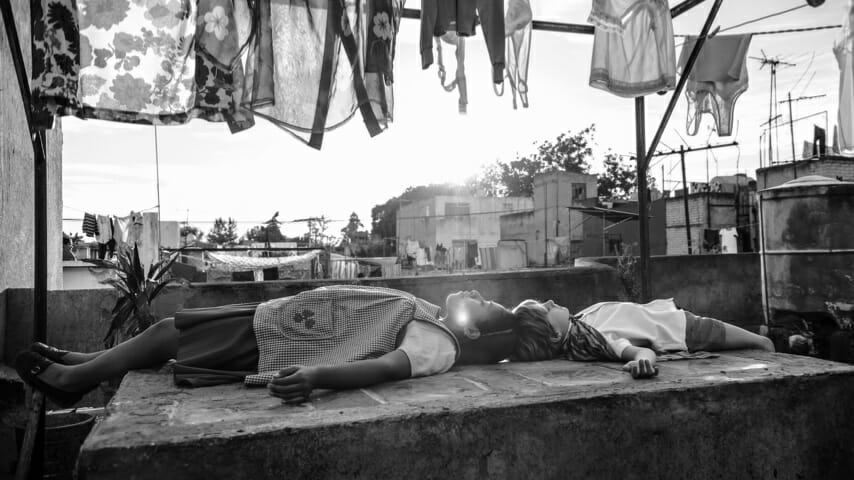 Movies have the wonderful ability to shift perception and help you to see and understand the other. Nowhere is this more apparent than in foreign-language films. For a century, cinema has helped us glimpse life in countries where we may never set foot. While Hollywood still dominates the box office, art houses and services like Netflix have given us easy access to films from around the globe. We scoured Netflix's international movie offerings for our favorites. The list includes movies from a dozen different languages from a dozen or more different countries—from traditional cinema powerhouses like France, Italy and Japan to more recent centers of creativity like South Korea, Brazil and even the former Soviet Republic of Georgia.
Here are the 30 Best Foreign-Language Movies on Netflix:
---
1. Pan's Labyrinth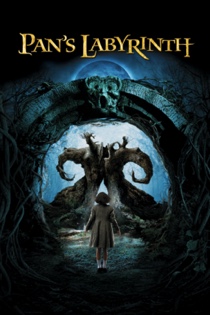 Year: 2006
Director: Guillermo del Toro
Stars: Ivana Baquero, Sergí Lopez, Maribel Verdu, Alex Angulo, Doug Jones
Genre: Horror, Fantasy
Language: Spanish
Rotten Tomatoes Score: 95%
Rating: R
Runtime: 115 minutes
One of the most imaginative films of the 21st century, Guillermo del Toro's Spanish fable is a triumph of storytelling and nothing short of a work of art. Simultaneously a war saga and a fairy tale, it traces the journey of a young girl and her scavenger hunt through another world to save her mother's life, set in the midst of the Spanish civil war. Pan's Labyrinth oozes atmosphere with its stunning cinematography and production values, all guided by del Toro's keen artistic vision. With this out-and-out masterpiece, del Toro cemented his position as one of this generation's most exciting and talented visionaries. —Jeremy Medina
---
2. Roma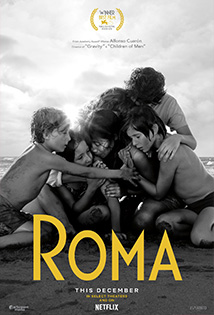 Director: Alfonso Cuarón
Stars: Yalitza Aparicio, Marina de Tavira, Diego Cortina Autrey, Carlos Peralta
Genre: Drama
Language: Spanish, Mixtec
Rotten Tomatoes Score: 95%
Rating: R
Runtime: 135 minutes
Alfonso Cuarón's most intimate film is also his most distancing. The camera sits back, black-and-white, focused not on the bourgeois children that represent the cinematographer-writer-director and his siblings growing up in Mexico City several decades ago, but moreso on the indigenous woman (Yalitza Aparicio) that cares for them and the household. Not even entirely focused on her, perhaps more focused on its classicist compositions of a place that no longer exists in the way Cuarón remembers it. The camera gazes and moves in trans-plane sequencing, giving us foreground, mid-ground and background elements in stark digital clarity. The sound mix is Dolby Atmos and enveloping. But the base aesthetic and narrative is Fellini, or long-lost Mexican neorealism, or Tati's Playtime but with sight gags replaced by social concern and personal reverie. Reserved and immersive, introspective and outward-looking, old and new—some have accused Roma of being too calculated in what it tries to do, the balancing act it tries to pull off. Perhaps they're not wrong, but it is to Cuarón's immense credit as a thoughtful technician and storyteller that he does, in fact, pull it off. The result is a singular film experience, one that recreates something that was lost and then navigates it in such a way as to find the emergent story, then from that to find the emotional impact. So that when we come to that point late in Roma, we don't even realize the slow, organic process by which we've been invested fully into the film; we're not ready to be hit as hard as we are when the wallops come and the waves crash. It's almost unbearable, but we bear it because we care about these people we've become involved with. And such is life. —Chad Betz
---
3. Atlantics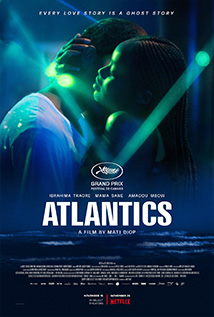 Year: 2019
Director: Mati Diop
Stars: Mame Bineta Sane, Amadou Mbow, Nicole Sougou, Aminate Kane
Genre: Drama, Romance
Language: Wolof, French
Rotten Tomatoes Score: 96%
Rating: NR
Runtime: 104 minutes
Atlantics is quite the announcement for writer-drector Mati Diop. She takes the magic realism of a peer like Alice Rohrwacher and carries it to the world's margins, examining class struggle in a Senegalese city by the Atlantic. Through the gritty, blustery opening images shot as artful document of the Dakar shore (outstanding work by cinematographer Claire Mathon) and the hypnotic electronic score by Fatima Al Qadiri, Diop is able to evoke an incomparable mood and sense of place. That it might look and sound so alien to an American watching this film on Netflix is perhaps a sharp enough indictment of the ways in which we intellectually seclude ourselves from realities beyond our own. Atlantics is about that and it's about the breaking of that. It's about the mystery of identity and how one can find identity by taking on the identity of something other, or can find it when looking in a mirror—not for the physical self but for the spirit. Congruously, it's also about losing the identities that are culturally prescribed, that we may have been born with, nurtured and/or limited by. Love, the film posits, is a catalyst; love helps reform identities in transgressive and transcendent ways. And the film is at its best when it avoids being programmatic, lets its visuals pulse before you. It is yet another sad ghost story amongst many, but where it differs is finely drawing the distinction that sometimes the things that haunt the living most are not the things that were but the things that should have been. The film's protagonist embraces that haunting as a form of hope; she loses something important and fills the hole by expanding her own self with the self that was touched by others. Though Atlantics feels elliptical in many ways, Diop has the bravery to end her film with a pretty resounding period. It's a statement, both for itself and for its creator, and it's a convincing one. —Chad Betz
---
4. Ip Man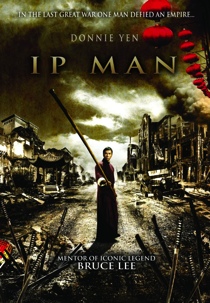 Year: 2008
Director: Wilson Yip
Stars: Donnie Yen, Lynn Hung, Dennis To, Syun-Wong Fen, Simon Yam, Gordon Lam
Genre: Martial Arts
Language: Cantonese
Rating: R
Runtime: 106 minutes
2008's Ip Man marked, finally, the moment when the truly excellent but never fairly regarded Donnie Yen came into his own, playing a loosely biographical version of the legendary grandmaster of Wing Chung and teacher of a number of future martial arts masters (one of whom was Bruce Lee). In Foshan (a city famous for martial arts in southern/central China), an unassuming practitioner of Wing Chung tries to weather the 1937 Japanese invasion and occupation of China peacefully, but is eventually forced into action. Limb-breaking, face-pulverizing action fills this semi-historical film, which succeeds gloriously both as compelling drama and martial arts fan-bait. —K. Alexander Smith
---
5. A Silent Voice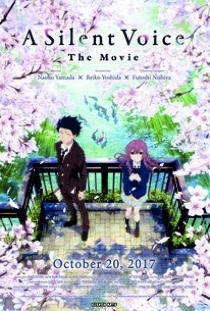 Year: 2016
Director: Naoko Yamada
Stars: Miyu Irino, Saori Hayami, Megumi Han
Genre: Animation, Drama
Language: Japanese
Rating: NR
Runtime: 129 minutes


In a medium that too often feels at times constricted by the primacy of masculine aesthetic sensibilities and saturated with hyper-sexualized portrayals of women colloquially coded as "fan service," Naoko Yamada's presence is a welcome breath of fresh air, to say nothing of the inimitable quality of her films themselves. Inspired by the likes of Yasujiro Ozu, Alejandro Jodorowsky, Sergei Parajanov, Sofia Coppola, and Lucile Hadžihalilovic, Yamada is a director par excellence, capable of arresting attention and evoking melancholy and bittersweet catharsis through delicate compositions of deft sound, swift editing, ephemeral color palettes, and characters with rich inner lives rife with knotty, relatable struggles. A Silent Voice, adapted from Yoshitoki Oima's manga of the same name, is a prime example of all these sensibilities at play. When Shoya Ishida meets Shoko Nishimiya, a deaf transfer student, in elementary school, he bullies her relentlessly to the amusement of his classmates. One day when Shoya goes too far, forcing Shoko to transfer again for fear of her own safety, he is branded a pariah by his peers and retreats into a state of self-imposed isolation and self-hatred. Years later, Shoya meets Shoko once again, now as teenagers, and attempts to make amends for the harm he inflicted on her, all while wrestling to understand his own motivations for doing so. A Silent Voice is a film of tremendous emotional depth—an affecting portrait of adolescent abuse, reconciliation and forgiveness for the harm perpetrated by others and ourselves. —Toussaint Egan
---
6. Happy as Lazzaro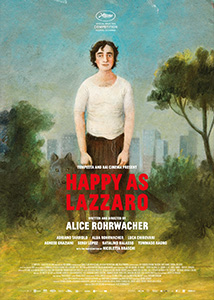 Year: 2018
Director: Alice Rohrwacher
Stars: Adriano Tardiolo, Alba Rohrwacher, Luca Chikovani
Genre: Drama
Language: Italian
Rating: PG-13
Runtime: 137 minutes
It's very difficult to get into too many details about Alice Rohrwacher's Happy as Lazzaro without spoiling it—which seems a ridiculous thing to say about a film that starts off as a rural Italian take on Dostoevsky's The Idiot, but you've got no idea until you're watching it. Rohrwacher's The Wonders was a more intimate, personal film that had moments of magic realism peeking through, just barely. Happy as Lazzaro similarly keeps the magic in check (though a scene with whispers in a field will start to invoke Fellini) until it no longer can—and then the magic explodes, blowing up the narrative and sending what's left in an insanely bold direction. We can only be applaud its daring. If Dostoevsky was re-framing the Christ narrative, Happy as Lazzaro re-frames the very idea of a Christ narrative until it is something else entirely. Here, Christ is a mythic wolf and our kind idiot Lazzaro (Adriano Tardiolo) is a touched Lazarus; the difference between them is a matter of substance, time and place. Lazzaro's goodness, like all earthly goodness, is simultaneously transcendent and doomed, but the wolf continues on beyond any mortal coil, against the flow of humanity. Lazzaro tries to follow, perhaps foolishly, perhaps blindly…but happily, nonetheless. —Chad Betz
---
7. The Grandmaster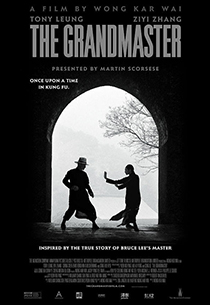 Year: 2013
Director: Wong Kar Wai
Stars: Tony Leung, Ziyi Zhang, Chen Chang, Cung Le, Hye-Kyo Song
Genre: Martial Arts, Drama
Languages: Mandarin, Cantonese, Japanese
Rating: PG-13
Runtime: 130 minutes


Wong Kar Wai will indefatigably make anything elegant, and so it's a given that The Grandmaster is a gorgeously paced historical epic told in patient piecemeal. A loose chronicle of the nascent legend of Yip Man, the film skirts the line between noir-ish tragedy and chiaroscuro thriller, rarely leaving room to discern the difference. From an opening set-piece that will leave you wondering why any other director since would ever bother capturing rain droplets in slo-motion, to one masterfully orchestrated balsa-wood-tower of martial arts prowess after another, there is little left to say about Wong's directing other than hyperbole: This is heartfelt and beautiful action filmmaking, but never so far removed from the savagery of the action at hand that it romanticizes the pummeling of so many hapless foes. There are penalties to these punches and consequences to these kicks—there should be little doubt that The Grandmaster is not just a masterpiece of its genre but one of Wong's best. —Dom Sinacola
---
8. Under the Shadow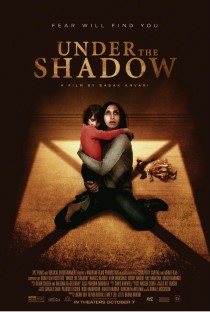 Year: 2016
Director: Babak Anvari
Stars: Narges Rashidi, Avin Manshadi, Bobby Naderi, Ray Haratian, Arash Marandi
Genre: Horror
Language: Persian
Rating: PG-13
Runtime: 84 minutes


For most of the film, Babak Anvari is crafting a stifling period drama, a horror movie of a different sort that tangibly conveys the claustrophobia of Iran during its tumultuous post-revolution period. Anvari, himself of a family that eventually fled the Ayatollah's rule, has made Under the Shadow as statement of rebellion and tribute to his own mother. It's a distinctly feminist film: Shideh (Narges Rashidi) is cast as the tough heroine fighting back against greater hostile forces—a horror movie archetype that takes on even more potency in this setting. Seeing Shideh defy the Khomeini regime by watching a Jane Fonda workout video, banned by the state, is almost as stirring as seeing her overcome her personal demons by protecting her child from a more literal one. —Brogan Morris
---
9. Taare Zameen Par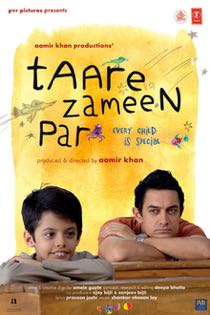 Year: 2007
Director: Aamir Khan
Stars: Darsheel Safary, Aamir Khan, Tisca Chopra
Genre: Drama
Language: Hindi
Rating: PG
Runtime: 162 minutes
A reliable tearjerker, Taare Zameen Par shows us the power of love and acceptance through the relationship of an eight-year-old child with dyslexia and his compassionate teacher, the only adult who is able to pin down his disability. Traditional Indian educational systems are notoriously unsympathetic to mental and learning disabilities; that this film tackled the subject caused a groundswell of positive conversation during its release in 2007. It's one of the most beautiful films of this century, and is unconventional as far as Bollywood goes—there's noted realism to the story and virtually no song-and-dance numbers—but taps into the heart of cinema: love conquers all, and love can save us, too. —Radhika Menon
---
10. Shadow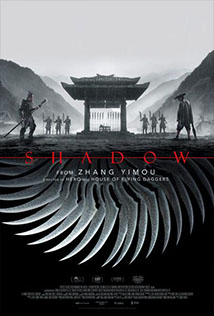 Year: 2018
Director: Zhang Yimou
Stars: Chao Deng, Sun Li, Ryan Zheng, Qianyuan Wang, Xiaotong Guan, Wang Jingchung
Genre: Martial Arts, Action & Adventure, Fantasy
Language: Mandarin
Rating: NR
Runtime: 115 minutes
Zhang Yimou's latest is Shadow, a wuxia film based on the Chinese "Three Kingdoms" legend. Where Yimou's recent filmography either favors substance over dazzle (Coming Home) or dazzle over substance (The Great Wall), Shadow does what the best of his movies do by sewing them together into one seamless package. As in Hero, as in House of Flying Daggers, the anti-gravity fight scenes are stunning to behold, but those movies put performance and action on the same plane, and Shadow deliberately separates them with a gorgeous monochrome palette, backgrounded by gray scale that lets the actors, and the copious amount of blood they spill throughout, hold its forefront. Here, in this tale of palace intrigue, Commander Yu (Deng Chao) employs a double to act in his stead (also Deng Chao)—his shadow, if you will—to seize control of a city of strategic value from invading forces against orders from his king (Zheng Kai). The film twists and turns, but through Zhang's devoted stylization, the intricacies never overwhelm. Instead, the stylization does. —Andy Crump
---
11. My Happy Family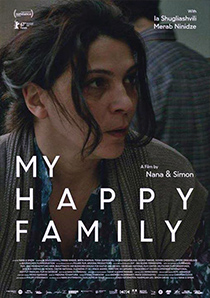 Year: 2017
Directors: Nana Ekvtimishvili, Simon Groß
Stars: Ia Shugliashvili, Merab Ninidze, Berta Khapava
Language: Georgian
Genre: Drama
Rating: NR
Runtime: 119 minutes
It's a shame Netflix felt like Nana Ekvtimishvili and Simon Groß's My Happy Family deserved a burial, that the company didn't bother pushing the film for awards season and neglected to give it a boost in visibility for the average consumer. Because Ekvtimishvili and Groß's latest collaboration in a long line of collaborations is superb, timely and altogether unexpected in its unwavering grace. Compared to the year's other films centered on dysfunctional families, whether hammy (I, Tonya) or naturalist (Lady Bird), My Happy Family is a gentle tribute to dignity: Manana (Ia Shugliashvili) is never less than noble in her constant dedication to her family, even as she determines that to preserve her sanity she must move out of the apartment she shares with them and lay down roots in a pad of her own. My Happy Family doesn't judge Manana—it validates her. It illustrates a woman's liberation from social and familial expectations, allowing Manana to discover who she is, what she wants and where she's going without looking down on her. But My Happy Family is a small film with grand artistic ambitions, and both Ekvtimishvili and Groß know that Manana's bliss has its limit. They know that eventually the matters of her husband and children, plus their extended family, must be reconciled. Still, My Happy Family shows a benevolent kind of restraint by ending on a note of uncertainty, sparing us the lion's share of that work, its ultimate lingering ambiguity a thing of honorable beauty. —Andy Crump
---
12. Lupin III: The Castle of Cagliostro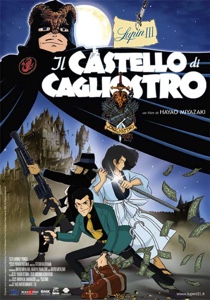 Year: 1979
Director: Hayao Miyazaki
Stars: Yasuo Yamada, Eiko Masuyama, Kiyoshi Kobayashi, Makio Inoue, Goro Naya
Genre: Animation, Acton & Adventure
Language: Japanese
Rating: NR
Runtime: 100 minutes
The nature of Miyazaki's oeuvre is such that it brims with an embarrassment of riches, each film in its own part situated indelibly into the continuum that is the anime canon. His films garner so much acclaim for their visual storytelling and emotional virtuosity that even those few that could be considered his "worst" movies still rank leagues above those animators who only aspire to his status. Case in point: Lupin III: The Castle of Cagliostro. Miyazaki's take on Kazuhiko Kato's notorious master criminal is at once a rip-roaring heist film with heart and what might arguably be Miyazaki's lesser films. Chalk it up to Miyazaki's nascent efforts as a director; Castle of Cagliostro suffers from a plodding middle half and a disappointingly simplistic antagonist while still somehow managing to sparkle with his signature charm peeking through the baggage of a preexisting work. Fans of the series passionately criticized the film for relieving Lupin of his anarchic predilections and instead casting him in the mold of a true gentleman thief, stealing only when his nebulous sense of honor permits it. In any case, The Castle of Cagliostro remains an important and essential artifact of Miyazaki's proto-Ghibli work. A flawed Miyazaki film is a triumph all the same. —Toussaint Egan
---
13. Lagaan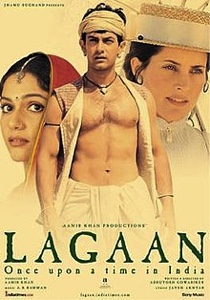 Year: 2001
Director: Ashutosh Gowariker
Stars: Aamir Khan, Gracy Singh, Rachel Shelley, Paul Blackthorne, Kulbhushan Kharbanda
Genre: Bollywood, Comedy
Language: Hindi
Rating: PG
Runtime: 225 minutes
For newcomers, Lagaan may be one of the most easy entryways into Bollywood. (The film famously received India's third-ever Academy Award nomination in 2001.) Rooted in a rich entanglement of high-stakes sports gaming and forbidden romance, Lagaan is an epic drama based in colonial India, the story of a group of Indian villagers who challenge their British colonizers to a game of cricket in exchange for the removal of their increasingly burdensome taxes. We get recruiting and training montages, conflict amongst teammates, an intercultural flirtation and a bangin' soundtrack from the legend A.R. Rahman. Lagaan has been rightfully hailed as one of India's most entertaining and thoughtful productions, and it seems to only get better with age. —Radhika Menon
---
14. The Night Comes for Us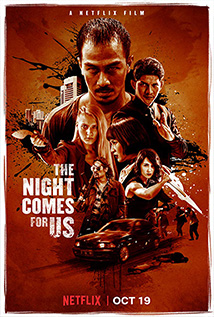 Year: 2018
Director: Timo Tjahjanto
Stars: Joe Taslim, Iko Uwais, Julie Estelle, Sonny Pang
Genre: Martial Arts, Thriller
Language: Indonesian, English, Mandarin, Cantonese, French
Rating: NR
Runtime: 121 minutes
While Gareth Evans confounded fans of The Raid movies by giving them a British folk horror film (but a darn good one) this year, Timo Tjahjanto's The Night Comes for Us scratches that Indonesian ultra-violent action itch. Furiously. Then stabs a shard of cow femur through it. Come for the violence, The Night Comes for Us bids you—and, also, stay for the violence. Finally, leave because of the violence. If that sounds grueling, don't worry, it is. You could say it's part of the point, but that might be projecting good intentions on a film that seems to care little for what's paving the highway to hell. It's got pedal to metal and headed right down the gullet of the abyss. It's also got the best choreographed and constructed combat sequences of the year, and plenty of them, and they actually get better as the film goes along. There's a scene where Joe Taslim's anti-hero protagonist takes on a team inside a van, the film using the confines to compress the bone-crushing, like an action compactor. Other scenes are expansive in their controlled chaos and cartoonish blood-letting, like Streets of Rage levels, come to all-too-vivid life: the butcher shop level, the car garage level and a really cool later level where you play as a dope alternate character and take on a deadly sub-boss duo who have specialized weapons and styles and—no, seriously, this movie is a videogame. You'll forget you weren't playing it, so intensely will you feel a part of its brutality and so tapped out you'll feel once you beat the final boss, who happens to be The Raid-star Iko Uwais with a box-cutter. It's exceptionally painful and it goes on forever. Despite a storyline that's basically just an excuse for emotional involvement (Taslim's character is trying to protect a cute little girl from the Triad and has a lost-brotherhood bit with Uwais's character) and, more than that, an easy way to set up action scenes on top of action scenes, there's something about the conclusion of The Night Comes For Us that still strikes some sort of nerve of pathos, despite being mostly unearned in any traditional dramatic sense. Take it as a testament to the raw power of the visceral: A certain breed of cinematic action—as if by laws of physics—demands a reaction. —Chad Betz
---
15. Okja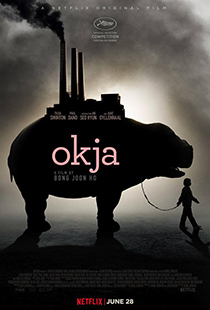 Year: 2017
Director: Bong Joon-ho
Stars: Tilda Swinton, Paul Dano, An Seo Hyun, Byun Heebong, Steven Yeun, Lily Collins, Yoon Je Moon, Shirley Henderson, Daniel Henshall, Devon Bostick, Woo Shik Choi, Giancarlo Esposito, Jake Gyllenhaal
Genre: Action, Adventure, Drama
Language: Korean, English
Rating: NR
Runtime: 118 minutes
Okja takes more creative risks in its first five minutes than most films take over their entire span, and it doesn't let up from there. What appears to be a sticking point for some critics and audiences, particularly Western ones, is the seemingly erratic tone, from sentiment to suspense to giddy action to whimsy to horror to whatever it is Jake Gyllenhaal is doing. But this is part and parcel with what makes Bong Joon-ho movies, well, Bong Joon-ho movies: They're nuanced and complex, but they aren't exactly subtle or restrained. They have attention to detail, but they are not delicate in their handling. They have multiple intentions, and they bring those intentions together to jam. They are imaginative works that craft momentum through part-counterpart alternations, and Okja is perhaps the finest example yet of the wild pendulum swing of a Bong film's rhythmic tonality. Okja is also not a film about veganism, but it is a film that asks how we can find integrity and, above all, how we can act humanely towards other creatures, humans included. The answers Okja reaches are simple and vital, and without really speaking them it helps you hear those answers for yourself because it has asked all the right questions, and it has asked them in a way that is intensely engaging. —Chad Betz
---
16. Mirai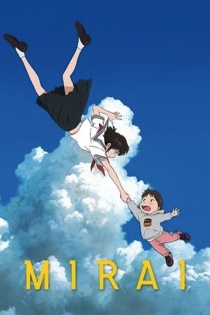 Year: 2018
Director: Mamoru Hosoda
Stars: Haru Kuroki, Moka Kamishiraishi, Gen Hoshino
Genre: Anime
Language: Japanese
Rating: PG
Runtime: 98 minutes
Most, if not all, of Mamoru Hosoda's original films produced in the past decade function, to some degree or another, as exercises in autobiography. Summer War, apart from a premise more or less recycled from Hosoda's 2000 directorial debut Digimon Adventure: Our War Game!, was the many-times-removed story of Hosoda meeting his wife's family for the first time. 2012's Wolf Children was inspired by the passing of Hosoda's mother, animated in part by the anxieties and aspirations at the prospect of his own impending parenthood. 2015's The Boy and the Beast was completed just after the birth of Hosoda's first child, the product of his own questions as to what role a father should play in the life of his son. Mirai, the director's seventh film, is not from Hosoda's own experience, but filtered through the experiences of his first-born son meeting his baby sibling for the first time. Told care of the perspective of Kun (Moka Kamishiraishi), a toddler who feels displaced and insecure in the wake of his sister Mirai's birth, Mirai is a beautiful adventure fantasy drama that whisks the viewer on a dazzling odyssey across Kun's entire family tree, culminating in a poignant conclusion that emphasizes the beauty of what it means to love and to be loved. Mirai is Hosoda's most accomplished film, the recipient of the first Academy Award nomination for an anime film not produced by Studio Ghibli, and an experience as edifying as it is a joy to behold. —Toussaint Egan
---
17. Blame!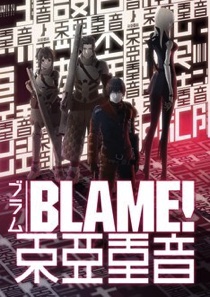 Year: 2017
Director: Hiroyuki Seshita
Stars: Sora Amamiya, Kana Hanazawa, Takahiro Sakurai
Genre: Anime
Language: Japanese
Rating: TV-14
Runtime: 105 minutes


When it comes to dark industrial sci-fi, Tsutomu Nihei is a visionary. Trained as an architect before pursuing a career as a manga author, Nihei's art is simultaneously sparse and labyrinthine, his body of work defined by a unifying obsession with invented spaces. Byzantine factories with gothic accents spanning across impossible chasms, populated by bow-legged synthoids and ghoulish predators touting serrated bone-swords and pulsating gristle-guns. His first and most famous series, Blame!, is considered the key text in Nihei's aesthetic legacy, going so far as to inspire everything from videogames, to music, and even art and fashion. Past attempts have been made to adapt the series into an anime, though none have been able to materialize successfully. That is, until now. With the support of Netflix, Hiroyuki Seshita of Polygon Pictures has delivered that long-awaited Blame! film. Set on a far-future Earth consumed by a massive, self-replicating superstructure known as 'The City', Blame! follows Killy, a taciturn loner, wandering the layers of the planet in search of a human possessing the 'net terminal gene,' an elusive trait thought to be the only means of halting the city's perpetual hostile expansion. Boasting a screenplay penned by Sadayuki Murai, famed for his writing on such series as Cowboy Bebop and Satoshi Kon's Perfect Blue, and supervised by Nihei himself, Seshita's film abbreviates much of the manga's early chapters and streamlines the story into an altogether more narrative and action-driven affair. Art director Hiroshi Takiguchi deftly replicates Nihei's distinctive aesthetic, achieving in color what was before only monochromatic, while Yuki Moriyama capably improves on the uniform character designs of the original, imparting its casts with distinct, easily identifiable traits and silhouettes that greatly improve the story's parsability. Blame! is as faithful an adaptation as is possible and as fitting an introduction to the series as the manga itself. Blame! builds a strong case for being not only one of the most conceptually entertaining anime films of late, but also for being one of, if not the best original anime film to grace Netflix in a long time. —Toussaint Egan
---
18. Queen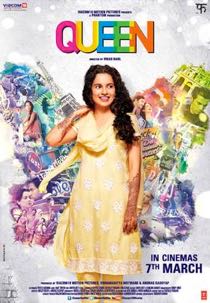 Year: 2013
Director: Vikas Bahl
Stars: Kangana Ranaut, Rajkummar Rao, Lisa Haydon
Genre: Comedy, Drama
Language: Hindi
Rating: TV-MA
Runtime: 137 minutes
Sometimes, the worst day of your life can turn into the greatest opportunity. Rani (Kangana Ranaut) is blindsided when her fiance ditches her the day before their wedding, citing her conservatism as an incompatibility in their relationship. Shocked, Rani decides to set out on their European honeymoon by herself. While galavanting in Paris and Amsterdam, Rani meets people from all walks of life, and learns who she is and what she wants. Queen is a powerful piece of feminist art that stands for women's independence and self-sufficiency, and proves that a little push into the unknown can wind up being the greatest boon. —Radhika Menon
---
19. The Square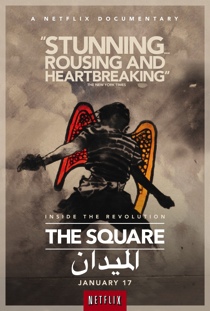 Year: 2013
Director: Jehane Noujaim
Genre: Documentary
Language: Egyptian Arabic
Rating: NR
Runtime: 104 minutes
Bringing calm insight to an impassioned, still-developing historic event, The Square looks at the 2011 Egyptian Revolution from the perspective of those who were on the frontlines from the very beginning, personalizing the dramatic developments without losing a sense of greater stakes. Director Jehane Noujaim, who previously helmed Control Room and co-directed Startup.com, has delivered a snapshot of a grassroots political movement over its bumpy two-year history, embracing the emotional complexity and logistical obstacles that have made Egyptians' road to democracy so difficult. Using no voiceover narration and only a handful of intertitles that inform the viewer about the exact time period of events, The Square seeks to create an urgent, immediate experience that tells its story through the reactions of its main participants. In the West, the scenes of peaceful, joyous protest at Tahrir Square were warmly greeted as hopeful signs of a new Middle East. The Square doesn't throw cold water on those hopes as much as it meticulously demonstrates that systemic change does not come easily. That's why you care so deeply about the people you see in this movie—it's not that their quest is easy but that it's so very hard. —Tim Grierson
---
20. He Even Has Your Eyes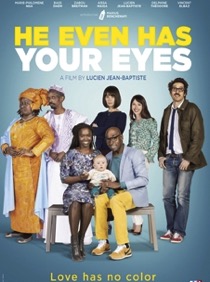 Year: 2017
Director: Lucien Jean-Baptiste
Stars: Lucien Jean-Baptiste, Aïssa Maïga, Zabou Breitman
Genre: Comedy
Language: French
Rating: TV-MA
Runtime: 94 minutes
Few films have been able to capture the inherent absurdity at the core of racism, but He Even Has Your Eyes achieves just this, all while providing an entertaining look at young coupledom and those early, terrifying stages of motherhood. From director Lucien Jean-Baptiste (who co-stars in the movie), the French-language comedy centers on a young black couple in Paris who decide to adopt a blue-eyed, blonde-haired, very white baby boy. Transracial adoption has been an acceptable aspect of society for so long, and it's fascinating how, well, absurd things get when the adoptive parents are not white. Jean-Baptiste plays Paul Aloka, but the film is carried by Aïssa Maïga's performance as his wife, Salimata. Both must navigate a meddling, racist adoption agent and the shock, awe and disappointment of their family members as they venture into parenthood for the first time—and yet, somehow the film never feels heavy or depressing, despite the seriousness of the topics. Unlike many other similar works concerned with race and racism, He Even Has Your Eyes is written in a way that doesn't attempt to overly explain the black characters' perspective, or (thank heavens) center any of the white characters either. Some of the cultural humor specific to Sali's Senegalese family will only be funny to those of us who grew up in fear of our mothers hearing us suck our teeth. But like all stories concerned with a specific narrative and spoken with a distinctive voice, the film has a universal quality that makes it a heartwarming delight from beginning to end. —Shannon M. Houston
---
21. Lu Over the Wall
Year: 2018
Director: Masaaki Yuasa
Stars: Kanon Tani, Shota Shimoda, Christine Marie Cabanos, Michael Sinterniklaas, Stephanie Sheh
Genre: Animated, Comedy, Kids & Family, Fantasy
Language: Japanese
Runtime: 107 minutes


Distributor GKids sells Lu Over the Wall as "family friendly," which it is, an innocuous, offbeat alternative to the conventional computer animated joints typically found in modern multiplexes. But there's "whimsical" and there's "weird," and Lu Over the Wall ventures well past the former and into the latter before director Masaaki Yuasa gets through the opening credits. Barely a moment goes by where we come close to touching base with reality: Even its most human beats, those precious hints of relatable qualities that encourage our empathy, are elongated, distorted, rendered nigh unrecognizable by exaggeration. Lu Over the Wall isn't a movie that takes itself seriously, and for the average moviegoer, that's very much a trait worth embracing. The plot is both simple and not: Teenager Kai (voiced by Michael Sinterniklaas in the English dub), recently relocated from Tokyo to the quiet fishing village of Hinashi, spends his days doing what most teenage boys do, sullenly hunkering down in his room and shutting out the world. As Kai struggles with his self-imposed isolation, he befriends Lu (Christine Marie Cabanos), a manic pixie dream mermaid wrought in miniature. What's a solitary emo boy to do in a literal and figurative fish-out-of-water plot that's buttressed by xenophobic overtones? Lu Over the Wall blends joy with political allegory with vibrant color palettes with storytelling magic, plus some actual magic, plus too many upbeat musical interludes to count. Describing the film merely as "creative" feels like an insult to its inspired madness. —Andy Crump
---
22. Ravenous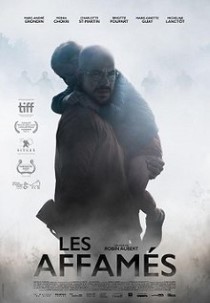 Year: 2017
Director: Robin Aubert
Stars: Marc-André Grondin, Monia Chokri, Brigitte Poupart, Luc Proulx, Charlotte St-Martin
Genre: Horror
Language: French
Rating: NR
Runtime: 96 minutes


Genre geeks didn't seem to take a lot of notice of Ravenous, beyond its Best Canadian Film award at the Toronto International Film Festival—perhaps the result of an "indie zombie drama" subgenre that seems to have run its course through films such as The Battery, and perhaps because it's performed in French rather than English. Regardless, this is a competently crafted little drama thriller for the zombie completist, full of excellent performances from no-name actors and an intriguing take on the results of zombification. The infected here at times seem like your standard Romero ghouls, but they're also a bit more: lost souls who have hung onto some kind of strange, rudimentary culture all their own. These aspects of the zombie plague are always hinted at, never extrapolated, but it enhances the profound feelings of loss and sadness present in Ravenous. —Jim Vorel
---
23. I Lost My Body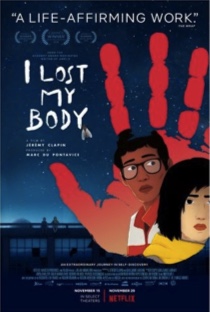 Year: 2019
Director: Jérémy Clapin
Stars: Hakim Faris Hamza, Victoire Du Bois, Patrick d'Assumçao
Genre: Animation, Science Fiction
Language: French
Rating: NR
Runtime: minutes
While we're on board, at least passively, for however many sequels Pixar wants to give Toy Story, patient for however long another one takes, I Lost My Body is a singular animated film, increasingly of the kind that, frankly, don't get made anymore. Partly because hand-drawn features made by small studios are rarer than ever, but mostly because it's a defiantly adult animated film, wreathed in oblique storytelling and steeped in grief. Ostensibly about an anthropomorphic hand climbing and skittering its way across the city to find the person to whom it was once attached—the story of its severing slowly coming to light—the beauty of director Jérémy Clapin's images, often limned in filth and decay, is in how revelatory they can be when tied so irrevocably to the perspective of a small hand navigating both its nascent life in the treacherous urban underground and the traumatic memories of its host body's past. I Lost My Body is an unassuming, quietly heartbreaking achievement, one the Academy needs to prioritize now more than ever over expectedly competent big studio fare. —Dom Sinacola
---
24. The Disciple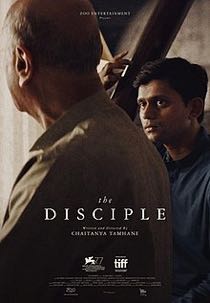 Year: 2021
Director: Chaitanya Tamhane
Stars: Aditya Modak, Arun Dravid, Sumitra Bhave, Deepika Bhide Bhagwat, Kiran Yadnyopavit
Genre: Drama
Language: Marathi
Rating: TV-MA
Runtime: 128 minutes
Indian filmmaker Chaitanya Tamhane's The Disciple follows an aspiring singer of Indian classical music. The film is one of the most astute and compassionate depictions of artistic struggle and stagnation I've ever seen. Featuring gorgeous performances of Hindustani traditional music—particularly from first-time actor Aditya Modak as the eponymous disciple Sharad—The Disciple investigates the validity of tradition in the face of commercial modernity, wavering somewhere between ardent purism and complacent acceptance. Executive produced by Alfonso Cuarón, The Disciple and Tamhane will certainly pique the interest of cinephiles interested in what it means to preserve seemingly archaic artforms in a world of faltering attention spans and self-discipline. —Dom Sinacola
---
25. The Intouchables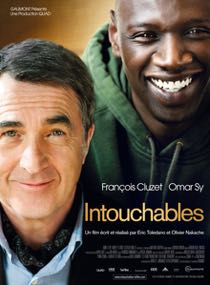 Year: 2012
Directors: Olivier Nakache, Eric Toledano
Genre: Comedy, Drama
Language: French
Rating: R
Runtime: 112 minutes
As crowd-pleasing as it is irreverent, France's box-office smash The Intouchables, about a quadriplegic aristocrat and his ex-con caretaker, is based on a real-life relationship, this odd couple is composed of Philippe (François Cluzet), a millionaire paralyzed in a paragliding accident, and Driss (César-winning Omar Sy), a street hood by way of Senegal. White, black; rich, poor; immobile and extremely animated—Philippe and Driss are opposite in nearly every way. Driss initially balks at the baser aspects of his new position, like emptying Philippe's bowels, and treads inappropriate territory, like asking, "How does sex work?" But Driss brings levity to a very serious household, and Philippe appreciates not being pitied. Soon a fast friendship is formed. The humor and the drama of writer-directors Olivier Nakache and Eric Toledano's very funny and very poignant script lie in the clash of their characters' worlds. While Philippe introduces Driss to the finer things in life—art, music, opera—Driss provides Philippe with pot and prostitutes. The rest of Philippe's staid and reserved staff wouldn't dare, but even they see that their boss is living—truly living—once again. The immensely enjoyable Intouchables hinges on this central relationship but also broaches social taboos with a politically incorrect wit that flays what's considered off-limits: socioeconomic disparity, race relations and especially physical disability. The filmmakers aren't afraid to "go there," and that they do elevates the sincerely feel-good material to larger cultural relevance. —Annlee Ellingson
---
26. The Edge of Democracy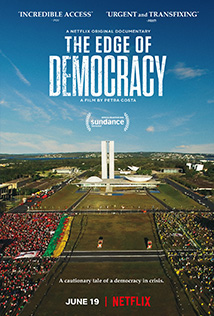 Year: 2019
Director: Petra Costa
Genre: Documentary
Language: Portuguese
Rating: NR
Runtime: 113 minutes
Though her take is sweeping, her drone shots a tad too obligatory, director Petra Costa draws as many parallels as she's able to line up the political roots of her family tree with those of her home country. The Edge of Democracy, then, is likely most compelling for viewers unfamiliar with Briazilian politics in pretty much any capacity. Costa intuits this reality—its Oscar nomination signals some Netflixian prestige for this kind of exceptionally well made documentary—and, without being explicit, makes a clear argument that Brazil is, at least, as deserving of its doom as those of us under Trump. Whether you feel that way or not—that everything is sad and fucked—as an American it's difficult to not see the stories of these two relatively young world powers align with almost monomythical certainty. And yet, Costa allows her sadness to permeate the film, narrating frequently about her grandfather's construction business, which flourished during the dictatorship while her mother and father put their lives on the line as revolutionaries, in between a wealth of footage and melancholy tracking shots. The moral poetry of it all tips every once in a while into the obvious, but Costa's handle on the breadth of what she's covering, aided by some intimate access to key political figures and Brazilian icons like Lula and Dilma Rousseff, bears impressive responsibility for all the personal connections, and self-serious gestures, she makes. —Dom Sinacola
---
27. MFKZ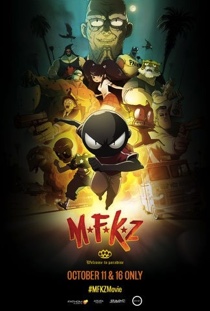 Year: 2018
Directors: Shojiro Nishimi (as Shoujirou Nishimi), Guillaume Renard
Starring: Giancarlo Esposito, Vince Staples, RZA, Dascha Polanco
Genre: Animated, Action
Language: French
Rating: NR
Runtime: 105 minutes
France and Japan have always had something of a cross-continental love affair when it comes to art. From the impact of ukiyo-e prints on the rise of impressionism to the influence of Jean "Moebius" Giraud's bandes dessinée comics on artists like Hayao Miyazaki and Katsuhiro Otomo, the aesthetic trajectories of these two countries have been in constant conversation with one another throughout history. MFKZ is only the latest link in this chain of cultural exchange, an international work whose origins stress the fault lines what can be known as "anime" or "world animation." Co-directed by Studio 4°C's Shojiro Nishimi and comic author Guillaume "Run" Renard, MFKZ is adapted from Renard's original comic Mutafukaz and follows Angelino, a onyx-skinned young man eking out a life of minimum wage survival in Dark Meat City, a funhouse mirror depiction of South Central Los Angeles by way of Brazilian Favelas. Angelino's meek and unassuming life is upended when he crosses paths with a mysterious young woman and subsequently gets into an moped accident. Waking up with a splitting headache and suddenly ensnared in a centuries-old conspiracy by shadowy government agents, Angelino and his friends Vinz and Willy must find a way to escape the city alive, all the while uncovering the secrets of Angelino's own forgotten past. MFKZ is a labor of perseverance, and it shows. While it flares up before fizzling out in its final moments, the view is admittedly entertaining and worth witnessing if only to relish in the thrill of its visual excess. Whether MFKZ is an end in of itself or the entry in a larger series to come, it's a marvel to see such an avowed international effort stake its claim to legitimacy amidst the medium's global transformation. —Toussaint Egan
---
28. West Coast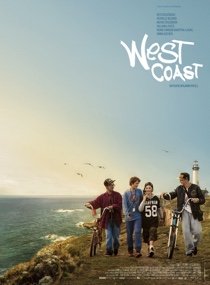 Year: 2016
Director: Benjamin Weill
Stars: Devi Couzigou, Mathis Crusson, Victor Le Blond
Genre: Comedy, Drama
Language: French
Rating: TV-MA
Runtime: 80 minutes
In this one hour and 20-minute film, a band of French teens—Delete, King Kong, Flé O, and Copkiller—obsessed with West Coast American rap culture set out on a journey to retrieve a dangerous lost (originally stolen) item. As is often the case, this journey shows the deep friendship of four boys navigating their own identities while trying to impress the girls of their dreams. Their trip takes them outside of their small French town, via hitchhiking, a bike, and a stolen car. Epic water gun battles ensue and internet relationships are brought to light, all while these four boys travel western France to find a way out of the tangled web they've woven for themselves. —Grace Williamson
---
29. Psychokinesis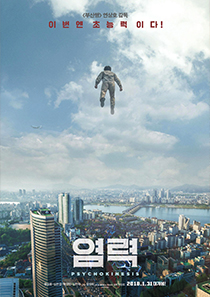 Year: 2018
Director: Yeon Sang-ho
Stars: Ryu Seung-ryong, Shim Eun-kyung, Park Jung-min
Genre: Superhero, Action
Language: Korean
Rotten Tomatoes Score: NA
Rating: NR
Runtime: 101 minutes
Following up Train to Busan, his adroit add-on to the endlessly alive zombie genre, Yeon Sang-ho offers another interpretation of the zeitgeist with Psychokinesis, building a deft, vaguely political room of South Korea's own in the cinematic superhero universe. Ryu Seung-ryong plays everyman nobody Shin Seok-heon, a dopey security guard estranged from his family, brought back into daughter Roo-mi's (Shim Eun-kyung) life after a gang of unionized construction workers accidentally kill her mother while attempting to evict the young fried chicken entrepreneur from their small storefront. Also: Seok-heon has burgeoning superpowers of the titular variety, contracted when he drinks from a public spring polluted with an alien substance recently released into the earth via crashed space rock. Though Yeon (who also wrote the film) typically confuses comic book sensibility with a total lack of deeply written characters struggling under actually interesting motivations and backstories, Yeon isn't particularly driven by the same forces as the MCU or the DCEU: Psychokinesis has an unfettered heart, an unfussy melodrama, in ways films of those brands don't, not burdened by the same economic pressure—while also declaring very clearly that the police are bad. It's all pretty refreshing in the wake of an Infinity War. —Dom Sinacola
---
30. Space Sweepers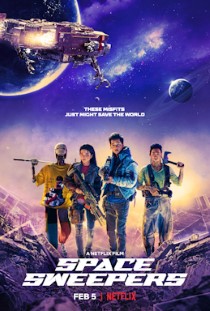 Year: 2021
Director: Jo Sung-hee
Stars: Song Joong-ki, Kim Tae-ri, Jin Seon-kyu, Yoo Hae-jin
Genre: Science-Fiction
Language: Korean
Rating: NR
Runtime: 136 minutes


Netflix introduced its audience to Southeast Asian big-budget sci-fi with the Chinese film The Wandering Earth, a mess of a story that was still beautiful to look at. Space Sweepers, from Korean filmmaker Jo Sung-hee, is a much more cohesive and coherent offering with just as much flash. The dystopian setting sees the head of a giant tech company creating an Eden on Mars, essentially consigning most of humanity to poverty and pollution. A ragtag team of space-junk collectors is each looking after their own self-interest when they find a mysterious young girl who entangles them in much larger worries. With compelling characters, thrilling action sequences and an engaging plot, it's a strong entry for Korea's first sci-fi blockbuster. —Josh Jackson