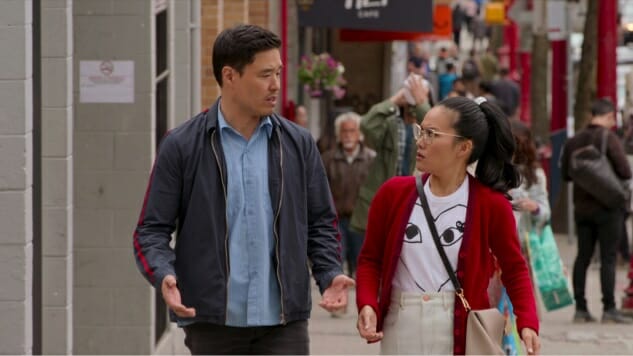 Ahhh…romance. There are few things more hard-wired in all of us than the desire to find a soulmate, and few more common motivating principles in movies. We've dug through all 633 of the romantic movies on Netflix to find the best, including rom-com classics, tear-jerkers, Netflix originals, Bollywood romances, LGBTQ+ love stories and more.
Here are the 36 best romantic movies streaming on Netflix:
1. Phantom Thread
Year: 2017
Director: Paul Thomas Anderson
Stars: Daniel Day-Lewis, Lesley Manville, Vicky Krieps
Rating: R


Phantom Thread is a movie that is so wonderfully made, so meticulous in its construction, so deeply felt in execution, that you can almost overlook how prickly and scabrous it is. This has to be the most luscious-to-watch film, ever, that is in large part about how self-centered and inflexible the world of relationships can be, how we can only give up so much of ourselves and it's up to our partner to figure out how to deal with that, if they want to at all. This is an uncompromising movie about two uncompromising people who try to live with one another without losing too large a part of themselves, and the sometimes extreme lengths they will go to get their way. Daniel Day-Lewis plays Reynolds Woodcock, a world-famous dressmaker who clothes celebrities, royalty and, sometimes to his chagrin, déclassé wealthy vulgarians. Almost everything that doesn't meet his exacting standards is vulgarian, until one day while in the English countryside, Reynolds comes across a waitress named Alma (Vicky Krieps) who both meets Reynolds' physical requirements (specifically so he can make dresses for her) and has a certain pluck that he instantly finds fascinating. Both of the principals of Phantom Thread are absurd and insane in their own ways, and one of the many thrills of the film is watching them bounce off each other, and then collide again. It's the oddest little love story, so odd that I'm not even sure it's about love at all. My colleague Tim Grierson said this first, but it's too good an observation to ignore: This movie is in large part about the absolute unknowability of other people's relationships. From the outside, it makes no sense that Reynolds and Alma would have this sort of connection with each other; it's difficult to tell what either person is getting out of it. But what's unfathomable about it is also what makes it so powerful. —Will Leitch
---
2. Call Me by Your Name
Year: 2017
Director: Luca Guadagnini
Stars: Mame Bineta Sane, Amadou Mbow, Nicole Sougou, Aminate Kane
Rating: NR


In Kyle Turner's Paste review of Call Me By Your Name, he muses that in the film's opening credits "there's enough of a hint to suggest that, as Michael Stuhlbarg's professorial patriarch Mr. Perlman mentions, the statues are 'daring you to desire.' The film, while occasionally inching towards it, never takes that dare." Much has been made about whether the film flinches at the physical love it champions, or embraces with grace and decorum the same love, finding eroticism in other (maybe juicier, stickier) images. Regardless, the allure of Call Me By Your Name, the story of a 17-year-old rich white kid (Timothee Chalamet) and his Italian summer tryst with a hunky grad student (Armie Hammer), is in all of that anticipation and lazy anxiety, of never being quite sure what's right for you because you're not yet quite sure what "you" means. Perhaps Guadagnino never "takes that dare" because the film is less about the consummation of the two characters' desires, and more about the dissolution of that consummation, the need to let it go for all its fantasy and excitement and confusion, and then to live with the quiet, needling regret that more could have been done, that somehow the desire, the sumptuousness of the flesh, should have been better grasped. It's in Michael Stuhlbarg's final, bittersweet monologue, as well as in Chalamet's credits-long fireplace cry: Call Me By Your Name is an exquisitely shot movie, alive with the privilege and luxury of what it means to spend one's formative sexual years in the Italian countryside, but more importantly, it's a movie that aches far harder for the lives and relationships that could have been. —Dom Sinacola
---
3. Silver Linings Playbook
Year: 2012
Director: David O. Russell
Stars: Bradley Cooper, Jennifer Lawrence, Robert De Niro, Jacki Weaver, Chris Tucker, Anupam Kher
Rating: R


With leads as winning as Cooper and Lawrence, and Russell's signature mix of clever and sincere dialogue, the hook is set. Every single detail doesn't gel—Chris Tucker's role as Danny, Pat Jr's escape-prone friend from the treatment facility, seems a bit extraneous—but it doesn't need to. By the end of the dance competition finale (yeah, there's that), the audience, actors and director are on exactly the same page—and it's Russell's playbook. —Michael Burgin
---
4. Atlantics
<Year: 2019
Director: Mati Diop
Stars: Mame Bineta Sane, Amadou Mbow, Nicole Sougou, Aminate Kane
Rating: NR


Atlantics is quite the announcement for writer-drector Mati Diop. She takes the magic realism of a peer like Alice Rohrwacher and carries it to the world's margins, examining class struggle in a Senegalese city by the Atlantic. Through the gritty, blustery opening images shot as artful document of the Dakar shore (outstanding work by cinematographer Claire Mathon) and the hypnotic electronic score by Fatima Al Qadiri, Diop is able to evoke an incomparable mood and sense of place. That it might look and sound so alien to an American watching this film on Netflix is perhaps a sharp enough indictment of the ways in which we intellectually seclude ourselves from realities beyond our own. Atlantics is about that and it's about the breaking of that. It's about the mystery of identity and how one can find identity by taking on the identity of something other, or can find it when looking in a mirror—not for the physical self but for the spirit. Congruously, it's also about losing the identities that are culturally prescribed, that we may have been born with, nurtured and/or limited by. Love, the film posits, is a catalyst; love helps reform identities in transgressive and transcendent ways. And the film is at its best when it avoids being programmatic, lets its visuals pulse before you. It is yet another sad ghost story amongst many, but where it differs is finely drawing the distinction that sometimes the things that haunt the living most are not the things that were but the things that should have been. The film's protagonist embraces that haunting as a form of hope; she loses something important and fills the hole by expanding her own self with the self that was touched by others. Though Atlantics feels elliptical in many ways, Diop has the bravery to end her film with a pretty resounding period. It's a statement, both for itself and for its creator, and it's a convincing one. —Chad Betz
---
5. Always Be My Maybe
Year: 2019
Director: Nahnatchka Khan
Stars: Ali Wong, Randall Park, Keanu Reeves, Michelle Buteau, Vivian Bang, Karan Soni
Rating: PG-13


A film written by and starring Ali Wong and Randall Park was always guaranteed to be a home run, but the endlessly funny and charming Always Be My Maybe truly exceeds all romcom expectations. The duo (who penned the script with Michael Golamco) play childhood friends who lose touch after an impulsive teenage romance ends badly. From there, Wong's Sasha becomes a celebrity chef as Park's Marcus continues to live at home and work for his father's blue collar business after his mother's tragic passing. They each have things to learn from one another, sure, but Always Be My Maybe doesn't just end when romance blossoms; it leans into the complications of two adults with independent lives choosing to be together and figuring out how to make it all work. Part of that, crucially, includes both Marcus and Sasha playing supportive roles in one another's careers rather than compromising and giving up their passions to be together. Director Nahnatchka Khan keeps the stylish film moving at a pleasant comedic clip throughout, and there's a killer cameo appearance you will not want spoiled before you see the movie. Seriously, you should watch it right now. —Allison Keene
---
6. Groundhog Day
Year: 1993
Director: Harold Ramis
Stars: Bill Murray, Andie MacDowell, Chris Elliott, Stephen Tobolowsky
Rating: PG
Bill Murray, director/co-writer Harold Ramis and screenwriter Danny Rubin take a Twilight Zone-esque comedic premise—a self-centered weatherman gets stuck experiencing February 2 again and again—and find unexpected profundity. A more conventional film would have love resolve the chronological predicament, but instead, it falls to TV personality Phil (Murray) to become the best version of himself he can possibly be. Whether it's a Hollywood comedy challenging middle-class Americans to shake themselves from their middle-class torpor, or a meditation on our unattainable ideas of perfection, Groundhog Day doesn't just elicit laughs, but leaves audiences more deeply moved than they ever expected—even inspiring some obsessive fans, including one fellow who "calculated," down to the day, the number of decades Murray spent in February 2. —Curt Holman
---
7. Scott Pilgrim vs. the World
Year: 2010
Director: Edgar Wright
Stars: Michael Cera, Mary Elizabeth Winstead, Brie Larson, Chris Evans, Alison Pill, Aubrey Plaza, Jason Schwartzman, Kieran Culkin
Genre: Action, Comedy
Rating: PG-13


The films of Edgar Wright's "Cornetto trilogy" may get more emphasis as the core of the director's oeuvre, but allow one to submit that Scott Pilgrim vs. The World is the "most Edgar Wright" film we've witnessed yet in the still-young filmmaker's career. A brilliant adaptation of Bryan Lee O'Malley's comic book series of the same name, the film is a perfectly cast wonder of an action comedy that translates with preternatural ability the comic tension between banality and bombast present on the page. Scott's (Michael Cera) existence as a slacker musician in a crappy Toronto indie rock band isn't exciting or glamorous, which makes it all the funnier when his day-to-day romantic life is a series of climactic, overly dramatic videogame boss battles. Each Wright presents with a hyperkinetic style that revels in its joyful disconnect from reality or consequences. Freed from such trivial matters, Wright can present dynamic action sequences that still have time for clever asides and banal workplace humor, simultaneously getting the absolute best out of every person he has on hand. Really: When has Brandon Routh, as an actor, been put to better use than as an egomaniacal vegan with psychic powers? An early-career Brie Larson as rock singer Envy Adams is a bonus as well. —Jim Vorel
---
8. Up in the Air
Year: 2009
Director: Jason Reitman
Stars: George Clooney, Vera Farmiga, Anna Kendrick, Jason Bateman, Melanie Lynskey, J.K. Simmons
Rating: R


Ryan Bingham (George Clooney) lives his life traveling, and he loves it, even though his job is to fire workers for employers who can't break the news themselves. The gig's a downer, but at least he gets to fly. His remote boss is played by the great Jason Bateman, Vera Farmiga plays a fellow traveler, and when these actors pair off they're fantastic. The film is primarily a portrayal of Bingham's isolation and the depressing circumstances of his job, and in doing so provides a spot-on illustration of the the life of the jaded business traveller who knows his way around an airport better than his own home. —Ryan Bort
---
Year: 2018
Director: Susan Johnson
Stars: Lana Condor, Noah Centineo, Janel Parrish
Rating: NR


To All the Boys I've Loved Before, the teen scene's newest runaway hit, is a flat-out excellent film. It is not excellent "for a teen flick." It is not excellent "for a romantic comedy." It is excellent for a film. TATBILB fully inverts the 80/20 ratio: Within the first 20 minutes, all five of the deeply private love letters our daydreamy, emotionally buttoned-up protagonist Lara Jean (Lana Condor) has written to her childhood crushes over the years have been stolen and mailed out—including the one to her neighbor and best friend, Josh (Israel Broussard), who just happens to also be her older sister's just barely ex-boyfriend. This swift puncturing of any protracted emotional dishonesty Lara Jean might have hoped to indulge in, well, forever, leaves the film's final eighty minutes free for her to embrace some really radical emotional honesty. That TATBILB allows Lara Jean to accomplish this not in spite of but through the fanfic-favorite trope of "fake dating" another, less-risky letter recipient (Noah Centineo's ridiculously charming Peter Kavinsky) is a story strength. Of course, all the emotional honesty in the world wouldn't matter if TATBILB's leads didn't burn with chemistry. Fortunately, Lana Condor and Noah Centineo can get it. Condor and Centineo are undeniably the stars of the show, but TATBILB doesn't rest on their charismatic laurels: Mahoro as Lucas is a foxy ball of friendliness; Madeleine Arthur as Lara Jean's best (girl) friend, Chris, is just the wide-eyed punk weirdo she needs to be; Janel Parrish plays against type as the sweet and steel-spined Margot; Anna Cathcart steals every scene as Lara Jean's meddling little sis, Kitty; and John Corbett plays the healthily engaged version of Kat Stratford's single OBGYN dad with a discernible glee. The importance of Lara Jean and her sisters being half-Korean, and the majority of the cast (along with Mahoro) non-white, is hard to overstate, but it isn't the most impressive thing about the cast by a long shot. In a genre that can so often see its characters lean too far into caricature, Lara Jean's world is instead populated with teens—and through them, love—you can believe in. —Alexis Gunderson
---
10. Carol
Year: 2015
Director: Todd Haynes
Stars: Cate Blanchett, Rooney Mara, Sarah Paulson
Rating: R
In Todd Haynes' Carol, Therese's (Rooney Mara) heart is encased and inaccessible—as if only to be glimpsed through the glass of a telephone booth or through the lens of her camera—until one day a woman named Carol Aird (Cate Blanchett), who, from across the room, transforms Therese's way of seeing with a little gesture of her head and a flirtatious, "I like the hat," finally unearths it. Soon, Carol and Therese begin to dissolve into one another, to the music of "You Belong to Me," no less. Bookended by a hand on shoulder, Therese continues to conceive of what her desire means, and the two dizzyingly create their own language of connection, fueled by Haynes' acute eye, Ed Lachman's grainy, Saul Leiter-reminiscent cinematography and the sounds of Carter Burwell's propulsive score. —Kyle Turner
---
11. Love Actually
Year: 2003
Director: Richard Curtis
Stars: Desiree Akhavan, Rebecca Henderson, Halley Feiffer
Rating: PG


When it comes to portraying love confessions of all varieties, very few can beat the kind on display in Richard Curtis' epic romantic comedy Love Actually. In one of the many romantic threads, Juliet (Keira Knightley), a recently married woman, has just discovered that her husband's best friend Mark (Andrew Lincoln) has been nursing a secret crush on her. One night, he arrives at their front door and silently delivers his long repressed feelings via hand-drawn cue cards. While certainly sweet and heart-warming, the inherent sadness that pervades this scenario—such a relationship can never work out between the two—prevents the exchange from being overly saccharine. —Mark Rozeman

---
12. La La Land
Year: 2016
Director: Damien Chazelle
Stars: Emma Stone, Ryan Gosling, John Legend
Rating: PG-13


La La Land's exhilarating and nearly unflagging energy strives to inspire in viewers an equally bold appreciation for all the things it celebrates: the thrill of romantic love, of dreams within reach, of what we call "movie magic." In this, Damien Chazelle's follow-up to Whiplash, an opening scene blooms into an ambitious song-and-dance number set in the midst of an Los Angeles traffic jam. It's there our protagonists, Sebastian and Mia (Ryan Gosling and Emma Stone), will have a terse encounter foreshadowing their destiny as lovers, but not before a flurry of acrobatic dancing and joyful singing erupts around them, as if heralding their own flights of fancy to come. Cinematographer Linus Sandgren's camera guides us through the excitement, weaving and spinning among drivers who've left their cars to execute a stunning sequence of choreography which appears to have been performed in a long, unbroken take. The simple story follows Sebastian and Mia from meet-cute through love affair and beyond. In them he has created characters defined by their Big Dreams, who are sympathetic because of their insecurities and doubts. Sebastian is a serious musician and adherent to the tradition of jazz titans like Charlie Parker, Louis Armstrong and Thelonious Monk. Mia is an aspiring actress with an enormous poster of Ingrid Bergman over her bed (announcing the depth of her passion). Each has life goals they circle because they undervalue their ability to make them come true: Sebastian wants to open a jazz club but instead treads water as a sideman in other people's bands; Mia serves coffee to the rising stars on the Warner Bros. lot, from where she occasionally breaks free to audition for roles in front of casting directors who barely notice her. The combination of song and visual is how Chazelle renders the joy of being in love and the way love transforms the geography around those in its sway. Many of Sebastian and Mia's scenes are awash in pastels, swoony golden light and the deep purples of early evening. Stone and Gosling make all of Chazelle's balancing worthwhile with realistic performances; their musical segments are all the more transporting as they commit themselves to the old-fashioned allure of Chazelle's conceit. —Anthony Salveggi
---
Year: 2020
Director: Alice Wu
Stars: Leah Lewis, Daniel Diemer, Alexxis Lemire
Rating: NR


Netflix's The Half of It begins somewhat deceptively, with a highly stylized animated retelling of an old Greek myth in which the four-armed, four-legged, two-headed humans of ancient times are sundered by the gods and wander about forever in search of the other half of their single heart. It ends with a scene between a boy and a girl, something that normally would come right out of a dopey rom-com, but in a way that subverts the trope on every level, from the inversion of its meaning to the quiet, intimate naturalism with which it is filmed. It's a fitting juxtaposition because the film sandwiched between the two moments is about the fallacies that drive our neat and tidy narratives about love. Love is messy is the point, one called out aloud by main character Ellie Chu (Leah Lewis) in Alice Wu's short little film about a Chinese-American high schooler whose incredible writing skills find her hired to help her classmate, the kindhearted but far less charming Paul (Daniel Diemer), woo another girl. Paul does not realize that Ellie shares his unrequited desire for Aster (Alexxis Lemire), and that every sweet late-night text and smoldering note passed in class is tearing Ellie apart. If the story borrows its central conceit from Cyrano de Bergerac, it at least puts a few interesting spins on it: Ellie is an outsider in unique ways. She is the only Asian student at her school, an immigrant whose underemployed and linguistically challenged father struggles to run her household. She is the student who is so good at writing that she runs a side hustle writing papers for her entire class. And then there's the other little matter of her feeling same-sex attraction in a stiflingly small, overwhelmingly Christian town. It's a unique twist on a familiar story in a film that universalizes feelings of otherness for the audience, whether they come from being the runt of the litter or the child of an immigrant struggling to make it in America. —Kenneth Lowe
---
14. Omar
Year: 2014
Director:Hany Abu-Assad
Stars: Adam Bakri, Leem Lubany, Waleed Zuaiter
Rating: TV-MA


More trenchant as a political allegory than a character drama, Omar is more interested in the ideas within this slow-burn thriller than in plot machinations. To writer-director Hany Abu-Assad, maniacal twists and cunning action set pieces would simply get in the way—better that we spend our time thinking about why the characters find themselves in this situation at all. Nominated for the Best Foreign Language Film Oscar, Omar stars Adam Bakri as the titular young Palestinian, who must daily scale the imposingly tall security wall that separates him from his girlfriend, Nadia (Leem Lubany). Though very much in love, they haven't yet revealed their relationship to her brother (and Omar's good friend) Tarek (Eyad Hourani), who is planning with Omar and another close pal, Amjad (Samer Bisharat), to kill an Israeli soldier. The three friends' mission is a success—it's Amjad who pulls the trigger—but soon after, Omar is snagged by Israeli forces, led by Agent Rami (Waleed F. Zuaiter). Threatening Omar with imprisonment, Rami promises him freedom if he'll deliver Tarek, the group's leader, to them in exchange. What's most resonant in Omar is that, just as we can't always gauge the characters, they're, too, concealing parts of themselves from each other, a byproduct of living in a part of the world where distrust is commonplace and secrecy a necessity. Which is why Omar's startling ending is both somewhat mystifying and also oddly perfect—we don't see it coming, and yet deep down, we're not surprised at all that it happened. —Tim Grierson
---
15. Eurovision Song Contest: The Story of Fire Saga
Year: 2020
Director: David Dobkins
Stars: Will Ferrell, Rachel McAdams, Dan Stevens, Pierce Brosnan
Rating: PG-13


Eurovision Song Contest: The Story of Fire Saga is—let's be honest here—a bit on the thin side, and a little confusing. It's got just enough sincerity to undermine its own satirical impulses and just enough pandering snark to undermine its own sincerity. It runs long, and it leans on a trope, Ferrell's master trope and the common denominator in most of his best performances—the lovable but fundamentally clueless and self-absorbed man-baby who can't get out of his own way. It's a trope that, thanks to Ferrell himself, we have mined pretty thoroughly in comedy over the last few decades. And yet, even as Eurovision Song Contest makes a number of perplexing moves in its two-hour-plus runtime, you kind of can't help rooting for it, and for its principal characters, because its refusal to be cynical operates as a vital, oxygenating escape hatch right now.—Amy Glynn
---
16. Loving
Year: 2016
Director: Jeff Nichols
Stars: Ruth Negga, Joel Edgerton, Marton Csokas
Rating: PG-13
How well you like Jeff Nichols' Loving will partially depend on what you look for in courtroom dramas. If you prefer judicial sagas made with potboiling slickness and little else, you'll probably like Loving less than Nichols likes filming landmark legal proceedings. His film isn't about the case of Loving v. Virginia as much as its two plaintiffs, Richard Loving (Joel Edgerton) and Mildred Jeter Loving (Ruth Negga), the married couple at the center of the 1967 civil rights victory over the United States' anti-miscegenation laws. As an effect of Nichols' focal point, the movie speaks little to no lawyer jargon and takes place almost entirely outside of the court rather than within. So if you're sick to death of courtroom dramas that insist on pantomime, and if you think those kinds of stories demand more restraint, then you'll probably dig on Loving. It so studiously avoids the clichés of its genre that it feels fresh, original, a completely new idea based on a very old, very formulaic one. It's a disciplined, handsome, unfailingly serious screen reproduction of an important real-life moment in the nation's ongoing fight for civil rights; it's hitting theaters at a time when we're still having cultural arguments about who gets to marry; and it's directed by one of the critical darlings of contemporary cinema. This is the kind of anti-prestige movie critics yearn for, a product stripped away of non-artistic pretensions and ambitions, leaving only the art. —Andy Crump
---
17. I Lost My Body
Year: 2019
Director: Jérémy Clapin
Stars: Hakim Faris Hamza, Victoire Du Bois, Patrick d'Assumçao
Rating: TV-MA
While we're on board, at least passively, for however many sequels Pixar wants to give Toy Story, patient for however long another one takes, I Lost My Body is a singular animated film, increasingly of the kind that, frankly, don't get made anymore. Partly because hand-drawn features made by small studios are rarer than ever, but mostly because it's a defiantly adult animated film, wreathed in oblique storytelling and steeped in grief. Ostensibly about an anthropomorphic hand climbing and skittering its way across the city to find the person to whom it was once attached—the story of its severing slowly coming to light—the beauty of director Jérémy Clapin's images, often limned in filth and decay, is in how revelatory they can be when tied so irrevocably to the perspective of a small hand navigating both its nascent life in the treacherous urban underground and the traumatic memories of its host body's past. I Lost My Body is an unassuming, quietly heartbreaking achievement, one the Academy needs to prioritize now more than ever over expectedly competent big studio fare. —Dom Sinacola
---
18. Lagaan
Year: 2001
Director: Ashutosh Gowariker
Stars: Aamir Khan, Gracy Singh, Rachel Shelley
Rating: PG
You may have heard of Lagaan, one of the most easy entryways into Bollywood. The film famously received India's third-ever Academy Award nomination in 2001 and is rooted in a rich entanglement of a high-stakes sports game and a forbidden romance. An epic sports drama based in colonial India, Lagaan is the story of a group of Indian villagers who challenge their British colonizers to a game of cricket in exchange for the removal of their increasing burden of taxes. We get recruiting and training montages, drama amongst teammates, an intercultural flirtation, and a bangin' soundtrack from the legend A.R. Rahman. It has everything and has been rightfully hailed as one of India's most entertaining and thoughtful productions that seems to only get better with age. —Radhika Menon
---
19. 13 Going on 30
Year: 2004
Director: Gary Winick
Stars: Jennifer Garner, Mark Ruffalo, Judy Greer, Andy Serkis, Kathy Baker
Rating: PG-13
What could've been easily dismissed as a shameless Big ripoff might be even better than that Tom Hanks classic. Jennifer Garner is at her most charming as a 13-year-old in a grown-up's body, and perennially underrated Judy Greer shines in her finest film role as Garner's best frenemy. The sweetly nostalgic script might deserve the most credit, though–a movie like this could have been ruined by lethal levels of cheese, but 13 Going on 30 has the exact right amount of crowd-pleasing schmaltz.—Allyn Moore
---
Year: 2017
Director: Jim Strouse
Stars: Jessica Williams, LaKeith Stanfield, Noël Wells, Taliyah Whitaker
Rating: NR
Jessica Williams plays Jessica James, a twenty-something theatre fanatic who's trying to get one of her plays produced while simultaneously dealing with a breakup. The ex? Damon, played by the equally wonderful Lakeith Stanfield (Atlanta, Short Term 12), who can't manage to stay out of Jessica's dreams. When she meets a new fling, played by the comically refreshing Chris O'Dowd, she begins to re-evaluate her love life while clinging to her life goals. When do you know you've made it? As lighthearted as the film can be, it's rooted in an exploration of the deeper questions that any artist, or person for that matter, grapples with. Williams is hilarious, which we all know from her time on The Daily Show. She's also incredibly powerful, showcasing a feminine strength that's so crucial to this generation and a passion for her craft that's the opposite of the indifference often associated with millennials. The film is perfect for a popcorn and beer night with the gals and guys. —Meredith Alloway
---
21. Forgetting Sarah Marshall
Year: 2008
Director: Nicholas Stoller
Stars: Jason Segel, Kristen Bell, Mila Kunis, Bill Hader, Jack McBrayer, Paul Rudd, Jonah Hill
Rating: R
Following one of the standard romantic comedy tropes, a man (in this case played by Jason Segel) is tempted to chase the wrong girl (Kristen Bell), ignoring the soulmate (Mila Kunis) right in front him. But while we'd seen the set-up before, we'd seen nothing like Segal's character Peter getting dumped while naked, Russell Brand as the lead singer for Infant Sorrow or Peter's A Taste For Love Dracula-themed puppet-comedy-rock-opera. Everyone you'd expect (Jonah Hill, Paul Rudd, Kristen Wiig, Bill Hader) co-stars. —Josh Jackson
---
22. A Whisker Away
Year: 2020
Director: Junichi Sato, Tomotaka Shibayama
Stars: Mirai Shida, Natsuki Hanae, Hiroaki Ogi, Koichi Yamadera,Minako Kotobuki
Rating: TV-PG
There have been creepier things done in movies than magically turning into a cat in order to get closer to your crush, but those are few and far between. It's not exactly standing outside a window with a boombox. But in directors Junichi Sato and Tomotaka Shibayama's A Whisker Away, even this bonkers premise yields beauty and touching romance. Mari Okada's script deftly leaps the anime through some emotional loops, running it through crinkly toy tunnels, ultimately landing its silly premise—replete with a troupe of angsty, depressed middle schoolers—in emotional honesty. A dash of otherworldly magic from the canon of Miyazaki (a corpulent face-dealing cat and an entire invisible cat-world) mixes well with some honest dives into the mental health issues of its characters (not quite as deeply and darkly as Neon Genesis Evangelion, but with a similarly stylish flair). While the characters are a little annoying when you meet them—they're middle schoolers, after all—the truth behind the writing manages to shine through, all the while impressing us with its realistic animal animation and stunning depictions of smaller-town Tokoname life.—Jacob Oller
---
23. Zindagi Na Milegi Dobara
Year: 2011
Director: Zoya Akhtar
Stars: Hrithik Roshan, Abhay Deol, Farhan Akhtar
Rating: TV-14
Cashing in on quarter-life anxiety and existential crises, Zindagi Na Milegi Dobara is Bollywood's Euro Trip, except with more heart and fewer dick jokes. Three childhood friends go on a transformational bachelor party/road trip in Spain where they immediately butt heads over the lives they've separately built. Arjun (Hrithik Roshan) is a workaholic who can't chill, Imran (Farhan Akhtar) is a copywriter who had an affair with Arjun's ex-girlfriend, and Kabir (Abhay Deol) is a groom-to-be second-guessing his decisions. The three reconnect over a series of extreme events—ranging from skydiving to a run with the bulls in Pamplona—and they ultimately return to their old lives completely changed. Zindagi Na Milegi Dobara literally means "You won't get this life again," aptly infusing a feeling of urgency into an otherwise standard coming-of-age story. Through humor and drama alike, Akhtar's film will make you want to call your friends and plan your own life-altering getaway. —Radhika Menon
---
24. Sixteen Candles
Year: 1984
Director: John Hughes
Stars: Molly Ringwald, Justin Henry, Anthony Michael Hall, Gedde Watanabe
Rating: PG
It's the movie that made Molly Ringwald a star, and rightfully so: as Samantha, the everywoman whose parents forgot her birthday and whose crush doesn't know she exists, she appeals to the angsty high-schooler yearning to be seen in all of us. Samantha's undeniably middle-of-the-road—she's not popular, but she's not a geek; her home life is messy, but it's not dysfunctional—and that gives her mass appeal, so much so that her story's become sort of a modern fairy tale, the American Dream of teen romantic comedies. —Bonnie Stiernberg
---
25. Lust Stories
Year: 2018
Directors: Anurag Kashyap, Zoya Akhtar, Dibakar Banerjee, Karan Johar
Stars: Vicky Kaushal, Bhumi Pednekar, Radhika Apte
Rating: TV-MA
An anthology film from four of India's most prominent directors, Lust Stories explores the themes of sex and attraction in its many forms, and places them in modern-day India where these types of conversations don't normally occur so openly. Each director's short film focuses on a stigma—whether it's a possessive relationship between a teacher and student, a forbidden tryst between members of two different social classes, an adulterous marriage, or an exploration of sexual satisfaction—and dives deep into the various perspectives at play. The format makes Lust Stories easily digestible, and the films themselves are excellent slices of progression within the industry and culture at large. That it premiered as a Netflix original is just another hat tip to the dynamism of the decade's art. —Radhika Menon
---
Year: 2016
Director: Alex Lehmann
Stars: Sarah Paulson, Mark Duplass, Clu Gulager
Rating: NR
Sarah Paulson is one of the most vital actors working today, and at this particular moment she's damn close to ubiquitous; here she shows up as one of two leads in newcomer Alex Lehmann's lovely romantic comedy Blue Jay, a compact and unassuming film about big, life-changing things that's presented in a beautiful monochrome package. Think of it as a palate cleanser for Paulson after a year spent maneuvering productions of grander scope and ambition. But scale and quality exist in two separate zip codes, and what Blue Jay lacks in import it makes up for with effervescence and melancholy. As though to put Paulson's luminous talents to the test, Lehmann has cast her alongside Mark Duplass, a man primarily known for making tons of low-fi mutter-fests and whose range allows him comfortably to play himself. Paulson and Duplass make such a great pair that the film's relative nothingness is pleasurable rather than painful. Blue Jay only clocks in at about an hour and twenty minutes (less, counting the credits scrawl), so it should breeze along by its very nature, but it feels like it only runs about half as long as that. It's well crafted, well mannered and very well acted, though you may decide for yourself if all credit should go to Paulson. She draws out Duplass' best merits as an actor, much as Amanda draws out the best in Jim: The more the film progresses, the brighter and more enthusiastic Duplass becomes, relishing every second he gets to be on screen with her. Their chemistry is palpable. —Andy Crump
---
27. Dil Chahta Hai
Year: 2001
Director: Farhan Akhtar
Stars: Aamir Khan, Saif Ali Khan, Akshaye Khanna
Rating: TV-14
A story of youngsters finding themselves, Dil Chahta Hai set the stage for many contemporary Bollywood films when it premiered at the start of the decade. The film is an exploration of mid-20s angst and unrest, of following unconventional desires, of finding happiness amidst the madness. Sameer (Saif Ali Khan) chases a girl out of his league; Siddharth (Akshaye Khanna) lusts after an older divorcee; Akash (Aamir Khan) tries to reconnect with someone from his past. Their decisions test each other and themselves, and cause rifts in their seemingly unbreakable friendship. Dil Chahta Hai is about the bonds of friendship, and just how far they can be stretched. —Radhika Menon
---
Year: 2017
Director: Joe Swanberg
Stars: Jake Johnson, Aislinn Derbez, Joe Lo Truglio, Keegan-Michael Key, Nicky Excitement
Rating: NR
Joe Swanberg, bless his unfailing tenacity, appears to get behind the camera and hope everything works out for the best. His style is chancy, but it's hard not to admire his unabashed love of spontaneity. This is especially true when it does work out for the best, as it does in Win it All. Swanberg co-wrote the film with your underachieving dream boyfriend, New Girl's Jake Johnson, ostensibly a direct result of their actor-director collaborations in Drinking Buddies and Digging for Fire; Johnson, perhaps unsurprisingly, is the star here, too, playing that aforementioned scruffy gambler, Eddie, a career loser who takes any wager-earning gig he can get by day before flinging his earnings down the crapper playing games of chance at incalculably grimy casinos by night. There is, in grand Swanberg tradition, a looseness to Win it All that remains for the duration of the film, hanging off of Johnson's central performance. Whether because of his contributions on the page or on the screen, Johnson feels like a key component to Win it All's success as a narrative: The story hangs off of him, off of his work, his emoting, the physical quality to his self-presentation before a lens. It means a lot that Swanberg and Johnson both care on a profoundly human level for Eddie. Who couldn't? You probably have an Eddie figure in your life, whether you know it or not: The gregarious, amiable rascal, the kind of dude who just can't slam the brakes when he's careening toward trouble, and knows it. He's a lovable schmuck, his own worst enemy. The people in his life care about him, his creators care about him, and so of course we care about him, too, even at his worst, even as he invites troubles and hazards into his life against all fair warnings given him by his support system. Win it All, in other words, is a Joe Swanberg movie, a domestically-focused tale about a slacker in conflict with his demons washed in the texture of 1960s and 1970s cinema. —Andy Crump.
---
Year: 2019
Director: Jennifer Kaytin Robinson
Stars: Gina Rodriguez, Brittany Snow, DeWanda Wise
Rating: R
Netflix's Someone Great plays out like the visual version of Lorde's "Supercut." The song, which is also cleverly placed in the film and promptly re-entered the U.S. iTunes charts last weekend following its release, recounts a magical relationship after the breakup. But instead of surveying the wreckage, Lorde presses play on the good times. "All the moments I play in the dark / Wild and fluorescent, come home to my heart," she sings. Someone Great's Jenny (played by Gina Rodriguez, world's most likeable actress) finds herself in a similar situation. After landing her dream music writing job with Rolling Stone, she and her boyfriend of nine years, Nate (acted by a very hunky LaKeith Stanfield), call it quits, fearing they won't survive a long-distance relationship split between New York City and Jenny's future home, San Francisco. The pulsing pop tune from Lorde's 2017 album Melodrama plays while a literal "Supercut" of Jenny's and Nate's relationship flashes before our eyes—Instagram posts, Facebook messages, texts, emails and exchanges with Jenny's two best friends, Blair (Brittany Snow) and Erin (DeWanda Wise) serve as an intro to a film about reminiscing, reconnecting with friends and, ultimately, moving forward on your own. Rodriguez is, as always, loveable as hell. Wise gives an endearing performance as the romantically hesitant Erin, and the two women, along with Snow, master a refreshing version of the romantic comedy in which female friendship, not just love interests, serves as a plot centerpiece. And as much as I enjoyed watching an R-rated New York City spree complete with foul language, bathroom sex, fierce friendship and joints the size of baseball bats, Someone Great is most memorable for its music. A mixtape of indie stalwarts, pop bliss and Big Freedia, the soundtrack is heaps of fun, deeply meaningful and the most realistic aspect of the film—except maybe the girls' struggle to get spots on the guest list. That battle is all too real. —Ellen Johnson
---
30. Main Hoon Na
Year: 2004
Director: Farah Khan
Stars: Shah Rukh Khan, Sunil Shetty, Sushmita Sen
Rating: TV-14
Situated in contemporary India-Pakistan tensions, Major Ram Prasad Sharma (Shah Rukh Khan) is assigned to "Project Milaap," a top-secret mission that would release captured civilians from both countries in an effort to drive peace in the region. As part of this assignment, Sharma must go undercover at a school to protect his boss's daughter, who has become a target of Project Milaap's foe. On his father's deathbed, Sharma finds out he has a half-brother—of course, another student at the same school—which further colors the mission for him. Though he makes some hilarious missteps, Sharma ultimately wins the two over until they find out the secrets he's hiding. Main Hoon Na is a politically inclined action comedy, and a heartwarming look at love and family under the threat of warfare. —Radhika Menon
---
31. White Christmas
Year: 1954
Director: Michael Curtiz
Stars: Bing Crosby, Danny Kaye, Rosemary Clooney
Rating: TV-G
For generations, this movie has held a kind of Yuletide nostalgia rivaled maybe only by It's a Wonderful Life. But the funny thing about this Bing Crosby musical is that the warm feelings it still evokes today are mirrored in its own narrative: The war is over, their commanding officer (a "four-star general unemployed") can't make a living at the ski lodge, because even snow doesn't fall the way it used to. But when the stage doors open at the end to reveal the swirling flakes, all the soldiers salute, leaving even us southerners yearning for a snow-laden Christmas. —Mary Kate Varnau
---
32. Set It Up
Year: 2018
Director: Claire Scanlon
Stars: Zoey Deutch, Glen Powell, Lucy Liu, Taye Diggs, Pete Davidson, Tituss Burgess
Rating: NR
One can never have enough Zoey Deutch in their moviegoing diet. She's a treasure, multi-layered, ever hilarious. Want her to throw snark at you? Want her to project confidence without haughtiness? Want her to pull off "awkward with a side of charming" without tipping the scale too much in one direction or the other? She can do all of that. If you have room for just one Deutch movie this month, go for The Year of Spectacular Men, but if your schedule's open, fit in Claire Scanlon's Set It Up, a delightful, zippy, corny-and-loving it rom-com about beleaguered office assistant Harper (Deutch) teaming up with as-beleaguered office assistant Charlie (Glen Powell) to get their horrible bosses (respectively, Lucy Liu and Taye Diggs) into bed with one another. Maybe they're horrible only because they're undersexed; maybe they're just horrible. Set It Up isn't exactly a hard read in that regard (or any, really), but it's a hoot all the way through, and Scanlon's smart to hang the film on Deutch and Powell's chemistry. —Andy Crump
---
33. The House Bunny
Year: 2008
Director: Fred Wolf
Stars: Ana Faris, Colin Hanks, Emma Stone, Kat Dennings, Christopher McDonald, Beverly D'Angelo
Rating: PG-13
When it was released in 2008, The House Bunny was basically marketed as a slightly racier Legally Blonde, starring Anna Faris instead of Reese Witherspoon. The comparison makes sense, considering the screenplay was penned by the writing duo behind Legally Blonde: Karen McCullah and Kirsten Smith, whose other credits include 10 Things I Hate About You, Ella Enchanted, and She's the Man. If you're a millennial woman, your pop culture world has undoubtedly been shaped by these two. In The House Bunny, Faris' credulous hero Shelley Darlingson is a delight as she tries to help the misfits in Zeta Alpha Zeta house. Faris has great chemistry with Emma Stone's nerdy Natalie Sandler (presumably a nod to producer Adam Sandler) and she even manages to sell a romance with Colin Hanks. The movie isn't perfect, but The House Bunny was a box office triumph, grossing over $70 million worldwide. This moment in the late '00s felt like the tipping point where Faris could be a big draw as a comedy lead, and certainly a launch pad for Stone's burgeoning talent.—Clare Martin
---
34. Irreplaceable You
Year: 2018
Director: Stephanie Laing
Stars: Gugu Mbatha-Raw, Michiel Huisman, Christopher Walken
Rating: TV-MA
Netflix has gifted us with two Gugu Mbatha-Raw movies in the same month. One of them is a creative disaster and a sign of bad things to come for the streaming giant's philosophy on original releases. One of them is Irreplaceable You. Upfront, Irreplaceable You is aggressively mushy and cutesy as hell, but Mbatha-Raw is an effortless charmer, and director Stephanie Laing is clearly a wizard because she found a way to scrub Michiel Huisman of his typical stubbly hipster douchiness. He's still a brooding hottie, but an awkward nerd brooding hottie, and he's good at playing the part. He and Mbatha-Raw match up well as Sam and Abbie, childhood sweethearts newly engaged and also staring down her terminal cancer diagnosis. In medical terms, she's a goner. So she does what any type-A person would do in her position and interviews candidates for her replacement after she dies. She loves Sam so much she can't stand the idea of him being alone. If you're diabetic this synopsis probably has you reaching for an insulin dose, but for all of its obvious manipulations, watching Irreplaceable You is the equivalent of downing a heart-shaped box of chocolates. You might go into sugar shock and you'll need to brush your teeth when it's over, but you won't regret the indulgence all the same. —Andy Crump
---
Year: 2017
Director: Adam Leon
Stars: Callum Turner, Grace Van Patten, Michal Vondel, Mike Birbiglia
Rating: TV-MA
For a guy who trades in intimate, small-scale narratives, Adam Leon sure does love working with distance. Wide shots pepper his films, his camera an eye in the heavens tracking the movements of his protagonists through busy open spaces. He can hover over an active street corner teeming with hubbub and still keep us focused on a pair of arguing teens. You don't pull off that kind of stunt without caring, or without making your viewers care, and so we get down to what makes Leon special as a storyteller: He's caring. He's compassionate. Hell, he's downright generous, a director who makes movies as gifts to his admirers and who gives gift after gift to his principals in the form of lucky breaks. Maybe, if you're so inclined, you'd call that contrivance. Maybe you'd accuse Leon of making easy movies, of wrapping up his work with tidy little bows, instead of challenging himself, his leads, his audience. But the Netflix-backed Tramps is all about the tug between kindness and unkindness: Leon doesn't pile ignominies on his characters more than he must because the world he constructs around them does that well enough on its own. Like his previous film, Gimme the Loot, Tramps is a love story-cum-fairytale set in a New York City summer about people living in the margins of society. The most profound similarity is its dual-thread approach to plotting, introducing Danny (Callum Turner) first, Ellie (Grace Van Patten) second, and setting them on a collision course with each other third. They're both involved in the same small-time crime scheme, involving the swapping of a suitcase. Tramps is a minor effort loaded with small pleasures, but tallied together, those small pleasures add up to one great movie. —Andy Crump
---
36. Barfi!
Year: 2012
Director: Anurag Basu
Stars: Priyanka Chopra Jonas, Ranbir Kapoor, Ileana D'Cruz
Rating: TV-14
Priyanka Chopra is now a household name across America, but in 2012, her clout extended only to those who were aware of Bollywood. One of her best turns of the decade came in Barfi! where she plays Jhilmil Chatterjee (Chopra), an autistic woman born to a wealthy family who falls in love with the titular Barfi (Ranbir Kapoor), who happens to be deaf and mute. When Jhilmil is kidnapped and her fortune is threatened, Barfi is determined to do everything in his power to get her back. Part action thriller and part love story, Chopra and Kapoor deliver performances worthy of international attention. Even better, the story, which loosely resembles The Notebook, is sweet without being saccharine. —Radhika Menon
---
37. A Castle for Christmas
Year: 2021
Director: Mary Lambert
Stars: Brooke Shields, Cary Elwes, Lee Ross, Andi Osho, Tina Gray, Eilidh Loan, Stephen Oswald
Rating: TV-G
I don't think it's a stretch to say that the Christmas rom-com genre possesses the most overwhelming film catalog out there. Sometimes, though, a Christmas miracle presents itself, and a brave, inspired filmmaker dives headfirst into the perilous genre and manages to strike gold. Last year, that director was Mary Lambert—yes, the visionary behind the iconic 1989 horror film Pet Sematary. Her Christmas movie? Netflix's own A Castle for Christmas. The film follows acclaimed American author Sophie Brown (Brooke Shields) who jets off to Scotland after being semi-canceled for killing off her series' beloved protagonist. There, she falls in love with a big ol' Scottish castle called Dun Dunbar, where her grandfather was a groundskeeper, and buys it (because why not?). To make things deliciously complicated, the property is owned by hunky-yet-frosty Duke Myles (Cary Elwes), and Sophie can only take over as proprietor once she's proven she can handle the upkeep. Oh yes, that means sharing a living space with Mr. Saucy Duke himself. Of course, this plot isn't exactly groundbreaking. For starters, it turns out that Christmas movies involving royalty are very populara. And Lambert isn't exactly doing anything new by revisiting the "we-hate-each-other's-guts-but-also-secretly-love-each-other" format. But A Castle for Christmas is successful in large part precisely because it leans into this audience-endorsed formula with such ardor and earnestness. So when the unrealistic—yet highly entertaining—conflict is set into motion, it works because the film's general electricity leads us to actually believe that everyone in this world really, really, really cares about Christmas more than absolutely everything else and, unless you're a total grinch, the power of the holiday makes just about anything possible. Even the film's own grinch—Myles—is able to find some joy in the occasion. I'd be surprised if that isn't also the case for the film's most cynical viewers. —Aurora Amidon