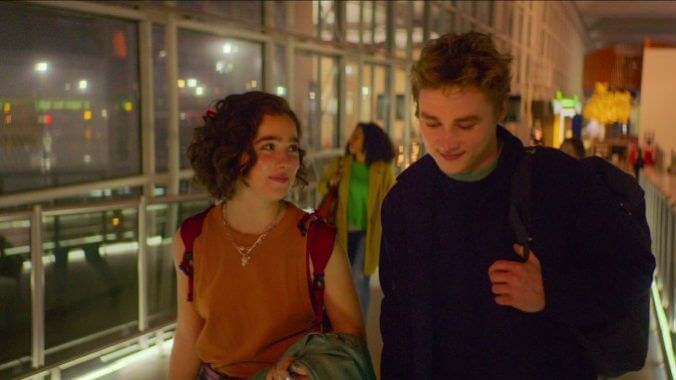 There's no shortage of romantic comedies pumping out of the Netflix Content Mill, and Love at First Sight—with its remarkably boilerplate title, bland poster art and YA novel source material—seemed likely to be just one of many indistinguishable rom-com clones tumbling down off the streaming conveyor belt and into the homes of paying Netflix customers, who then dial them up to 1.5x speed and barrel through while looking at TikToks. I'm not one of these alleged people, nor am I even a frequent dabbler in the genre. In fact, I've only just recently begun to dip my toes into previously unwatched classics such as 10 Things I Hate About You, Bridget Jones's Diary and The Proposal. So, perhaps it was curiosity born out of this cinematic world I've now opened myself up to which drew me to review Vanessa Caswill's film, based on "The Statistical Probability of Love at First Sight" by Jennifer E. Smith. Admittedly, my expectations were low, but nevertheless my heart and mind were open to the possibilities of love as brought to me by my good friend Ted Sarandos.
All joking aside, and with about 80% of the film working against my favor (70% of that figure due to the presence of Jameela Jamil), I must confess the regularity with which Love at First Sight brought me to blubbering tears. Due to my inexperience with the slate of romantic comedies that Netflix peddles in, perhaps Love at First Sight really is just more of the same—but I found myself shockingly taken under its corny, sentimental spell. At the very least, it is exceptional in being bestowed with the captivating charm of Haley Lu Richardson, whose chemistry with co-lead Ben Hardy (Bohemian Rhapsody, The Voyeurs) enthralls even as the dialogue they're reciting is worthy of cringe. 
Richardson plays Hadley, and Hardy plays Oliver: Two college kids who meet by chance in JFK while idling prior to a London flight, one en-route to a wedding, the other to a so-called "living memorial." Both are forever scarred by the terror of being caught off-guard—yes, even when it comes to love! For Hadley, it stemmed from her father (Rob Delaney) announcing his divorce from her mother shortly after taking on work in the U.K.; for Oliver, it was his mother's diagnosis of lung cancer, the trauma of which shaped him into a statistics obsessive (by the end, we learn that his area of research is the title of the film's source novel).
Such statistics, probabilities and likelihoods proliferate the film over the course of its 24-hour, in-universe time period, as explained daintily by the resident fourth wall-breaking fate/guardian angel hybrid played by Jamil. Jamil's nameless, character-shifting spirit pops up as a revolving door of strangers with the same shared face, all encountering Hadley and Ben to guide the would-be lovers on their journey into one another's arms. Jamil has garnered an infamous reputation on social media in the years since her stint of The Good Place, but distinct from that, her presence in the film is unshakably grating. She narrates Love at First Sight's weakest spots (attempts at comedically twee, omniscient character insights) and is just kind of annoying. She's not funny or charming like the two young actors her character is shepherding, and her real-life persona does grant her an inherent air of unlikability on top of it. Maybe the filmmakers could have cast someone better, but maybe I'm being a bit too harsh on Jamil—the character is undoubtedly annoying, so maybe annoying is what they were looking for, anyway.
Aside from that, Love at First Sight is, of course, predictable. Neither a feature nor a flaw, it's simply obvious what's going to happen to Hadley and Oliver from the moment you look at the poster on the Netflix home page. It is also not a spoiler to tell you that Oliver and Hadley live happily ever after upon the conclusion of their fraught 24-hour quest to rejoin one another after becoming separated at customs in the Heathrow Airport. Finding themselves both alone in the baggage claim area, they reluctantly depart to their separate events: Hadley's father's wedding to his new wife, Charlotte (Katrina Nare), and a "going away party" for Oliver's mother, Tessa (Sally Phillips), whose lung cancer returned with a vengeance after 14 years. The idea of a living memorial is very endearing, reminiscent of the Curb Your Enthusiasm episode where a healthy Albert Brooks organizes a fake funeral for himself so that he can watch all his friends say nice things about him. It's the same principle here, except with a terminal cancer patient and a gaudy Shakespearean theme featuring the film's best-looking scenes, shot by Luke Bryant, in a far more richly colored palette divergent from Netflix's usual gray slop.
The charm of the living memorial comes across quite earnestly, magnified by the sweet performances of Phillips and Dexter Fletcher as her husband, Val. Their scenes manage to be genuinely, winningly affecting in their depiction of a child's fear of his mortal parents, a topic that I was caught off guard by the film touching upon. Perhaps I'm just a mark, increasingly preoccupied by a slowly approaching future without my own parents, but it speaks partly to what makes Love at First Sight really sing. The cast is so delightful and genuine, it's hard to not find oneself wrapped up in Oliver's grief, or in Tessa and Val's, or in Hadley's discomfort at her father finding love without her mom. And it's Richardson who leads the film triumphantly, an actor who has seemingly mastered the art of the self-effacing girl next door. Her hesitations, stumbles and smirks are so effortlessly naturalistic and sincere it's easy to quickly move past the forced quirky lines she has to repeat about her "fear of mayonnaise."
By the end of Love at First Sight, I thought to myself "Well, I don't think that this movie was very good, nor do I think I even really liked it, but it made me cry multiple times, and that's not nothing." In retrospect, I only find myself feeling even more warmly towards the film since I finished it. Maybe it's partly to do with the Christmastime setting priming me before Halloween has even come to pass, or the "Travel London" shots of the city that felt like an advertisement and which nevertheless did make me want to visit London; or maybe it's that my heart has grown three sizes since accepting the mawkish appeal of movies like Sleepless in Seattle and It's Complicated. Because of this, I can, commendably, look past things like aggravating humor, predictable predictability and a soundtrack comprised of the most anonymous, Forever 21 playlist pop music (including an insufferable, slowed-down indie-girl cover of Whitney Houston's "I Wanna Dance with Somebody"). I can put them all aside to watch two almost-30-year-olds play adorable undergrads who learn to accept what the universe has inadvertently—or maybe intentionally—gifted them, and go boldly forward into the terrifying future, eyes wet and glistening.
Director: Vanessa Caswill
Writer: Katie Lovejoy
Starring: Haley Lu Richardson, Ben Hardy, Dexter Fletcher, Rob Delaney, Sally Phillips, Jameela Jamil
Release Date: September 15, 2023
---
Brianna Zigler is an entertainment writer based in middle-of-nowhere Massachusetts. Her work has appeared at Little White Lies, Film School Rejects, Thrillist, Bright Wall/Dark Room and more, and she writes a bi-monthly newsletter called That's Weird. You can follow her on Twitter, where she likes to engage in stimulating discussions on films like Movie 43, Clifford, and Watchmen.