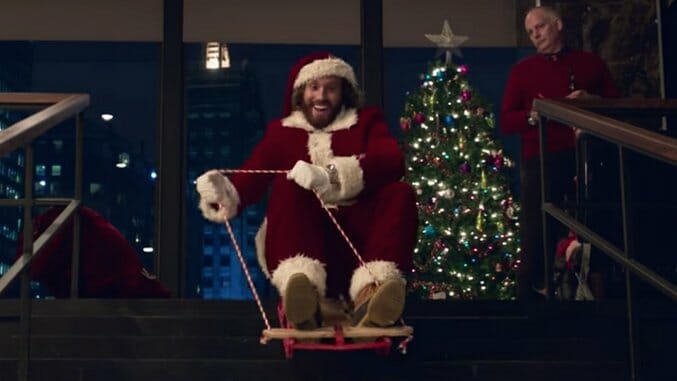 It must be Christmas in July, because we have been given the treat of the first trailer for Office Christmas Party, a holiday comedy with a star-studded cast.
The film begins with the no-nonsense CEO (Jennifer Aniston) attempting to close down her all-nonsense brother's (T.J. Miller) branch. So, to save their jobs, the branch manager and his CTO (Jason Bateman) decide to throw a wild office Christmas party to impress a potential client.
How wild? Very. There will be copious amounts of alcohol, a loose reindeer and an announcement to bang in the Rite-Aid parking lot, rather than on company property.
So, yeah, this definitely isn't your run-of-the-mill office party with sub-par cheese platters and "Santa Baby" playing all night. This screams The Hangover: Christmas Edition.
The movie, directed by Blades of Glory's Josh Gordon and Will Speck, also stars Vanessa Bayer, Jillian Bell, Olivia Munn, Kate McKinnon, Matt Walsh, Rob Corddry, Randall Park, Jamie Chung, Abbey Lee, Karan Soni and many more.
Office Christmas Party hits theaters Dec. 9. Watch the first trailer above.