After Parasite, Seoul Plans to Support Families Living in Semi-Basement Apartments
The city government will help 1,500 households improve living conditions
Image via NEON and CJ Entertainment
Movies
News
Parasite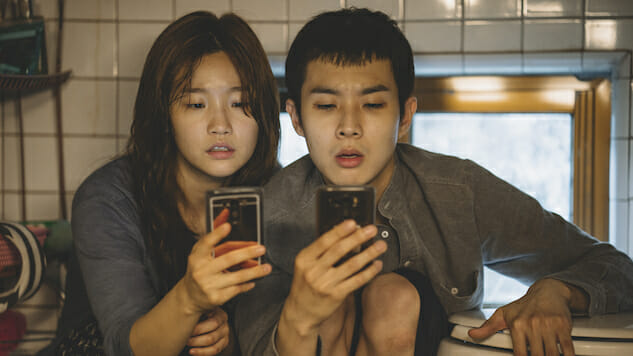 The rise of Parasite continues. Bong Joon Ho's thriller made history this month as the first South Korean film and the first movie not in the English language to win Best Picture at the 92nd Academy Awards. It has amassed a whopping $205 million in global box office sales (so far!), potentially jump-started a film career for Bong's interpreter Sharon Choi, and it has been announced that the film will begin streaming exclusively on Hulu on April 8.
Now, the Palme d'Or- and Best Picture-winning film has had another, more unexpected impact: The Seoul City government announced on Tuesday that it will take steps to financially support families living in semi-basement apartments like the one in which the Kim family lives in Parasite.
Partnering with the Korea Energy Foundation, the city government will provide 3.2 million won (or about $2,630 USD) to 1,500 households to help replace floors and install heating, air condition, fire alarms and ventilation systems, according to The Korea Herald. As per the report, there are around 383,000 semi-basement apartments like the ones in Parasite, with nearly 60% of them located in Seoul as of 2015. "Some 78 percent of those living in such apartments are from the bottom 30 percent income bracket," according to The Herald.
In Parasite, a scene in the family's semi-basement home punctuates a powerful introductory sequence, with fumes flooding the small space and the children (played by Park So Dam and Choi Woo Shik) scrambling to find a WiFi connection after their neighbors put a password on it.