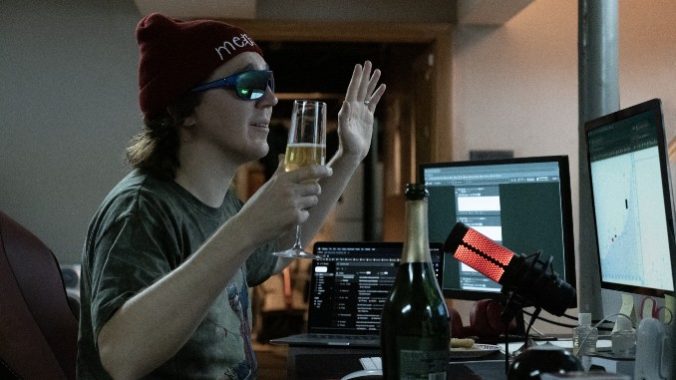 Ah, history's great tech disruptors. Steve Jobs. Kevin Flynn. Roaring Kitty. Ok, that last one remains to be seen, but for now, there's a more than good chance that Craig Gillespie's Dumb Money will make Roaring Kitty a household name—and have you cheering his machinations, which changed some of Wall Street's nefarious ways.
Based on the true events around the GameStop short squeeze mania that inspired author Ben Mezrich's 2021 book The Antisocial Network, Dumb Money focuses on the 2021 stock market hullabaloo instigated by the internet Pied Piper influencer, Keith Patrick Gill (Paul Dano). An average middle-class husband and father in Brockton, Massachusetts, Gill spent a lot of his free time either running at the local high school track, or in his basement researching potential stocks to invest his relatively small personal savings into. As an accounting nerd, he shared his findings publicly under the handles u/DeepFuckingValue on Reddit and Roaring Kitty on Twitter and YouTube. Things got interesting when he got fixated on the potential of GameStop stock mostly for how it was being ignored by stockbrokers and hedge funds. In 2020, he eventually bought $50,000 shares and built a community of like-minded, everyday followers who agreed with his methodology and his very simple ethos: "I like the stock."
With the majority of humanity stuck inside due to various COVID restrictions in 2021, online communities burgeoned as every demographic looked to their phones and computers for community and a panacea for their boredom. For Gill, it was both an opportunity to prove his analyst skills for future jobs and to buy a house for his wife and baby. What it turned into was a David vs. Goliath game of brinksmanship as Roaring Kitty's vlogs became hugely popular with retail stock and day traders looking for cheap investments with potential returns. When Wall Street got wind of it, the Melvin and Citadel Hedge funds bet that GameStop shares would fall, and a battle was born. 
Most people's stock market knowledge comes from what they read on their 401K statements and then they're checked out, which means Dumb Money has the same issues that director Adam McKay faced with The Big Short (2015). That film had to explain to audiences how the 2007-2008 financial crisis caused the housing market bubble to burst, using a bunch of investor characters who needed to unpack it while not leaving us in immediate comas. 
Using lessons learned from that hit, Gillespie's Dumb Money is even more accessible than The Big Short because screenwriters Lauren Schuker Blum and Rebecca Angelo broaden the circle of impact to include people from all walks of life. There's in-the-trenches GameStop retail associate Marcus (Anthony Ramos) who actively suffers the company's binder full of mandatory sales goals. Or the college girlfriends (Myha'la Herrold and Talia Ryder) looking to tackle their loan debt, and maybe an anarchic cause. Arguably the most effective is America Ferrera's single mom and frontline pandemic nurse, Jen Campbell. She's in debt and isn't going to get out of it with her day job. All of them provide human stories behind the internet-anonymous people who followed Roaring Kitty's GameStop shares purchasing, humanizing the techy story and giving audiences four people to chart and rally around as the stakes get higher when the GameStop stocks go through the roof. 
Gillespie has always had a fine eye for relating minute character details, like he did in Lars and the Real Girl and more recently with Pamela Anderson in Pam and Tommy. That carries through here, especially in scenes where the Gill family silently coalesce around the grave of their sister, recently lost to COVID, or the starkly relatable moment of humanity where Ferrera's nurse has one of her first maskless conversations with a random stranger while pumping gas. For all of Dumb Money's tension regarding the stock's ascent, neither Gillespie nor the script ever let us forget there are real people behind all aspects of this moment in time. 
The ensemble is also extremely well cast with comedians and character actors who are adept in conveying a lot of heavy stock market exposition in grounded, witty and absorbing ways. Pete Davidson in particular is a welcome idiot as Keith's burnout brother, Kev, who both gleefully busts on and supports his brother's internet fame. The screenwriters impart a lot of what the audience needs to know about the convoluted financial issues in a series of intimate family or friend conversations, where concerned characters voice their doubts about the risky issues inherent with the GameStop stocks. This keeps the audience knowledgeable in following the escalating stakes as the market gets volatile and the individual investors have to make big decisions about holding the line with Roaring Kitty, or cashing out with some big dividends. 
Gillespie also slyly uses a lot of energetic hip-hop and rock needledrops to reinforce the anti-establishment themes, while Will Bates' synth-heavy score accentuates the techy vibe with a bit of a heist undertone throughout. And all the props for the sheer cheek of using Cardi B's "WAP" as a first needledrop to both establish the excess of hedge fund manager Gabe Plotkin's (Seth Rogen) obnoxious wealth, and forever connect that song with the protagonist's social media handle, Roaring Kitty. No notes. 
Where Dumb Money cuts some corners is in imparting the macro impact of the various financial issues at play here in order to narrowcast the "average man against the evil 1%" scenario at the heart of the movie. The finance guys, from Rogen to Nick Offerman's soulless capitalist titan Kenneth C. Griffin, are all painted with the same villain brush, which is a little one-note. But on the other hand, Dumb Money makes a strong anti-capitalist case, as the fight for GameStop's stock becomes an existential war meant to prove the system is broken for everyone but the ultra-rich. And Dumb Money makes it clear that this applies not just to the stock market but to the pandemic too, as every frontline worker had to follow the rules and stay on the job, while the rich bent the rules to make money at their expense. 
Roaring Kitty and his acolytes don't overhaul the financial world, but they make a bit of a dent in it. What Dumb Money does very well is show that the GameStop stock story is more than just a meme for our times, but a first stone in the pond with a ripple effect that's still a work in progress.
Director: Craig Gillespie
Writers: Lauren Schuker Blum, Rebecca Angelo
Starring: Paul Dano, Pete Davidson, Vincent D'Onofrio, America Ferrera, Nick Offerman
Release Date: September 15, 2023
---
Tara Bennett is a Los Angeles-based writer covering film, television and pop culture for publications such as SFX Magazine, Total Film, SYFY Wire and more. She's also written books on Sons of Anarchy, Outlander, Fringe, The Story of Marvel Studios and The Art of Avatar: The Way of Water. You can follow her on Twitter @TaraDBennett or Instagram @TaraDBen