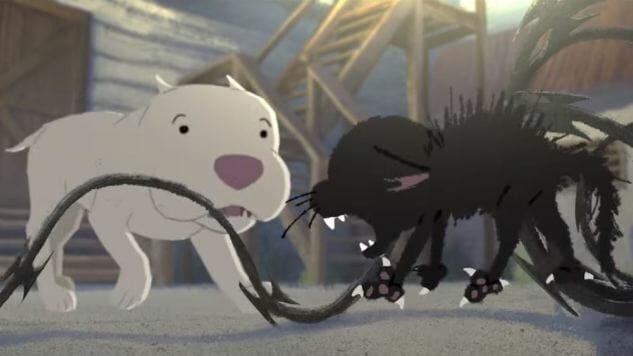 I wasn't ready for "Kitbull." Pixar's known for tugging on those heartstrings until they snap, of course, but the turns this story takes—first into all-too-real terror, and then into sheer hopefulness—had me bawling at my desk. This brand new 2D short, hand-animated by director Rosana Sullivan and her team at Pixar, is a powerful look at an unlikely friendship between a stray kitten and an abused pit bull that has the lifelike quality and emotional heft of the best Pixar and Disney animation.
Pixar isn't known for hand-drawn animation. In fact the company's success was part of the reason Disney got out of traditional animation altogether in the '00s. As a lifelong fan of the artform, it's exciting to see such a beautiful new work, especially coming from a studio that isn't known for this style of animation. "Kitbull" is gorgeous, capturing not just how animals move but also how they think and relate to one another. Disney has a long history of examining the lives and personalities of animals in lifelike detail, and Pixar's "Kitbull" is just as good at it as Lady and the Tramp or 101 Dalmations.
"Kitbull" is part of Pixar's Sparkshorts program, which develops new talent and explores new ways of telling stories through animation. Pixar is posting new Sparkshorts to YouTube every Monday, and "Kitbull" is the third to go live so far. You can watch the first two, "Purl" and "Smash and Grab", on Pixar's YouTube page. If the rest of the shorts are as great as "Kitbull," animation fans can look forward to some great cartoons.
Watch the full short below, and if you're interested, you can also watch a behind-the-scenes mini-documentary about the creation of "Kitbull."