Quentin Tarantino Has Finished the Script for His Manson Family Murders Film
Photo via Getty Images, Nicholas Hunt
Movies
News
Quentin Tarantino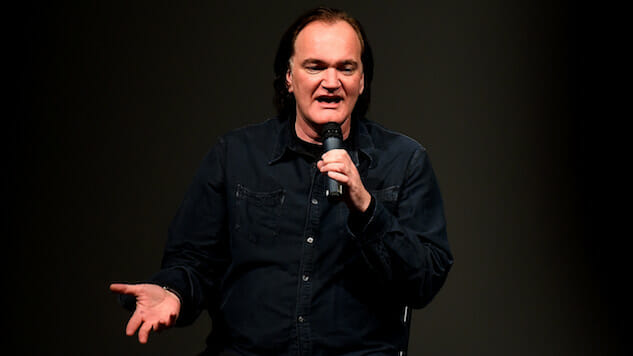 It was previously reported earlier this year that auteur director Quentin Tarantino was working on the script for his ninth film, and that it would reportedly revolve around the 1969 Manson Family/Tate murders. Now, it seems that Tarantino has completed that script, but things aren't quite so simple as taking it to his usual studio. Following the plethora of sexual harassment and assault allegations against Harvey Weinstein, the director has severed his longtime partnership with Miramax and The Weinstein Company, which leaves him currently shopping for a studio that will bring his ninth film to the screen. That studio is expected to be announced within the next few weeks, according to Deadline.
One of the threads of the film is expected to focus on actress Sharon Tate, who was one of the Manson Family victims. That role has reportedly been offered to Margot Robbie, while earlier rumors suggested roles for everyone from Jennifer Lawrence to previous Tarantino stars Brad Pitt, Samuel L. Jackson and Leonardo DiCaprio. No official casting decisions have yet been announced.
The proposed budget for the film is reportedly in the $100 million range, which would make it one of Tarantino's most expensive films, in the same range as Django Unchained. One wonders why this particular story would be so expensive, given that it wouldn't presumably be effects-driven, but perhaps this is more evidence of a truly all-star cast that Tarantino wants to assemble. Production on the film would start around the summer of 2018, targeting a 2019 release. That would be slightly longer than the gap between Inglorious Basterds and Django Unchained, or between Django and his most recent feature, The Hateful Eight.
Tarantino was in the news last month, in the wake of the Weinstein sexual harassment scandal, when he admitted to the New York Times that he was aware of at least some of the accusations made against the producer. "I knew enough to do more than I did," the director told NYT. "There was more to it than just the normal rumors, the normal gossip. It wasn't secondhand. I knew he did a couple of these things. I wish I had taken responsibility for what I heard. If I had done the work I should have done then, I would have had to not work with him."
Whether Tarantino's reputation will be tarnished somewhat thanks to his failure to act remains to be seen.