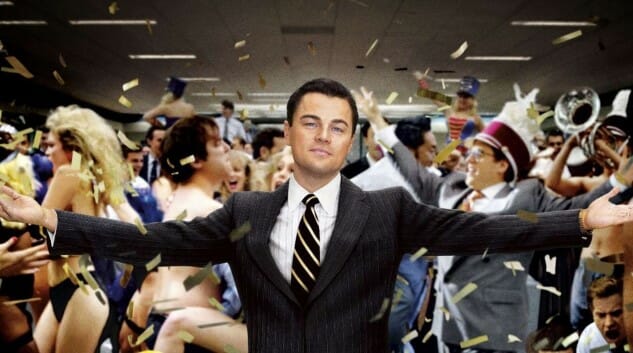 Call it life imitating art, or perhaps art imitating life, but it would appear that the money going into the financing of 2013's The Wolf of Wall Street was as dirty as the money being "earned" and spent by Leonardo DiCaprio's character Jordan Belfort.
Back in 2016, the U.S. Department of Justice filed suit against Malaysian officials connected to the production company Red Granite, which financed part of The Wolf of Wall Street. The suit alleged that the officials had misappropriated an incredible $3.5 billion that was intended for a Malaysian economic fund called 1Malaysia Development Bhd. Instead, the suit alleged that cash was used for all kinds of extravagant purchases, including property in New York. Some of the cash went into Red Granite, which financed several Hollywood films, including Wolf of Wall Street and Daddy's Home.
According to Variety, the U.S. government is now ordering Red Granite to forfeit $60 million, which amounts to the profits it reaped in connection with the Malaysian money. The timeline for payment is short—$30 million is already due within the next month.
Paramount Pictures has also been roped into the story, agreeing to withhold Daddy's Home profits from Red Granite. That money will be held by the U.S. government until the matter of the forfeiture payments is settled.
Even DiCaprio has been involved in the case, although not accused of any kind of wrongdoing. However, the government has reportedly asked The Revenant star to return a plethora of gifts that were bought for him with the misappropriated money. Incredibly, these gifts apparently include one of Marlon Brando's Oscars for the film On the Waterfront, which was gifted to DiCaprio in 2012. Why was the statuette not with the Brando estate? Because it apparently "went missing" years earlier.
If there's one good thing that comes out of this, perhaps it will be the return of Brando's Oscar to his family.