RoboCop Returns: Neill Blomkamp to Direct RoboCop Revival
Images via Orion Pictures/Showtime, Sean Gallup/Getty
Movies
News
robocop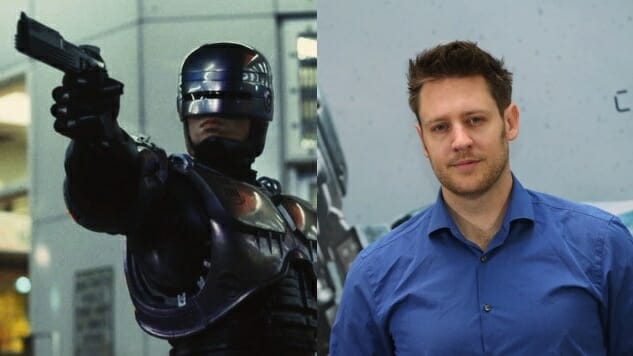 Remakes, reboots and revivals rule Hollywood of late—that's just life in the big city. So while we're not particularly enthused to report that Paul Verhoeven's 1987 satirical sci-fi thriller RoboCop is being retread yet again, we are extremely enthused to report that visionary, Oscar-nominated District 9 director Neill Blomkamp has signed on to helm its latest incarnation, MGM's aptly titled RoboCop Returns.
Very excited about this https://t.co/0R38DzSXp5

— Neill Blomkamp (@NeillBlomkamp) July 11, 2018
Original RoboCop writers Ed Neumeier and Michael Miner will produce and executive produce the film, respectively, while Justin Rhodes will rewrite a script that Neumeier and Miner wrote years ago for a planned sequel to Verhoeven's Oscar-winning '87 film that never made it off the runway (though two other follow-ups did). All of the above constitutes Neumeier and Miner's first creative involvement in RoboCop since the original film.
As far as the new film's plot is concerned, Deadline's report offers only this: "Anarchy reigns and the fate of Detroit hangs in the balance as RoboCop makes his triumphant return to fight crime and corruption." So … no wheels are being reinvented here.
Blomkamp offered Deadline a lengthy explanation of what drew him to the project:
The original definitely had a massive effect on me as a kid. I loved it then and it remains a classic in the end of 20th Century sci-fi catalog, with real meaning under the surface. Hopefully that is something we can get closer to in making of a sequel. That is my goal here. What I connected to as a kid has evolved over time. At first, the consumerism, materialism and Reaganomics, that '80s theme of America on steroids, came through most strongly. But As I've gotten older, the part that really resonated with me is identity, and the search for identity. As long as the human component is there, a good story can work in any time period, it's not locked into a specific place in history. What's so cool about RoboCop is that like good Westerns, sci-fi films and dramas, the human connection is really important to a story well told. What draws me now is someone searching for their lost identity, taken away at the hands of people who are benefiting from it, and seeing his memory jogged by events. That is most captivating. The other thing I am excited by is the chance to work again with Justin Rhodes. He has added elements that are pretty awesome, to a sequel that was set in the world of Verhoeven. This is a movie I would love to watch.
RoboCop's most recent remake came just four years ago in 2014, when MGM and Sony took a crack at a revival directed by Jose Padilha (Elite Squad) and starring Joel Kinnaman (Altered Carbon). The rehash managed a Metascore of only 52 and didn't make much of an impact at the U.S. box office, though it grossed some $240 million worldwide, doing particularly well in China.
The original RoboCop turned 30 in 2017, but the film's dystopian depiction of a corporate-controlled, poverty-stricken police state is depressingly relevant even now. Find Paste Movies contributor Kenneth Lowe's essay on the film's deeply troubling prescience here and check out its original trailer below.