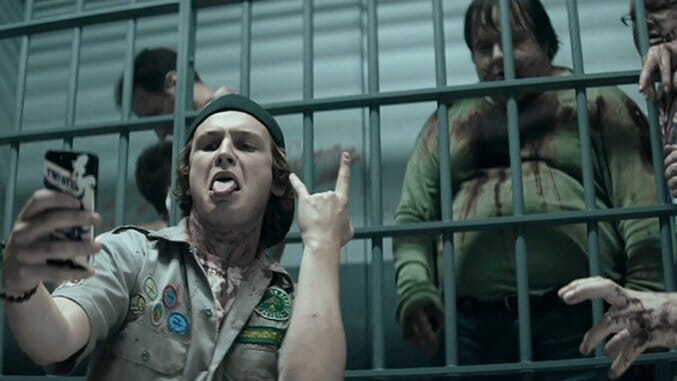 Scouts Guide to the Zombie Apocalypse wants to be many things: a horror comedy; a coming-of-age tale; a story of friendship put to the (extreme) test; a kind of anti-Goosebumps, gross-out dude romp; a film for whom the peak of humor is someone clinging to an undead cock to avoid falling out of a second story window; a College Humor skit stretched out to feature length. In other words, if you aren't a stoned teenage boy, then consider sitting out Christopher "Son of Michael" Landon's new film. This isn't for you.
Though they've been in the Scouts since they were six, Ben (Tye Sheridan) and Carter (Logan Miller) are about to become juniors in high school and want to leave the patch-earning, scarf-wearing lifestyle behind, primarily because no one will sleep with them dressed as they are. Still, throughout the course of the movie, they never manage to remove their khaki uniforms, despite ample opportunities. It just so happens that the day they choose to break the news of their abandonment of scouting to their dorky pal, Augie (Joey Morgan), who is apparently the only other person involved in Scouting aside from Scout Leader Rogers (David Koechner), a slacker janitor unwittingly unleashes a zombie plague.
What follows plays like simple teen boy wish fulfillment. The trio of well-worn genre archetypes—the smarmy nerd, the fat kid and the outcast who wants desperately to be cool—must navigate the mid-apocalyptic landscape besieged by the flesh-hungry. Ben is a comparatively gentle soul, concerned about being liked; Carter is the "wacky" guy who takes selfies with the undead; and Augie—he's pretty much just the fat kid. Along the way they team up with a stripper, Denise (Sarah Dumont)—sorry, cocktail waitress at a strip club called "Laurence of A Labia"—save the day, get the girl and generally play the hero, a role these kids have never fulfilled in their erstwhile "real" lives. Denise is—surprise!—tough and comfortable with a shotgun, a handy skill she wields for no apparent reason except to justify that her personality is wholly contained in cut-off jean shorts, a low-cut tank top and an almost expressionless face. In fact, every woman here, even the elderly neighbor cat lady played by 89-year-old Cloris Leachman (who by this point has become cinema's go-to raunchy old lady), is a sex object. When horny teen boys pause to ogle zombie breasts, inexplicably exposed, one wonders if the whole film is an excuse for giving screen time to the lowest, most marketable common denominator.
It seems a damn shame that Tye Sheridan is in this movie: With wonderful turns in Terrence Malick's Tree of Life, David Gordon Green's Joe, Kyle Patrick Alvarez's The Stanford Prison Experiment and Jeff Nichols' Mud, as well as with roles in this month's Entertainment and the upcoming X-Men: Apocalypse—parts sure to raise his profile exponentially—this is an obvious misstep in an otherwise high-arc career trajectory. Still, he's 18 years old, he's young; this stuff's inevitable. After all, he's in the demographic for whom this movie's been made.
Visually, Scouts Guide is nothing. Shot in a workmanlike, TV-production style, its look is bland and its direction typical. As an action movie, its editing borders on incoherence, its lack of logic made worse when camouflaged by a strobe light. Scouts Guide channels earlier movies, trying to present a vulgar, young male version of true friendship, a la Superbad, mixed with a pseudo-Zombieland vibe, but all this amounts to is the same lame jokes and tired genre subversions we've seen so many times before, they might as well just be the norm.
Director: Christopher Landon
Writer: Christopher Landon, Carrie Evans, Emi Mochizuki
Starring: Tye Sheridan, Logan Miller, Joey Morgan, Sarah Dumont, David Koechner, Cloris Leachman
Release Date: October 30, 2015