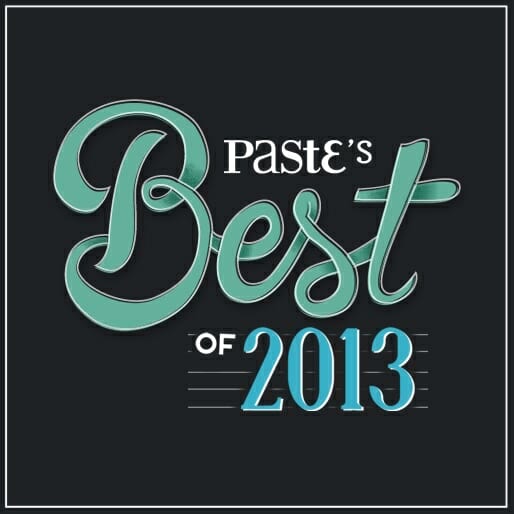 Music and movies got along just fine in 2013. Whether it was Baz Luhrmann transporting Lana Del Rey to the 1920s, Joe Swanberg combining indie filmmaking and indie rock or the Coen Brothers once again enlisting T Bone Burnett to capture the music of another era, it was a good year for music in film. From Inside Llewyn Davis to The Great Gatsby, here are 10 of our favorite movie soundtracks of 2013.

10. The Great Gatsby
The sounds behind F. Scott Fitzgerald's 1920s romance novel are perfect for the era. Leonardo DiCaprio graces the movie screen as Jay Gatsby, who plays a millionaire that is madly in love with Daisy Buchanan, played by Carey Mulligan. Director Baz Luhrmann enlisted popular musicians like Lana Del Rey and Florence + the Machine to highlight the ritzy theme of the movie. Other notable tracks on the soundtrack include a cover of "Crazy in Love" by Emeli Sandé and two jazz compositions from The Bryan Ferry Orchestra.

9. Frances Ha
The songs that accompany the free-spirited flick about gal pals Frances and Sophie (Greta Gerwig and Mickey Sumner) harmonize well with the black-and-white comedy. Tunes that could potentially pull at Greta and Sophie's heartstrings include "Blue Sway" by Paul McCartney and "Modern Love" by David Bowie, both featured on the soundtrack along with classic but fun symphonic compositions from French Composers Georges Delerue and Jean Constantin.

8. Mandela: Long Walk to Freedom
The music used in the film about South African president Nelson Mandela's life is no comparison to the greatness of his leadership, but it creates a beautiful accompaniment to the biopic. Golden Globe winner U2 wrote the original song "Ordinary Love" for the film, but the soundtrack also contains four tracks from the original score written by Alex Heffes. Other highlights include recordings from reggae singer Bob Marley and The Manhattan Brothers, a group that was popular in the 1940s and 50s and during the Apartheid Era.

7. The Wolf of Wall Street
Director Martin Scorsese is known for picking just the right songs for his films and he's done well with picking the appropriate tunes for this hard-partying film. The autobiography of Jordan Belfort, played by 2014 Golden Globe winner Leonardo DiCaprio, is a story about a money-hungry and scheming stock broker who charms his way into lives of a handful of hookers and pumps them full of cocaine. The soundtrack highlights performances from the late Bo Diddley, an energetic song from Sharon Jones and the Dap Kings, and the classic tune Movin' Out (Anthony's Song) by Billy Joel.

6. The Place Beyond the Pines
This drama starring Ryan Gosling and Eva Mendes has a compelling original score to help convey the emotional scenes between Luke and Romina, who have a three-month-old baby boy and a broken relationship, caused partially by financial issues. The Place Beyond the Pines also stars Bradley Cooper as Avery, a rookie cop attempting to catch Luke after he robs a few banks. The original score, written by Mike Patton (Crank: High Voltage), contains an abundant amount of angelic singing, eerie symphonic compositions and low-octave harpsichord and piano notes to accompany climatic scenes throughout the film. Highlights from the soundtrack include 12 of Patton's compositions, a cover of "Don't Go Please Stay" by 1960s pop group The Cryin' Shames and Bon Iver's The Wolves (Act I and II).

5. The Secret Life of Walter Mitty
It's no secret that Ben Stiller can bring comedic moments and sappy feelings into any movie he's in. In the film based off of the 1939 short story by James Thurber, Walter Mitty ventures out into corners of the world he hasn't been to with encouraging songs behind him, mainly featuring the Swedish musician and Junip frontman José González. Other highlights from the soundtrack include Of Monster and Men's "Dirty Paws", soothing sounds from Rogue Valley and a fun tune from Jack Johnson.

4. Dallas Buyers Club
The film inspired by true events in the mid 1980s stars Matthew McConaughey as a cowboy from Dallas who's slept around with most of the women in town and suddenly discovers he has HIV. His journey to Mexico to find a medication and bring it back to Dallas for other HIV-positive patients to buy from him features songs from indie pop bands like The Naked and Famous, Tegan and Sara and Neon Trees. Highlights from the soundtrack include Capital Cities covering "Stayin' Alive", remixes from AWOLNATION and Fitz and the Tantrums and a performance from The Airborne Toxic Event.

3. Drinking Buddies
New Girl fans may have seen Jake Johnson take on another flirtatious and funny character named Luke in Drinking Buddies alongside Olivia Wilde. Their possibly platonic relationship is accompanied by soft folk tunes and upbeat songs from Cayucos and Rubblebucket. The music in the film features many of Jagjaguwar's artists like Here We Go Magic and Foxygen. Highlights from the soundtrack also include two short exchanges between Luke and Kate and mellow tracks from The Amazing, Barna Howard and Richard Swift.

2. 12 Years a Slave
The Golden Globe winner and historical drama based on the 1853 autobiography of Solomon Northup contains a beautiful compilation of symphonic scores by Hans Zimmer and freedom songs from various artists. The storyline of the film describes the life of Solomon Northup, played by Chiwetel Ejiofor, after he was captured and sold into slavery. After 12 years of working in Louisiana plantations he finally became a free black man. Highlights from the soundtrack include a beautiful chorus of the cast singing the a capella song "Roll Jordan Roll," a stunning performance from Alicia Keys and two songs from John Legend.

1. Inside Llewyn Davis
Producer T Bone Burnett helped the Coen Brothers make old-timey music cool again in O Brother Where Art There. They teamed up again to celebrate the Greenwich Village folk scene of the '60s. Actor/musician Oscar Issac plays folk singer Llewyn Davis alongside Carey Mulligan, John Goodman, Garrett Hedlund and Justin Timberlake. The soundtrack features six of the songs Isaac performs and three songs with Justin Timberlake that strike a much different chord than his 20/20 Experience. Highlights from this album include Isaac's collaboration with Marcus Mumford of Mumford and Sons and Punch Brothers as well as a unreleased studio version of Bob Dylan's song "Farewell."