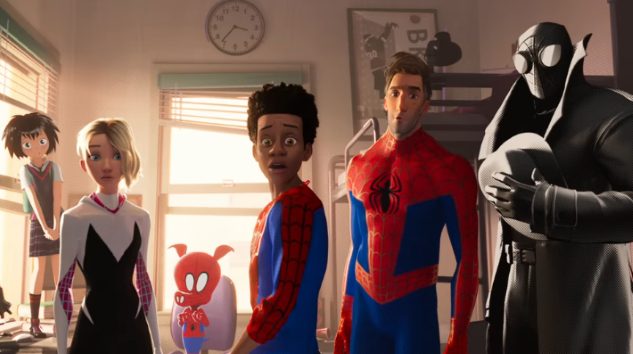 Geez, you take one look at another breathtaking trailer for Spider-Man: Into the Spider-Verse, and it's hard to feel anything other than … sheer embarrassment for the likes of Venom, right? I mean really: On one hand, you've got a corner of the Spider-Verse where the star of the film is slagging his own movie during interviews, and on the other, you've got the beautiful visuals and perfect comic timing of Into the Spider-Verse. It hardly seems fair at all.
The second trailer for this universe-bending take on Marvel's limitless parallel universes introduces us to a wide range of Spider-Men and Women. Jake Johnson is playing the original Peter Parker incarnation of Spider-Man, who serves as a clear mentor for the "Ultimate" version of Spider-Man, portrayed by black/Latino teenager Miles Morales (Shameik Moore). But wait, that's not all! You've also got Spider-Gwen, the spider-empowered version of Gwen Stacy, played by Hailee Steinfeld, "Spider-Man Noir" as played by Nicolas freakin' Cage, "SP///dr," the Japanese schoolgirl version of Spider-Man (Kimiko Glenn), AND comedian John Mulaney portraying "Spider-Ham," a talking pig/Spider-Man amalgam. And that's not even including actors such as Liev Schreiber, Mahershala Ali and Lily Tomlin in what is a ridiculously stacked cast of stars.
Combined with a cutting edge, completely fresh animation style, could this literally be the best Spider-Man movie ever? We're starting to think that's a perfectly reasonable question to be asking.
Spider-Man: Into the Spider-Verse hits theaters on Dec. 14, 2018. Check out the full trailer below.