Stanley Tucci Joins Rosamund Pike in Forthcoming Biopic A Private War
Photos by Frazer Harrison/Getty
Movies
News
Stanley Tucci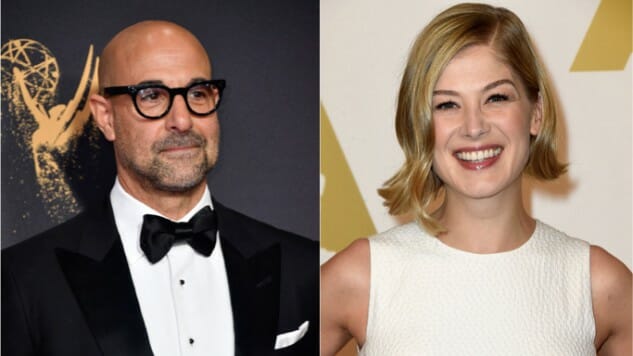 Stanley Tucci has joined Rosamund Pike in the forthcoming film A Private War, a biopic about war correspondent Marie Colvin who worked for the British newspaper The Sunday Times from 1985 until her death on Feb. 22, 2012. Academy Award nominee Pike is set to play Colvin.
The film is based on a Vanity Fair piece by Marie Brenner that chronicled Colvin's career and death. Assad forces finally killed her after she was deliberately tracked and targeted by senior Syrian military officials seeking to silence her because of her reporting on civilian casualties in the city of Homs. Colvin was an American journalist who graduated from Yale University. Her trademark was her distinctly American tone and, of course, the eye patch she wore after losing her left eye from a RPG in Sri Lanka in 2001. The film supposedly will juxtapose her home life in London with her professional work reporting directly from Afghanistan, Iraq, Libya and Syria, where she was murdered.
It is unknown what role Tucci will have in this film, but it is known that his part will take place in the London segments of the film, according to Variety. Fifty Shades of Grey star Jamie Dornan is also part of the cast, playing Colvin's photographer, Paul Conroy, who accompanied her on her fateful final assignment. Tucci received an Oscar nomination for his haunting turn in The Lovely Bones, in which he played a chilling child murderer. He is coming off a busy year in which he starred in Disney's Beauty and the Beast remake, Transformers: The Last Knight and the FX limited series Feud: Betty and Joan.
Thunder Road Pictures' Basil Iwanyk (Sicario), Charlize Theron's Denver and Delilah Productions, and Savvy Media Holdings' Matthew George (Wind River) are producing A Private War along with Marissa McMahon. Arash Amel, who most recently penned the critically hated Grace of Monaco, wrote the screenplay. The Oscar-nominated director of the documentary Cartel Land, Matthew Heineman, will direct.