Billy Dee Williams Will Return to Star Wars as Lando Calrissian
Photo by Alberto E. Rodriguez/Getty
Movies
News
Star Wars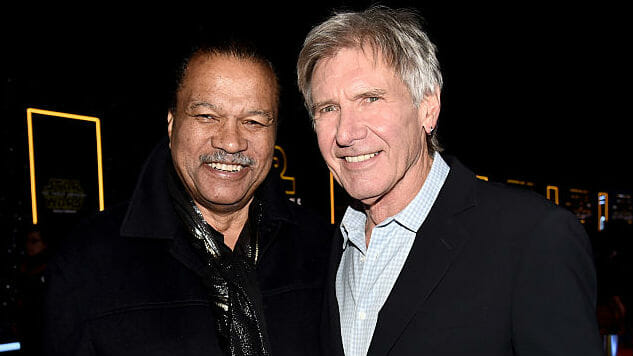 After facing a bit of a bump thanks to less-than-impressive box office numbers from Solo: A Star Wars Story, the Star Wars film franchise is back to rolling out awesome news for fans. With Star Wars: Episode IX still in pre-production, casting buzz rules the game, and while news that Keri Russell may join the film is very exciting, Lucasfilm just announced something that will have true-blue Star Wars fans outright rioting.
According to a THR report published July 9, Billy Dee Williams is returning to the franchise as Lando Calrissian for Star Wars: Episode IX. This marks Williams' first foray back into the Star Wars films since his turn in 1983's Return of the Jedi. Fans will undoubtedly remember his star-making debut as Lando Calrissian, Han Solo's oldest frenemy, in The Empire Strikes Back. Donald Glover most recently portrayed a younger version of the swaggering, cape-laden marauder in Solo: A Star Wars Story.
This isn't Williams' first return to the franchise writ large, as he's also lent his voice to Lando in various animated and videogame projects. Williams most recently starred as Harvey Dent in The Lego Batman Movie, and this will be his first on-person return to the big screen since he played Cain in Trey Haley's The Man in 3B. Williams joins the new Star Wars trio of Daisy Ridley, John Boyega and Oscar Isaac in Episode IX, which will be directed by J.J. Abrams and is slated to debut Dec. 20, 2019.