Solo Flies Well Below Projections with $103M Over Four-Day Weekend
It's the worst opening for a live-action Star Wars film since Attack of the Clones
Image via Lucasfilm Ltd.
Movies
News
Star Wars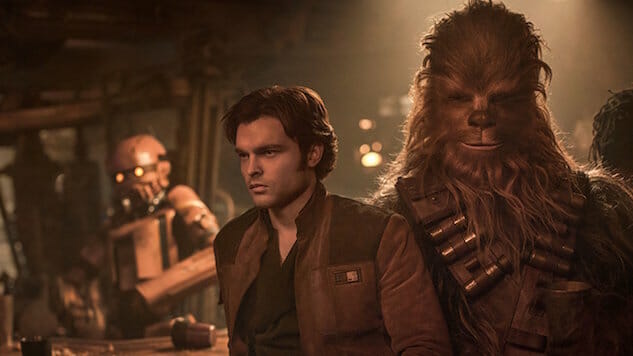 Though it went through a slight hiccup in production—if you can call firing your directors and hiring a new one halfway through shooting a hiccup— Solo: A Star Wars Story was still projected to do well with audiences at the holiday box office this past weekend.
Surprisingly, the standalone flick flew well below its projected $130 million total with just $103 million over four days this Memorial Day weekend, making for the worst opening of a Star Wars film since Attack of the Clones in 2002. And we all know how much Star Wars fans hate those prequels.
While reviews for Solo are not exactly glowing, there are several factors that could have contributed to the low turnout. The film debuted in the shadow of two massive superhero films, Avengers: Infinity War and Deadpool 2. Though neither film debuted in the same weekend, many speculate that the competition was enough to keep moviegoers from the making their way back to theaters.
Another factor may very well be franchise fatigue. Solo is the fourth Star Wars film to hit theaters in just two and a half years. And while they have all done well, together grossing over $4 billion, they also enjoyed minimal competition in their Christmas-time markets. Especially after The Last Jedi received backlash from die-hard fans, it looks like the nostalgia is starting to wear off as the Star Wars over-saturation sets in.
Still, just because the film wasn't up to par with the last few Star Wars releases does not mean it bombed. Along with a combined $76 million from Deadpool 2 and Infinity War, the film helped this Memorial Day weekend see the best box office turnout since 2014 for the holiday, per Deadline. Solo also marks the biggest opening of director Ron Howard's career. However, with several other standalone character films in the works, including spinoffs for Boba Fett and Obi-Wan, Disney may want to take another look at its release strategies, perhaps sticking to the winter Star Wars releases and letting its Marvel franchises continue to dominate the summer.
Read Paste's review of Solo: A Star Wars Story here.