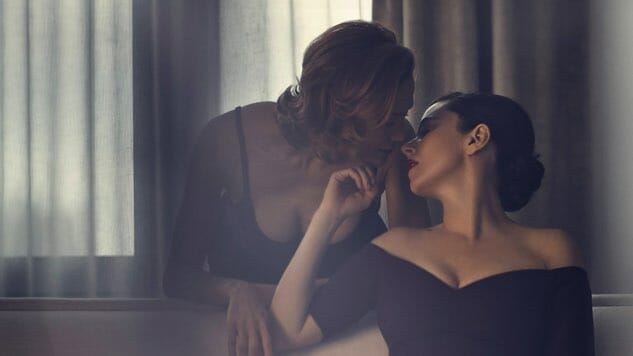 As we continue to approach peak movies and TV season, that singular time of year when so many of us are stuck indoors, hiding from the cold and making nice with our families as best we can, it's increasingly essential to have a tall stockpile of streaming entertainment at our fingertips. To that end, here are all the film and TV options headed to the Starz app next month.
The streaming platform's incoming slate of feature films is looking solid, highlighted by Robert Zemeckis and Tom Hanks' iconic 2000 drama Cast Away and quite a few classic Godzilla films—including Godzilla (1954), Godzilla Raids Again (1955), Godzilla vs. Mechagodzilla (1975), Godzilla vs. Megalon (1973), Godzilla: King of the Monsters (1956) and more—as well as Martin Scorsese's Oscar-winning 2011 drama Hugo, the original, John Wayne-starring True Grit (1969), Danny Boyle's recent sequel T2 Trainspotting and Ruben Fleischer's cult 2009 horror-comedy Zombieland. For those of us who are still in the mood to be spooked out after Halloween has come and gone, the list also includes Robert Rodriguez's 1998 sci-fi/horror flick The Faculty, Eli Roth's hyperviolent Hostel, Tim Burton's 1999 take on the tale of Sleepy Hollow and 1996 vampire flick From Dusk Till Dawn (also from Rodriguez), along with its two sequels. Last but not least is the Starz-exclusive premiere of All Governments Lie: Truth, Deception, and the Spirit of I.F. Stone, a feature-length documentary—executive produced by Oliver Stone—that follows a group of investigative journalists as they uncover government and corporate subterfuge.
Moving now from the silver screen to the small, Starz is adding an acclaimed original series next month: executive producer Steven Soderbergh's The Girlfriend Experience, returning for a second season on Sunday, Nov. 5. Episodes of the anthology drama will be available on the Starz app starting at 12:01 a.m. EDT (and on the air Sunday nights at 9 p.m. EDT/PDT). The show's second season "will focus on entirely new characters and take on a new format by following two parallel storylines each written, directed and executive produced by Lodge Kerrigan and Amy Seimetz," per Starz. Each week, two episodes will become available, one from the "Erica & Anna" story, starring Anna Friel and Louisa Krause, and another from the "Bria" story, starring Carmen Ejogo. You can revisit the recently released trailer for the show's new season here. November will also bring new episodes of the third season of Starz's acclaimed fantasy drama Outlander, based upon Diana Gabaldon's historical time travel novel series of the same name.
Finally, we would be remiss if we did not point out the titles that are leaving the Starz app in November, including Oscar-winning, Hilary Swank-starring 1999 drama Boys Don't Cry, ridiculous Jean-Claude Van Damme vehicle (and Trump favorite) Bloodsport, Steve Martin-scripted and -starring 1999 comedy Bowfinger, and George Miller's original 1979 Mad Max. So if any of those titles made your eyebrows raise, you better hop to it, streamers. Time is ticking.
See the full list of November's incoming and outgoing titles on Starz below, and find our most recent ranking of the service's best movies right here.
WHAT'S NEW ON THE STARZ APP – NOVEMBER 2017
AVAILABLE NOV. 1
2017 Oscar Nominated Live Action Shorts (2017)
"Ah My Buddha" (2005) – Episodes 101-113
All Monsters Attack (1969)
Arizona Trail (1943)
Benny & Joon (1993)
Big Momma's House (2000)
Billy Elliot (2000)
Black Caesar (1973)
Blacula (1972)
The Brothers (2001)
Cast Away (2000)
The Da Vinci Code (2006)
Drop Zone (1994)
The Faculty (1998)
Fluke (1995)
Gallipoli (1981)
The General's Daughter (1999)
Ghidorah: Three Headed Monster (1964)
Godzilla (1954)
Godzilla Raids Again (1955)
Godzilla vs. Mechagodzilla (1975)
Godzilla vs. Megalon (1973)
Godzilla: King of the Monsters (1956)
The Great Northfield Minnesota Raid (1972)
"Guillermina Y Candelario" (2011) – Episodes 101-126, 201-215, 301-320
Hostel (2006)
Hostel: Part II (2007)
Hugo (2011)
I Am Sam (2001)
Invasion of Astro-Monster (1965)
La Última Noticia (2016)
"Lonesome Dove" (1988) – Episodes 1-4
Mothra vs. Godzilla (1964)
Nobody's Fool (1994)
The Pebble and the Penguin (1995)
Red River (1988)
"Return to Lonesome Dove" (1993) – Episodes 1-4
Rodan (1956)
The Santa Clause 2 (2002)
Saving Santa (2013)
The Serpent and the Rainbow (1987)
Shallow Hal (2001)
"Skatoony" (2010) – Episodes 101-113, 201-226
Sleepy Hollow (1999)
"Snapshots" (2016) – Episodes 101-106
Son of Godzilla (1969)
The Stone Boy (2017)
Supercop (1996)
Surf's Up (2007)
Terror of the Mechagodzilla (1974)
"The Virginian" (1965-1967) – Episodes 319-320, 323-324, 401-412, 414-430, 501-518, 524, 527
True Grit (1969)
War Drums (1956)
War of the Gargantuas (1966)
AVAILABLE NOV. 2
The Duelist (2016)
AVAILABLE NOV. 3
The Fighting Vigilantes (1947)
AVAILABLE NOV. 4
Norman: The Moderate Rise and Tragic Fall of a New York Fixer (2017)
AVAILABLE NOV. 5
"The Girlfriend Experience" (2017) – SEASON 2 PREMIERE – Episodes 201 & 208
"Outlander" (2017) – Episode 308
Seal Team Six: The Raid on Osama Bin Laden (2012)
AVAILABLE NOV. 6
All Governments Lie: Truth, Deception, and the Spirit of I.F. Stone (2016) – FEATURE DOCUMENTARY PREMIERE
AVAILABLE NOV. 9
Sands of Iwo Jima (1949)
AVAILABLE NOV. 10
A.C.O.D. (2013)
Ambush Trail (1946)
Author! Author! (1982)
Blindness (2008)
Company Man (2000)
The Cowboy and the Indians (1949)
Cowboy and the Senorita (1944)
The Delta Force (1986)
Driftin' River (1946)
Fear (1996)
From Dusk Till Dawn (1996)
From Dusk Till Dawn 2: Texas Blood Money (1998)
From Dusk Till Dawn 3: The Hangman's Daughter (2000)
Frontier Fugitives (1945)
In Old Caliente (1939)
Jessabelle (2014)
Michael Jackson's This Is It (2009)
Missing (1982)
Red Canyon (1948)
Star Kid (1998)
Tony Rome (1967)
Trail of the Lonesome Pine (1936)
Twin Dragons (1999)
Worth Winning (1989)
AVAILABLE NOV. 11
T2 Trainspotting (2017)
AVAILABLE NOV. 12
"The Girlfriend Experience" (2017) – Episodes 202 & 209
"Outlander" (2017) – Episode 309
AVAILABLE NOV. 13
The Cliff (2016)
AVAILABLE NOV. 14
Miracle at St. Anna (2008)
AVAILABLE NOV. 15
Destroy All Monsters (1968)
"Please Teacher" (2002) – Episodes 101-113
AVAILABLE NOV. 16
The American (2010)
AVAILABLE NOV. 17
American Heart (1993)
Beautiful Girls (1996)
Best Men (1997)
Black Hills (1947)
The Blazing Sun (1950)
Border Badmen (1945)
Bus Stop (1956)
Catch and Release (2007)
Doomsday (2008)
Dragon (2012)
Dressed To Kill (1946)
Gentlemen with Guns (1946)
Hollywood Ending (2002)
Last Chance Harvey (2008)
One More Train to Rob (1971)
Race with the Devil (1975)
The Red Stallion (1947)
Rhythm on the Range (1936)
Sagebrush Trail (1934)
Scream Blacula Scream (1973)
Shadow Valley (1947)
Slither (2006)
Song of Freedom (1936)
Stage to Mesa City (1948)
Stagecoach Outlaws (1945)
The Star Packer (1934)
Stars Over Texas (1946)
Thunder Town (1946)
The Tioga Kid (1948)
Tornado Range (1948)
The Trail Beyond (1934)
Tumbleweed Trail (1946)
Two Buddies and a Badger (2015)
Videodrome (1982)
What Lies Beneath (2000)
Zombieland (2009)
AVAILABLE NOV. 18
10 Years (2011)
"Monster" (2017) – Episodes 101-107
AVAILABLE NOV. 19
"The Girlfriend Experience" (2017) – Episodes 203 & 210
"Outlander" (2017) – Episode 310
AVAILABLE NOV. 23
Pawn Sacrifice (2015)
AVAILABLE NOV. 24
Blue Steel (1934)
Bonanza: The Return (1993)
Bonanza: Under Attack (1995)
Border Feud (1947)
The Border (1982)
Davy Crockett, Indian Scout (1944)
Don Ricardo Returns (1946)
Firestorm (1998)
Frontier Scout (1955)
Ghost of Hidden Valley (1946)
A Life Less Ordinary (1997)
Lights of Old Santa Fe (1940)
Pioneer Woman (1973)
Ride Clear of Diablo (1953)
Robots (2005)
Scales: Mermaids Are Real (2016)
Sleepover (2004)
Swallows and Amazons (2016)
The Wild and the Innocent (1959)
AVAILABLE NOV. 25
The Comedian (2017)
AVAILABLE NOV. 26
"The Girlfriend Experience" (2017) – Episodes 204 & 211
Life as a House (2001)
"Outlander" (2017) – Episode 311
AVAILABLE NOV. 27
Woman on Fire (2016)
WHAT'S LEAVING THE STARZ APP – NOVEMBER 2017
LEAVING NOV. 1
The Visitor (2008)
LEAVING NOV. 3
Pirates of the Caribbean: At World's End (2007)
LEAVING NOV. 4
Boys Don't Cry (1999)
LEAVING NOV. 6
Soul Plane (2004)
Underdog (2007)
LEAVING NOV. 9
Cherish (2002)
LEAVING NOV. 11
Vanishing Wilderness (1974)
LEAVING NOV. 15
The Night Before (2015)
LEAVING NOV. 21
Enchanted (2007)
Machine Gun Preacher (2011)
LEAVING NOV. 22
Coming Home (2014)
LEAVING NOV. 28
Dan in Real Life (2007)
LEAVING NOV. 30
976-Evil (1988)
The Adventures of Priscilla, Queen of the Desert (1994)
Amor, Etc. (2013)
Asunder (1998)
Beat Street (1984)
Besos de Azucar (2013)
Black Rain (1989)
Bloodsport (1988)
Blue (1968)
Bowfinger (1999)
Breakheart Pass (1976)
Breakin' 2: Electric Boogaloo (1984)
The 'burbs (1989)
Ca$h (2009)
Capitalism: A Love Story (2009)
Career Opportunities (1991)
Cat Run (2011)
China Moon (1991)
Cinderella Once Upon a Time… In The West (2011)
Code of Silence (1985)
The Condemned 2 (2015)
"Diff'rent Strokes" (1978-1986) – Episodes 1-189
The Dogs of War (1980)
Dragonheart (1996)
Far From Home: The Adventures of Yellow Dog (1994)
Fermin Glorias of Tango (2014)
Fill the Void (2012)
Fort McCoy (2014)
Four Weddings and a Funeral (1993)
Friday After Next (2002)
Godzilla Against Mechagodzilla (2002)
Godzilla vs. Destoroyah (1995)
Godzilla vs. King Ghidorah (1991)
Godzilla vs. Mechagodzilla II (1993)
Godzilla vs. Megaguirus (2000)
Godzilla, Mothra and King Ghidorah: Giant Monsters All-Out Attack (2001)
"Good Times" (1974-1979) – Episodes 1-133
The Great Sioux Uprising (1953)
Gunmen (1993)
Hair (1979)
Harley Davidson and the Marlboro Man (1991)
Hart's War (2002)
His Name Was Jason: 30 Years of Friday the 13 th (2008)
Hitched (1971)
Hope Floats (1998)
Huckleberry Finn (1974)
In & Out (1997)
The Journey of August King (1995)
Kill the Irishman (2011)
The Killer Elite (1975)
Kinky Boots (2005)
La Corporacion (2012
La Voz en Off (2014)
The Last Command (1955)
Leviathan (1989)
Mad Max (1979)
Marvin's Room (1996)
Mr. Majestyk (1974)
Muriel's Wedding (1995)
Next Avengers: Heroes of Tomorrow (2008)
Once Upon a Crime… (1992)
Out to Sea (1997)
Overland Pacific (1955)
P2 (2007)
Paper Heart (2009)
Personal Effects (2008)
Pillars of the Sky (1956)
The Pope of Greenwich Village (1984)
Ride (1998)
Rudderless (2014)
Searching for Sugar Man (2012)
Sexting (2010)
The Skulls (2000)
The Skulls II (2002)
The Skulls III (2004)
Streets of Laredo (1949)
Supernova (2000)
Support Your Local Sheriff! (1968)
Tank Girl (1995)
Tristan and Isolde (2005)
Wadjda (2013)
What Dreams May Come (1998)
The Young Victoria (2008)