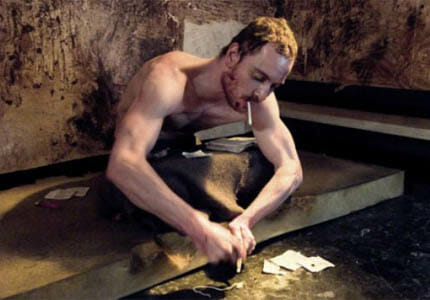 Release Date: March 20
Director: Steve McQueen
Writers: McQueen, Enda Walsh
Cinematographer: Sean Bobbitt
Starring: Michael Fassbender, Stuart Graham
Studio/Run Time: IFC Films, 96 mins.
A meticulous, harrowing Irish prison film
First-time filmmaker Steve McQueen spares his viewers no uncomfortable details in his account of the Irish prison protests of 1981. Thankfully, though, command of details is one of his strengths. Hunger is the story of Irish Republicans who've been apprehended in the throes of activism and demand to be treated as political prisoners instead of common criminals. As a matter of principle, they trade their prison uniforms for blankets and their bathing privileges for filth. McQueen concentrates on a single cell and a single pair of prisoners—and sometimes on a single fly on a single finger—and his cinematographer, Sean Bobbitt, comes up with such crisp compositions that even the feces-smeared walls are perfectly lit. In a physically demanding role, Michael Fassbender plays Bobby Sands, who huddles naked in a cell, fights against those who would cut his hair, and then withers into a skeleton during the final stretch. For 17 minutes, he talks with a priest about the philosophy of resistance, and the unbroken shot would seem showy if it weren't part of an overall strategy. McQueen shows a man mopping a long hallway, then the man's view of the mop; shows Sand's skin and bones, then his blurred view of the ceiling, always striking a balance between static, distant observation and the taste of abraded knuckles.