We're pleased as warm, pastel-colored punch to team with GKIDS and Studio Ghibli to both announce that the 1993 film Ocean Waves will be seeing re-release in select theaters throughout the U.S. come January, as well as to give one lucky Ghib-head (Ghib-liaison? Ghibbalo?) a prize pack!
But first, a little background on Ocean Waves, care of GKIDS:
Rarely seen outside of Japan, Ocean Waves is a subtle, poignant and wonderfully detailed story of adolescence and teenage isolation. Taku and his best friend Yutaka are headed back to school for what looks like another uneventful year. But they soon find their friendship tested by the arrival of Rikako, a beautiful new transfer student from Tokyo whose attitude vacillates wildly from flirty and flippant to melancholic. When Taku joins Rikako on a trip to Tokyo, the school erupts with rumors, and the three friends are forced to come to terms with their changing relationships.
Ocean Waves was the first Studio Ghibli film directed by someone other than studio founders Hayao Miyazaki and Isao Takahata, as director Tomomi Mochizuki led a talented staff of younger employees in an adaptation of Saeko Himuro's best-selling novel. Full of shots bathed in a palette of pleasingly soft pastel colors and rich in the unexpected visual details typical of Studio Ghibli's most revered works, Ocean Waves is an accomplished teenage drama and a true discovery.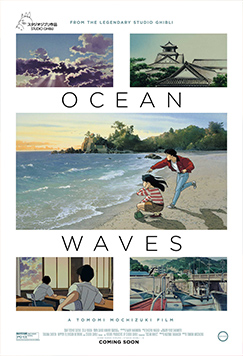 So, to celebrate this special series of theater engagements, we've got an exclusive giveaway:
One (1) winner will receive a Studio Ghibli prize pack with:
– Only Yesterday DVD
– When Marnie Was There DVD
– When Marnie Was There mini-poster
– Ocean Waves poster (pictured)
Winning, unlike navigating the vicissitudes of young love, is easy. All you have to do is:
1. Follow @pastemovies on Twitter if you haven't already;
2. Tweet @pastemovies and tell us what your favorite Studio Ghibli movie is;
3. Include the hashtag #OceanWaves.
And in the spirit of ending the year on any high note you can get your hands on, we'll pick a winner very soon!
Note: Winner must be a U.S. resident.