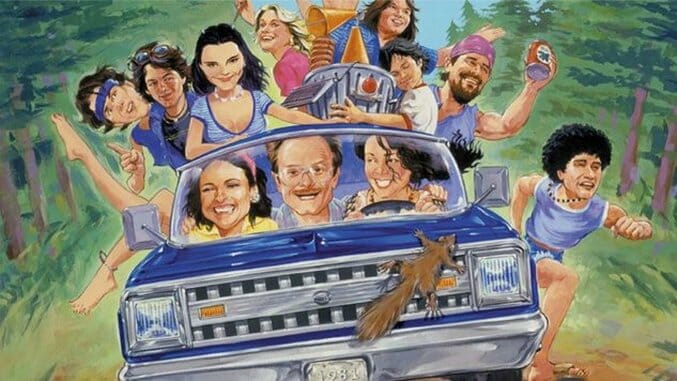 Ah summer camp. A place to roast marshmallows, make bracelets and ask your 17-year-old counselor questions about sex. But you don't have to be a former camp kid to appreciate these quintessential coming-of-age moments when they are recreated in classic sleepaway camp movies. Here are six tracks from summer camp film soundtracks that are sure to transport you back to those days when you spent July and August sitting by the bonfire, or sitting in your air-conditioned basement watching camp movies.
1. Jefferson Starship, "Jane"
Movie: Wet Hot American Summer
Fans of this 2001 cult classic will instantly recognize the opening chords of this Jefferson Starship song. Accompanying the first scene of the movie, this track is perfectly paired with a booze and drug fueled bonfire scene featuring camp counselors played by a number of awesome people including Paul Rudd, Michael Showalter, Amy Poehler and Michael Ian Black. So talk to a can of vegetables, write in your "gournal," and blast this track like it is the last day of camp.
2. Françoise Hardy, "Le Temps de l'Amour"
Movie: Moonrise Kingdom
Anyone who ever experienced a young summer love affair can't help but feel moved by this Wes Anderson film, and no scene better captures the intense awkwardness and adorable sweetness of first love like the moment Sam and Suzy dance together on the beach in their underwear. "Le Temps de l'Amour" is played on Suzy's portable record player and the two share a first kiss that will probably remind you of your own pre-teen summer crush.
3. The North Star Kids Chorus, "Are You Ready for the Summer"
Movie: Meatballs
This 1979 summer camp movie directed by Ivan Reitman and starring an oh-so-young Bill Murray has the perfect innocent theme song to pair with its endless rotation of raunchy jokes. Capturing the supremely uncomfortable and inevitably hilarious sexual overtones that rule summer camp (for coming-of-age campers and the sex-driven counselors), Meatballs is a timeless camp tale that also manages to be incredibly '70s in style. "Are You Ready for the Summer" is basically the ideal song to sing along to when heading out on a warm-weather road trip with friends.
4. Peter, Paul and Mary, "Kumbaya"
Movie: The Addams Family Values
Camp would not be complete without a round of "Kumbaya," and no movie better captures the sheer horror of this song better than The Addams Family Values. Peter, Paul and Mary perform the classic version of this track but in this case the song is set to guitar chords and performed by campers and counselors in Wednesday Addams' sleepaway camp. As far as campfire songs go, "Kumbaya" is the anthem of corniness, combining religious lyrics with the tediousness of repetition. What kid (or adult) doesn't identify with Wednesday as she clings to the metal fence with a look of terror on her pale face as her escape plan is foiled by a singing group of blondes?
5. Hayley Mills, "Let's Get Together"
Movie:The Parent Trap
Many millennials may not be aware of this, but there was a Parent Trap film before the Lindsay Lohan version and it ruled. Actress Hayley Mills performed this song while playing both sister roles in an effort to woo her (their?) divorced parents back together. This 1961 sleepaway camp classic was the best inspiration for summertime pranks (which, by the way, are way more cruel than the modern film's pranks), and it is downright shocking when these antics result in an actual slap fight between the sisters. Best friends and siblings alike may have performed this song for their families back when they were around the same age and can now recreate this moment as adults drunk on wine and summer nostalgia.
6. "Michael Row Your Boat Ashore" (Traditional)
Movie: Friday the 13th
Horror film fanatics may think of Friday the 13th every time they hear this song, which hopefully isn't very often. The opening scene of the film centers around a group of camp counselors innocently singing "Michael Row Your Boat Ashore" in some sort of barn as two make bedroom eyes at one another. Of course, these two teens then die horribly since sexual exploration is a sin. (How dare they think about making out while mouthing "Hallelujah" at each other?!) While this song and film moment may not exactly capture an exact camp experience, it certainly taps into the frustration, excitement and guilt of teen sexual angst.