After years where in-person festivities simply haven't been possible due to the intensity of the COVID-19 pandemic, the Sundance Film Festival now boasts a hybrid model: They've still got their schmoozing, frigid fest out in the snow of Park City, Utah, but they've also got an online platform for cinephiles around the nation. Digital ticketing has already been in progress (allowing moviegoers willing to take a shot in the dark to buy tickets since January 12), but the actual screenings begin January 24 and run through the end of the festival on January 29. At $20 a pop, it's not that different from a theatrical viewing, and you'll have bragging rights that you "saw that movie at Sundance" for life.
The online platform has been nothing but a godsend to those unable or unwilling to travel to the festival, and it remains a safe and secure option to watch some of the movies that will go on to dominate the film conversation for the rest of the year. That said, this year in particular has seen their Roku app fail over and over again, so if you do decide to buy online tickets, stick to watching them in your browser. Otherwise, you may risk losing your screening window to a technical bug.
Also, some of the films aren't yet available to screen from the comfort of your living room. But don't worry, we've narrowed down our picks to those that will be available to the public online. Now that we at Paste have seen a slew of movies from the program—even more than we highlighted in our Most Anticipated list—we've got some suggestions on where you should spend your Sundance dollars.
Here are the 10 movies you should see at home from Sundance 2023:
---
Is there anyone in this country looked down upon and misunderstood more than Indigenous people and journalists? It's not a hypothetical—the answer is yes: Indigenous journalists. Rebecca Landsberry-Baker and Joe Peeler's engrossing documentary Bad Press clearly lays out the plights faced by an Indigenous news team and, in its hyperfocus on Mvskoke Media and the Muscogee Nation, finds hard, broad truths about both the relationship between the people and the reporters that serve them and the ease with which those being reported upon manipulate that relationship. Bad Press is wonderful, tightknit political and journalistic non-fiction, about a place and people close to my heart. It does what small-scale documentaries do best, and have been doing exceptionally since Harlan County, USA: Finding the global in the specific, and finding the personal in the ideological. Where Barbara Kopple found feminism, solidarity, tradition and rampant, violent corporate greed at the heart of her Kentucky miner's strike, Landsberry-Baker and Peeler find vigilance, accountability and the systems in place to discourage both in the heart of a Muscogee newsroom.
---
Fair Play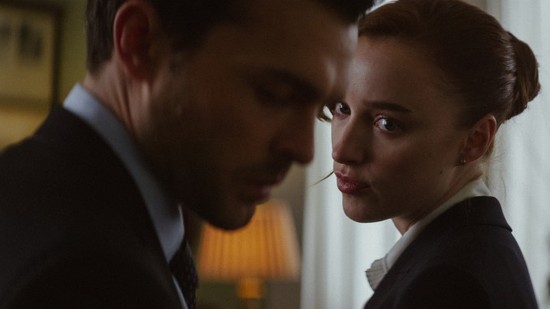 Some people want to tough things out no matter what, come hell or high finance. For the Gordon Gekkos of the world, it's not just that greed is good, it's that greed is omnipresent. They can't imagine life defined by anything else. Two of those Wall Streeters, Emily (Phoebe Dynevor) and Luke (Alden Ehrenreich), have to hide their love because they work at the same investment firm. It's a sexy little problem to have, a lot of running around and taking different routes to work, that's snowballed. Naturally, they've got their cake and they've already saved room. But now, they're in so deep that they live together and, at the beginning of the thrumming, damning relationship thriller that is writer/director Chloe Domont's Fair Play, have gotten engaged. What were they thinking? Obviously this is only going to make their "get up at 4 AM to be verbally abused by an Ivy League asshole by 6 AM" lifestyles harder. But they're the same kind of cutthroat, power-hungry strivers as the rest of their coworkers—as Emily asks her notoriously ruthless boss (Eddie Marsan), "Who wants it easy?" But, as Emily should know by now, half a decade out of Harvard and deep in the big firms' weeds, the magnifying lens of the Financial District makes everything more intense—the money, the stress, the drug use, the sexism. It becomes unbearable. People burn out. That long fuse doesn't seem dangerous to our couple (Just look how long it is! Plenty of time to deal with it) until Emily gets promoted over Luke.
---
There's a permeating dryness to Fancy Dance. Not of climate, though the Seneca-Cayuga Reservation in northeast Oklahoma is just as dusty as the rest of the area, but of culture. Those that live there face outrageous cruelties at a methodical pace, so generationally familiar as to be preordained. Mundane. When a woman disappears, the only one with any sense of urgency is her sister, Jax (Lily Gladstone). Even Roki (Isabel Deroy-Olson), the niece now under Jax's care, doesn't quite grasp the implications. With quiet charm and an everyday gravity, filmmaker Erica Tremblay tracks the women's journey, navigating their search in a society that would rather they sit down, shut up and accept that this just Happens Sometimes. Fancy Dance's coming-of-age investigation is the cinematic equivalent of a low-speed chase, intimately documented from the shoulder, right alongside the busted-up pickup making the pursuing cops rethink their priorities.
---
One of the most exciting non-fiction entries to this year's Sundance is a radical, on-the-ground pulpit from which four Black trans sex workers talk their shit. Putting transphobia within and without Black culture on blast, Kokomo City raises a curtain to reveal four stars: Daniella Carter, Dominique Silver, Liyah Mitchell and Koko Da Doll. Actually, make that five stars. Filmmaker D. Smith, a trans musician making her feature debut, keeps the rollicking conversations and righteously indignant monologues barreling along in beautiful black-and-white as we laugh, cry and commiserate with women whose experiences and insights are only outweighed by their personalities.
---
A virtuosic performance from Kiti Mánver is just the beginning of what Mamacruz's glimpse at a woman's third-quarter life crisis has to offer. A grandmother's sexual (re)awakening in a tight Catholic community puts all the symbolic dominoes in play, and filmmaker Patricia Ortega knocks them down with sweet charm, unflinching sensuality, and touching honesty. A vibrant and lovely character study, Mamacruz makes the most of its horny matriarch.
---
Mami Wata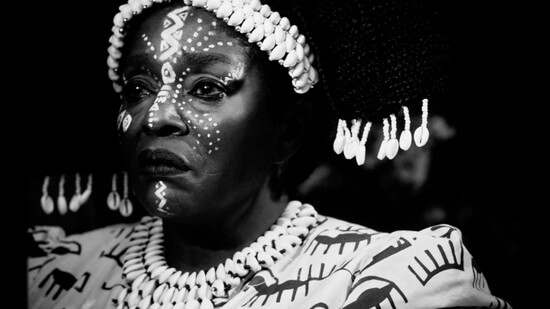 As characters debate spirituality in West African Pidgin, and lights pop to enhance a dreamy mid-forest sequence's bold black-and-white, you find yourself fully immersed in the mystic fable of Mami Wata. Stray English words and images that almost feel like they've been taken from a postcard, or seen flipping through the channels late at night, contribute to a film ready to wash you away into its uncanny world. Filmmaker C.J. "Fiery" Obasi brings us to the shoreline of Iyi, where technology stops with the tide and a religious leader is under threat. Shot with a striking, Expressionist style by the Nollywood staple, Obasi's story of a village, its water goddess, the women channeling her and the men trying to wrest control is a beautiful, stark fantasy.
---
I don't know a lot about Warsaw's International Chopin Piano Competition, the subject of Jakub Piatek's electric and affecting documentary Pianoforte, but I do know a lot about musical competition. I've been playing the trumpet since 2003, in massive marching band smackdowns, in the crowd at the Fiesta Bowl, in pin-drop quiet concert halls, and in intimate solo performance rooms. No matter the venue, it's always the same pressure. Eyes are on you. The silent vacuum of potential that it's your responsibility to fill, and fill well. If you think about it, if your mind is more active than your instincts, your body can seize up. Pure adrenaline threatens to overwhelm the notes. Your lips refuse to vibrate. Your fingers turn to lead. Music? What's music? Miraculously, the young maestros overcome the intensity (mostly) and Piatek is there, watching the heartbreak and passion. Pianoforte's understanding of musical competition and of those artists dedicating their lives to performance is so thorough as to teleport you back in time to the moment when you were faced with your first obsession. Effortless and hands-off in conducting the process of the event, it excels in doing so while ingratiating us towards its competitors. It's a conventional documentary, but if the Chopin Competition teaches us anything, it's that a tune everyone knows, performed with elegance and personality, can say something new every time it's played.
---
The Russian bath across the street from where I used to live in Chicago, once owned by the mob and now known as Red Square, is a cultural rarity. There are very few saunas in the U.S. retaining its form: The water sizzling on the hot rocks, the swollen wooden benches, the whole "get smacked by some branches" thing (note: I haven't done this). But it's a far cry from the community and conversations generated by the smoke saunas in Võrumaa, a southern county of Estonia bordering Latvia and Russia. With its traditions captured in delicate, sweaty vignettes by filmmaker Anna Hints, Smoke Sauna Sisterhood's anecdotes fill your lungs and engulf you, until its women's secrets drip down your body. Hints films a year's passage, with seasons passing over a log cabin isolated in the forest. Some months, fog rolls off the nearby lake. Others, the ice is so thick, the woman tending the sauna has to smash a hole and drop down a wooden ladder for her clients' cooldown dip. But no matter the weather, the building is filled with steam and women, baring it all. Literally and figuratively: Smoke Sauna Sisterhood constructs gorgeous topographies from the naked, relaxing bodies, while they expunge some of their biggest stresses.
---
Chiloé, the largest island of an archipelago off the coast of Chile, rose from the volcanoes populating the far southern sea. In Sorcery, its Indigenous Huilliche people claim to be from the sea as well. Heaven, the invention brought over by the colonizing Europeans, isn't for them. They've got different designs and a different fate, especially when the Christians repress them. Shapeshifting warlocks practice a magic closely tied to the natural world, deployed in dire circumstances—something that appeals to the teenage Rosa (newcomer Valentina Véliz Caileo) after her father is murdered by their white employer. The dark, brooding coming-of-age drama can be ponderous and blunt, but its liberating magic casts an infectious spell. Christopher Murray bases his fantastical period piece on a real trial that took place in 1880, where an alleged tribunal of warlocks were put on trial for ruling the island as a kind of shadow government. Adding in a burgeoning mystic as our eyes and ears through the hardship, racism and pain afflicting her people, Murray simplifies the setting by turning it into a revenge tale. We still get a sense of the island—its damp forests, foreboding caves, and bountiful beaches, as well as the gulf between the sheepskinned natives and the suited intruders—but the larger community is reduced to Rosa's pain, those that inflicted it and Mateo (Daniel Antivilo), the gruff warlock leader who takes her in
---
The Amazing Maurice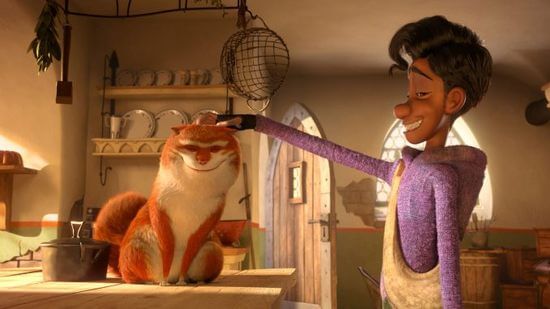 Adapting Terry Pratchett's Carnegie-winning Discworld book, The Amazing Maurice is a successfully wry, odd, utterly British spin on the Shrek-like self-aware fairy tale. Stuffed with motormouths and throwaway gags, the chunky animation can be a little off-putting, but its momentary ugliness feeds into its delightfully dark villains, its underdog heroes and the strange story tying them all together. This isn't pristine, groundbreaking, photoreal CG, but cartoonishness that suits its oddballs—and might even give a kid a stray nightmare or two. As a former kid with a lot of affection for the animated movies that used to freak me out, that's a compliment. Turning the Pied Piper story on its head, and then flipping it around again so that it's right-side up but utterly disoriented, The Amazing Maurice asks plenty of its young audience. They'd better be able to keep up with Malicia's (Emilia Clarke) rapid sledgehammer blows smashing through the fourth wall, because the narrator finds herself wrapped up in her own story; they'd also better be able to parse the nested myths explaining how some of the tale's animals came to grasp such intelligence. But, because the film has faith in its young viewers, it's completely achievable. While it cuts some of Pratchett's most incisive and dark components (like the intelligent rats navigating relationships with regular rats) in favor of cinematic comprehension, it's still a faithful enough translation to win fans over—and introduce kids to a welcoming literary world that takes the piss out of everything around it.
---
Jacob Oller is Movies Editor at Paste Magazine. You can follow him on Twitter at @jacoboller.
For all the latest movie news, reviews, lists and features, follow @PasteMovies.