Watch the Baffling First Trailer for Christopher Nolan's Tenet
Images via Warner Bros.
Movies
News
tenet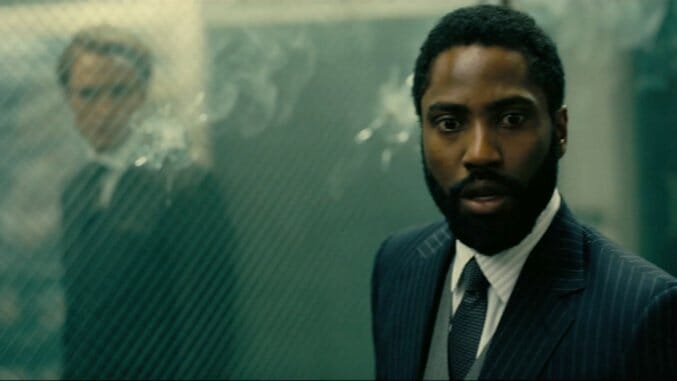 Christopher Nolan has played his new film awfully close to the vest, and that hasn't changed even with today's debut of Tenet's first trailer, which represents the first official footage from the film to hit the web. Viewers hungry for answers will find only more questions, as the mind-bending clip introduces us to John David Washington's protagonist, an agent tasked with … (*squints at notes*) … preventing an apocalyptic conflict from the afterlife. Yes, really!
"We all believe we'd run into the burning building … but until we feel that heat, we can never know. You do. You chose to die instead of giving up your colleagues," says Martin Donovan in voiceover. Meanwhile, Washington's character infiltrates a skyscraper, then is seemingly murdered via poison pill by Andrew Howard's (Watchmen) thug. Soon enough, Washington wakes up in a hospital bed and comes face to face with Donovan, who continues, "That test you passed? Not everybody does. Welcome to the afterlife." (Cue Nolan noises.)
"To do what I do, I need some idea of the threat we face," Washington argues, as if speaking for the audience. "As I understand it, we're trying to prevent World War III," Clémence Poésy's character nonchalantly responds. Their subsequent exchange ratchets up the tension, as well as the enigma: "Nuclear holocaust." "No. Something worse." Donovan's handler gives Washington a mysterious keyword, "Tenet," warning, "It'll open the right doors. Some of the wrong ones, too."
From there, the trailer shows off more of Tenet's star-studded cast, including Robert Pattinson, Elizabeth Debicki, Kenneth Branagh, Michael Caine and Dimple Kapadia, who gives Washington—and everyone who plans to see Tenet—an intriguing piece of advice: "Don't try to understand it. Feel it."
At risk of ignoring her suggestion, we'll make one observation: It appears Tenet's palindromic title (and Nolan's entire filmography) were, indeed, suggesting, as many have speculated, that the film will play with time. As evidenced by the uncanny movement of boats and cars in the trailer, it appears Washington and his allies are in a more complex Minority Report, attempting to prevent crimes by watching them unfold backwards, then forwards, perhaps only being able to intercede at some central, critical moment. All we can conclude is … Nolan gonna Nolan.
Tenet opens July 17, 2020. Watch the trailer below and revisit everything we know about the film so far right here.