Today is Colin Hanks' 35th birthday. You might know him from his roles on TV or in films such as Orange County and King Kong. Most likely, though, you know him as Academy Award winner Tom Hanks' son, and Colin is certainly not the only child to take up the same trade as their actor parent or parents. Some like-minded children of actors have careers that outshine that of their parent, some can never seem to step out of their parent's shadow and others are able rise to their parent's level of stardom without surpassing it. Below is our list of the 10 best parent/child acting combos, taking into consideration the careers of everyone involved.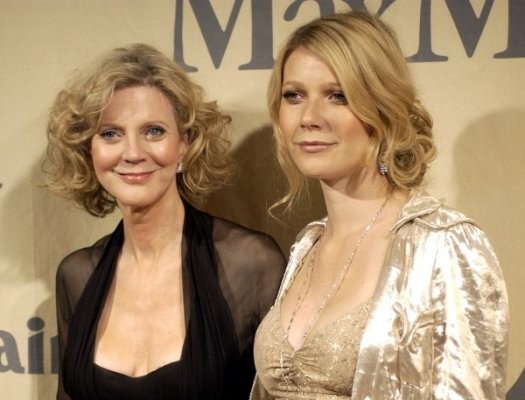 10. Blythe Danner and Gwyneth Paltrow
To younger fans of the silver screen, Blythe Danner is probably most well known for her role as Ben Stiller's mother-in-law in the three Meet the Parents films, but she's also held smaller roles in TV and film since the early '70s. Her daughter, Gwyneth Paltrow, has had a led a more prestigious career, starring in several high-profile films such as The Talented Mr. Ripley, The Royal Tenenbaums, Se7en, Iron Man and Shakespeare in Love, for which she won the Academy Award for Best Actress in 1999.
9. Tony Curtis, Janet Leigh and Jamie Lee Curtis
It's rare that a husband, wife and their child all have had notable acting careers, but such is the case with Tony Curtis, Janet Leigh and their daughter Jamie Lee. Tony is well known for his association with Frank Sinatra and the Rat Pack as well as his acting roles, and Janet Leigh, of course, set the standard for horror movie victims when Norman Bates stabbed her to death in the shower of his motel in Psycho. Jamie Lee, fittingly, would go on to follow in her mother's footsteps, starring as the damsel in distress in the Halloween movies. Most recently, she's been an advocate for yogurt that…keeps you regular.
8. Goldie Hawn, Kurt Russel and Kate Hudson
While Hawn and Hudson are always going to be known for filling similar roles as blonde, comedically-inclined and often hapless leading ladies, both have a critically acclaimed role to their name—Hawn won the Oscar for Best Supporting Actress for her role in 1969's Cactus Flower and Hudson was widely praised for her role as Penny Lane in Almost Famous. And, of course, family patriarch Kurt Russel hasn't had too shabby of a career himself, giving memorable performances in films like Escape from New York, The Thing and Tombstone.
7. Henry, Peter and Jane Fonda
When a legendary actor has five wives, it shouldn't come as a huge shock that a few of his kids ended up following in his footsteps. Neither Peter nor Jane had as illustrious of an acting career as their father, but still enjoyed plenty success of their own. Henry is most well known for his drug-aided role in the 1969 counter culture classic Easy Rider, while Jane's most notable role came in 1978's Coming Home (not to mention her line of workout videos).
6. Donald and Kiefer Sutherland
Both Donald and Kiefer Sutherland have had solid, consistent acting careers since they first got into business, with the former's now spanning 50 years. Kiefer has played memorable roles in films like The Lost Boys and A Few Good Men, but is most well known for his portrayal of Jack Bauer in the gripping action series 24, which ran for eight season from 2001-2010. Donald has appeared in everything from The Dirty Dozen to Ordinary People to The Italian Job to, most recently, The Hunger Games. Talk about versatility.
5. Jerry and Ben Stiller
Comedic acting doesn't seem to run in families as much as the dramatic, but even if it did it'd be hard to top the combo of Jerry and Ben Stiller. For years, Jerry performed with his wife, Anne Meara, as the Stiller and Meara comedy team, but is best known for TV and film roles that came later in life, most notably as Frank Costanza on Seinfeld and Arthur Spooner on The King of Queens. He also co-starred with Ben, whose career you're undoubtedly familiar with, in Zoolander.
4. Jon Voight and Angelina Jolie
This one always comes as a surprise because of their different last names and the fact that they don't really look too much like each other. Both have enjoyed decorated careers, though, appearing in numerous high-profile films. They've also both won Academy Awards—Voight for his role in 1978's Coming Home and Jolie for her role in 1999's Girl, Interrupted. Angelina's brother James Haven has appeared in films like Monster's Ball and Breaking Dawn.
3. Martin Sheen, Charlie Sheen and Emilio Estevez
So why doesn't Emilio Estevez share the last name as his father and brother? Estevez has to be a stage name, right? Actually, Sheen is the stage name, as Martin was born Ramón Estévez and Charlie was born Carlos Estevez—only Emilio took his given name into his acting career. Regardless, the trio of father and sons are one of the highest profile families in film, as well as one of the most proflic. Between them, they've appeared in Oscar-caliber dramas, Brat Pack coming-of-age films, kids comedies, hit network TV shows, you name it. (I refrained from making a Charlie Sheen joke!)
2. Lloyd, Jeff and Beau Bridges
To give you a sense of the breadth of Lloyd Bridges' career, his acting debut came in a production of Othello in the '30s, and in 1997 he appeared in two episodes of Seinfeld as elderly fitness coach Izzy Mandelbaum. His most well-known son, Jeff, has proven to be just as versatile, filling dramatic roles in films like Seabiscuit and The Door in the Floor, while also taking it easy in the comedy The Big Lebowski. He even released an original country album after portraying washed-up musician Bad Blake in Crazy Heart, a role that earned him an Academy Award for Best Actor. Lesser-known brother, Beau, has filled smaller roles in a number of films, including 2011's The Descendants.
1. Kirk and Michael Douglas
Perhaps the most esteemed father/son acting tandem, both of the Douglas' have brought home Oscars—Kirk won the Lifetime Achievement award in 1996, while Michael won Best Actor for his role as Gordon Gecko in 1987's Wall Street. The elder icon starred in such classic films as Spartacus and 20,000 Leagues Under the Sea, and in addition to Wall Street, Michael is known for his roles in Romancing the Stone, Basic Instinct, Traffic and several others. And yes, Kirk is still alive; he'll turn 96 years young on Dec. 9.