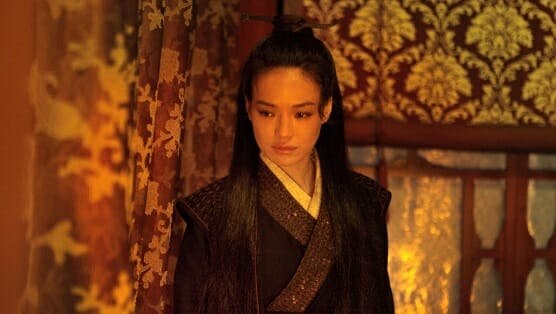 Hou Hsiao-Hsien's The Assassin is a gorgeous creation, a martial arts movie that willfully withholds and subverts the primary pleasures of the genre to get at something more beautiful, mysterious and timeless. One doesn't watch The Assassin so much as fall under its sway. It's such an ambitious, visually stunning piece of cinema that I half assume it's my own failing that I didn't wholly succumb to its wonders.
The Taiwanese director's first film since 2007's Flight of the Red Balloon, The Assassin takes us back to ninth-century China as the Tang dynasty is beginning to unravel. Shu Qi plays Nie Yinniang, whom (we learn in an opening crawl) was abducted by a nun when she was only 10 and trained in martial arts. Years later, Nie has been ordered to return to her homeland to assassinate Tian (Chang Chen), a warlord to whom she had been promised in marriage as a child.
The Assassin's story is somewhat simplistic but, as depicted by Hou, also incredibly complicated, with scenes of throne-room intrigue littering the film's first half. If the plot machinations are hard to follow, frequent Hou cinematographer Mark Lee Ping Bing makes it all look arresting. With scenes often taking place indoors at night, The Assassin can feel almost dreamlike, an impression heightened by the fact that the filmmaker often places in between his camera and the actors thin, billowing curtains, which create the sensation that we're watching half-remembered incidents or eavesdropping on top-secret meetings.
Into Tian's world comes Nie, who is a woman of very few words. Often hiding in the shadows, she listens in on conversations about this flailing empire, her unseen presence almost a ghost haunting Tian and his companions. The martial arts film has similarities to the Western, and The Assassin could be seen in some ways as Hou's version of an Unforgiven, in which narrative tenets and character types are in service to a higher purpose, a more audacious form of art. The violence isn't the point of The Assassin: The words and action that lead to violence are.
That impression is only strengthened by the way Hou shoots his fight scenes. Because of Hou's reputation as a melancholy, meditative director (Three Times, Café Lumière), few figured that his first stab at a wuxia film would be a blood-and-guts, chop-socky epic. But The Assassin does have its lyrical battle sequences, which are more visceral than the poetic fights staged by Ang Lee in Crouching Tiger, Hidden Dragon. But what's most extraordinary is how Hou brilliantly undercuts the cathartic release that usually comes from such sequences. Nie makes short work of several antagonists throughout the film, but there's a mournful, matter-of-fact quality to these scenes, suggesting that the young woman takes no enjoyment in her work—it's just something she's been trained well to do. Consequently, The Assassin strips away any notion of escapism: Fight scenes are just another form of politics in Hou's movie.
The film is so immaculately constructed—Hou has worked on The Assassin for years—that it's all of a piece, a diamond that inspires awe and gasps. But for all its glorious sense of place, time and mood—and Lim Giong's radiant score complements the effortless period feel—The Assassin feels a tad impoverished emotionally and narratively. It's not as if Hou hasn't wielded ambiguity masterfully in the past—who could say exactly what that floating balloon was doing in Flight of the Red Balloon?—but The Assassin is almost stubbornly withholding, keeping its characters at such a remove that it's hard to penetrate their surface.
To be sure, Nie is meant to be almost unknowable, an assassin stripped of her personality as a child, but Shu Qi does such a fine job keeping her opaque that she's practically a cipher. Everyone in The Assassin is the same, as if they're all part of an unrecoverable past. It's an audacious strategy, and it can be plenty intriguing. But it's also a bit tiring, leaving us with plenty of beauty but not a comparable amount of drama.
Director: Hou Hsiao-Hsien
Writer: Hou Hsiao-Hsien, Chu Tien-Wen, Hsieh Hai-Meng
Starring: Shu Qi, Chang Chen, Zhou Yun, Tsumabuki Satoshi, Juan Ching-Tian, Hsieh Hsin-Ying, Sheu Fang-Yi
Release Date: Screening in Competition at the 2015 Cannes Film Festival
---
Tim Grierson is chief film critic for Paste and the vice president of the Los Angeles Film Critics Association. You can follow him on Twitter.