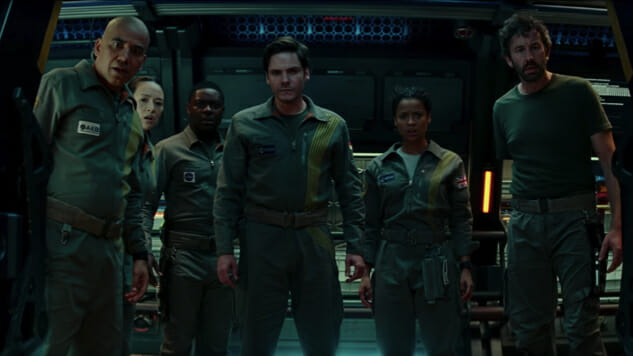 The third installment in the Cloverfield franchise, which is far from over, debuted the night of the Super Bowl after a surprise trailer premiered during the show, informing audiences that the secretive project would be available to stream after the game. Netflix reportedly paid around $50 million to buy the film, formerly titled God Particle, from Paramount.
The film, to say the least, has underperformed when compared to Netflix's December hit Bright, starring Will Smith and Joel Edgerton. That film grabbed a total of 11 million viewers in just three days, becoming Netflix's highest-viewed original title compared to the 2.8 million viewers The Cloverfield Paradox received in its first three days, not to mention the five million it drew in an entire week, according to Nielsen data reported by Variety. That said, Netflix ran a huge marketing campaign for Bright, while it just sprung The Cloverfield Paradox on viewers after one of the longest television events of the year. Bright, unsurprisingly, already has a sequel on the way.
However, many believe, including Paste's own Jim Vorel, that the film really suffers because it's just not very good. It's entertaining, sure, but just not well-made and sort of a mess. Critics all over have completely destroyed the film—its Rotten Tomatoes scored topped out at a pathetic 18 percent. Bright was not beloved by critics either, but we're dealing with entirely different genres … and Will Smith. The Cloverfield Paradox, while it has a cast of very talented actors including Daniel Brühl, David Oyelowo, Elizabeth Debicki, Gugu Mbatha-Raw and Ziyi Zhang, was unlikely to draw a massive audience with those names … unless you're film geeks like us.
Assuming you're not squeamish, you can watch a clip from The Cloverfield Paradox here.