Exclusive: Hear a Stunning Song from The Goldfinch's Original Soundtrack
Trevor Gureckis instrumental "The Story of the Goldfinch" is an epic unto itself
Images via Macall Polay/Warner Bros., WaterTower Music
Movies
News
The Goldfinch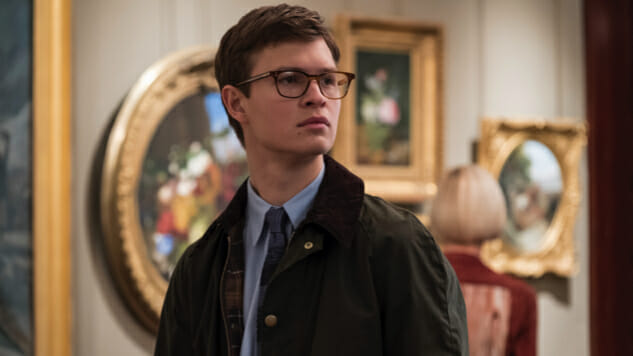 "Before and after," says The Goldfinch's Theo Decker. "Everything is before and after." And before the much-anticipated film adaptation of Donna Tartt's Pulitzer Prize-winning 2013 novel opens in theaters next Friday, Sept. 13, Paste has the pleasure of sharing "The Story of the Goldfinch," an epic track from The Goldfinch's original score, premiering here ahead of the film's soundtrack's release tomorrow, Friday, Sept. 6, via WaterTower Music.
Crafted by rising composer Trevor Gureckis, The Goldfinch's score is described in a press release as "a musical tapestry of modern electronics blended with contemporary orchestra," a compelling combination exemplified by "The Story of the Goldfinch." Spine-tingling synths beckon the listener into a whirling, immersive vortex of delicately plucked harps, insistent horns and gut-rumbling percussion; after an exhilarating minute and a half, the track collapses, with poignant piano, otherworldly chimes and mournful strings rising out of its ashes. It's as Theo says, a song and story indelibly divided in two: "Everything is before and after."
BAFTA Award-winning Brooklyn director John Crowley, who recruited and worked closely with Gureckis during the making of The Goldfinch, speaks highly of the composer's work in a statement: "With the score, I think we're lucky to witness the arrival of a major new musical voice in Trevor Gureckis. As an audition piece, he wrote 12 minutes of music for the film, fully mindful that he might not get the job. But he won it … and then some."
"Writing The Goldfinch was thrilling not only because of the huge orchestral forces at hand, but also for the opportunity to explore rich textural details with the use of electronics in service of the story," recalls Gureckis. "There are moments of vivid impressionism in the orchestra, as well as tapestries of glowing and burning synth textures." These textures were designed to interact with those of the film, such as an opening cue that returns time and time again, lingering in Theo's mind like the thought of the film's titular image, a goldfinch chained to its perch.
The Goldfinch, for those unfamiliar, is the story of Theo (Ansel Elgort), a young boy whose life is forever changed when his mother is killed by a terrorist bombing at an art museum. As Theo grows up, he clings to the one tangible connection to his mother that remains: the priceless work of art from which the film takes its title. "Before and after," he says. "Everything is before and after. In the middle is the painting."
The Goldfinch will make its world premiere at the Toronto International Film Festival on Sept. 8 before its wide release on Sept. 13.
Listen to "The Story of The Goldfinch" below and revisit the film's latest trailer further down, along with the details of its soundtrack.
The Goldfinch – Original Motion Picture Soundtrack Tracklist:
01. The Goldfinch
02. Mrs. Barbour
03. Interrogation
04. Hobart and Blackwell
05. Goldfinch Reveal
06. Letter to Pippa
07. Theo's Burden
08. Return to the Barbours
09. Lucius Reeves
10. Boris' Father
11. Theo and Pippa
12. Las Vegas
13. Desolation
14. Civics Book
15. Amsterdam
16. The Story of the Goldfinch
17. Boris Rescues Theo
18. Beautiful Things
19. The Goldfinch Theme – Solo Piano
20. Currents – Solo Piano
The Goldfinch – Original Motion Picture Soundtrack Album Art: