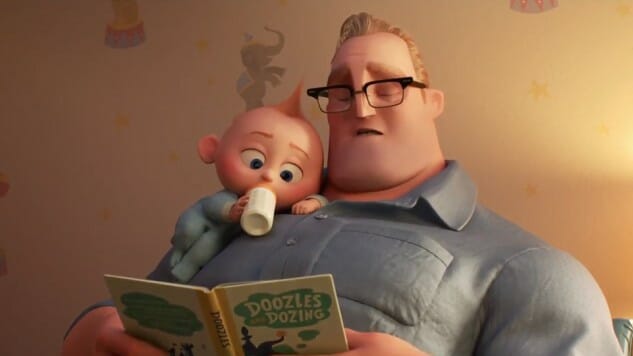 The new The Incredibles 2 trailer, which aired during the Winter Olympics late last night, reunites Mr. and Mrs. Incredible with Frozone to fight a new villain. The trailer, however, also reveals a fresh take on Mr. Incredible's hero identity. It appears he will be more domesticated, possibly a stay-at-home dad, while his wife goes out and saves the world. In the trailer, Mr. Incredible says, "I've got to succeed so she can succeed." He looks incredibly tired and stressed from taking care of the kids and raising Jack Jack by himself. Disney and Pixar are known for their topical and progressive stories, so this take on family and gender roles is certainly spot-on in today's culture.
The trailer also gives a glimpse at Bob Odenkirk's character and brings back fan favorite Edna, voiced by director Brad Bird. Craig T. Nelson and Holly Hunter return to voice Mr. and Mrs. Incredible, with Samuel L. Jackson reprising his role as Frozone. Oscar-nominated actress Catherine Keener (Capote, Get Out), Sophia Bush (One Tree Hill) and Jonathan Banks (Mudbound, Better Call Saul) will all voice new characters in this long-awaited sequel.
Drop in on the Incredibles in theaters on June 15, and revisit the film's previous teaser here.