Al Pacino Explains How He Managed to Play a 39-Year-Old Mobster in Martin Scorsese's The Irishman
Photo by Gareth Cattermole/Getty
Movies
News
The Irishman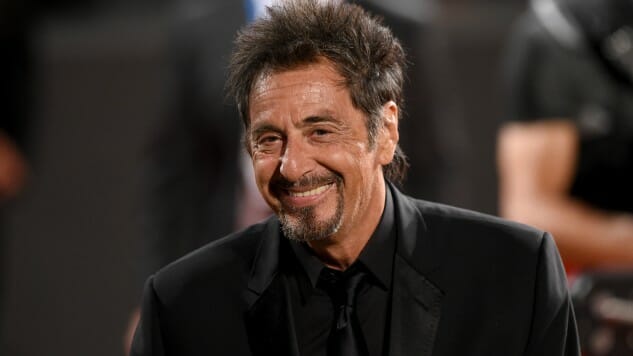 Oscar winner Al Pacino will play ex-Teamsters union leader Jimmy Hoffa in Martin Scorsese's long-anticipated The Irishman. In reality, though, Pacino, who is 77, will spend parts of the film playing the infamous gangster at 39, as well as at various other ages throughout his life. (This is very similar to what Brad Pitt did in David Fincher's Oscar-winning The Curious Case of Benjamin Button in 2008.) Pacino discussed the challenges of this age transformation in an interview on The Ringer's Bill Simmons Podcast (as IndieWire points out).
Pacino said of the high-tech cameras and magical lighting techniques employed by Industrial Light & Magic, "I was playing Jimmy Hoffa at the age of 39, they're doing that on a computer," adding, "We went through all these tests and things." Pacino explained that the camera process involved "computers mounted on the sides of cameras" that "were programmed to capture the actors at various ages, making them appear physically transformed in every frame."
What's truly incredible is how expensive this project, which will stream on Netflix, has become. Originally its budget was $100 million, which later increased to $125 million, but now it's confirmed to be at $140 million. This has been a passion project for Scorsese for a long time, so he is clearly sparing no expense.
To help Pacino achieve the most honest performance possible throughout all the time transitions, various crew members would assist him in keeping his age straight. He said, "Someone would come up to me and say, 'You're 39.' [You'd recall] some sort of memory of 39, and your body tries to acclimate to that and think that way. They remind you of it." Pacino won his Best Actor Academy Award for the 1992 film Scent of a Woman, in which he played a blind retired Army officer.
The film also stars fellow Oscar winners Robert De Niro (who won Best Supporting Actor for 1974's The Godfather Part 2 and Best Actor for 1980's Raging Bull), Joe Pesci (who won Best Supporting Actor for 1990's Goodfellas) and Anna Paquin (who won Best Supporting Actress for 1993's The Piano), among others. This marks the fourth collaboration between Pacino and De Niro, who are arguably two of coolest guys in Hollywood.
The Irishman wrapped on March 5 and has no set release date yet, but Netflix is confirmed to stream it next year. Hopefully they do a theatrical release as well, because this has Oscar written all over it.
Listen to Pacino's interview below.