Netflix Buys Worldwide Rights to Martin Scorsese's Forthcoming Film The Irishman
Photos by Matt Winkelmeyer/Getty, Vivien Killilea/Getty
Movies
News
The Irishman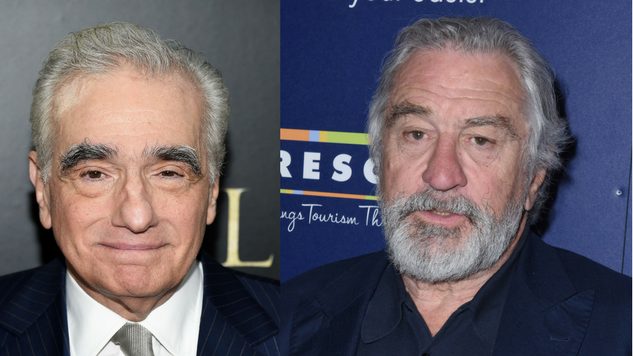 Netflix, in yet another bloodthirsty power move, has just bought the worldwide rights to arguably their biggest film yet: Martin Scorsese's forthcoming gangster drama, The Irishman. Paramount Pictures was expected to back The Irishman, which first secured funding last summer (and has been in the works far longer), but according to Indiewire, Paramount is in no position to take risks. This marks the first time in history where a streaming service is in a better position to finance a Martin Scorsese picture than any major studio, allowing Scorsese complete creative freedom. Man, that's cool.
The Irishman's script was adapted from a book by Charles Brandt, I Heard You Paint Houses, which recalls the life of Frank "The Irishman" Sheeran, a ruthless professional hitman who supposedly killed Jimmy Hoffa. Robert De Niro, Scorsese's original muse, will play the titular hitman. And if that wasn't exciting enough, Scorsese will put De Niro in a rare onscreen collaboration with Al Pacino, who has never before starred in a Scorsese film. This will, however, be the third time De Niro and Pacino have shared the screen together after the excellent Heat in 1995 and the not-so-excellent Righteous Kill in 2008. The Irishman will also star Bobby Cannavale (yes), Harvey Keitel (YES) and hopefully Joe Pesci (YES PLEASE), though the aging actor has thus far rejected De Niro and Scorsese's attempts to coax him out of retirement.
There have also been reports that Scorsese will be tapping into the kind of visual effects that recreated Tarkin and Princess Leia in Rouge One to de-age his cast. The film supposedly takes place over a number of years, so the idea is to make De Niro look as young as 30. And honestly, this sounds like cinematic magic, to have younger versions of some of the best actors alive face off to a soundtrack chock full of The Rolling Stones. So yeah, you could say we're pretty excited.
It's been too long since we've had a crime epic in the vein of The Departed, Goodfellas or even Casino, and this could see a return to the "classic" Scorsese we all know and love. The Irishman is expected to start shooting this year, targeting a 2019 release. Here's hoping we'll have our next Scorsese film this time next year. Stay tuned for future updates, read Paste's review of Scorsese's latest here and check out our list of mob movie actors with actual mob connections here.