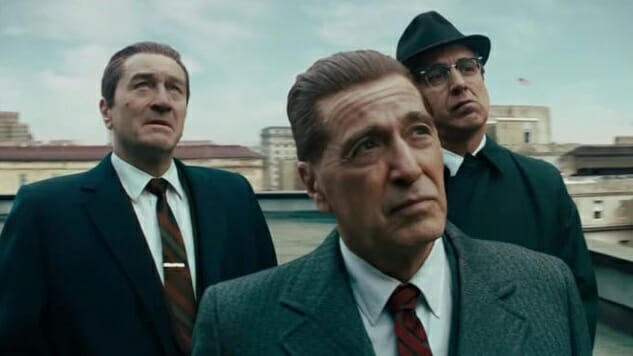 Martin Scorsese's gangster epic, The Irishman drew in 13 million viewers over its first five days on Netflix,
THR reports.
According to Nielsen data, 17 million people watched at least a few minutes of the film's hefty 3 hour, 30 minute run time. The film was most popular with viewers aged 50 and up: they made up nearly half of the average viewership over the five day period, likely drawn by the names of legendary actors Robert DeNiro, Joe Pesci and Al Pacino together onscreen, and Pesci's emergence from retirement. Men aged 50-64 made up 20 percent of the audience on premiere day and 15 percent of the five-day audience.
The data only speaks for U.S. viewers streaming through TV only, so Netflix states that the data therefore doesn't reflect the full audience as streamers from other countries or through other devices aren't counted.
The Irishman well exceeded the "Breaking Bad movie El Camino's numbers back in October, which brought in 8.2 million viewers in the same time frame. Bird Box, another Netflix original from this week last year, debuted to an audience of 16.9 million that The Irishman falls just short of. 18 percent of viewers who started both The Irishman and Birdbox finished in one sitting, a surprising statistic considering Scorcese's film is more than an hour longer than the Bullock-starring scare flick. Only 11 percent of viewers watched El Camino through its 2 hour entirety in the first week.
Netflix has yet to release box office figures concerning The Irishman's limited theatrical release that occurred prior to streaming. More impressive than any numbers are the esteemed reviews: The Irishman has won best film honors from the National Board of Review and the New York Film Critics Circle. Read Paste's review of the mob film here.