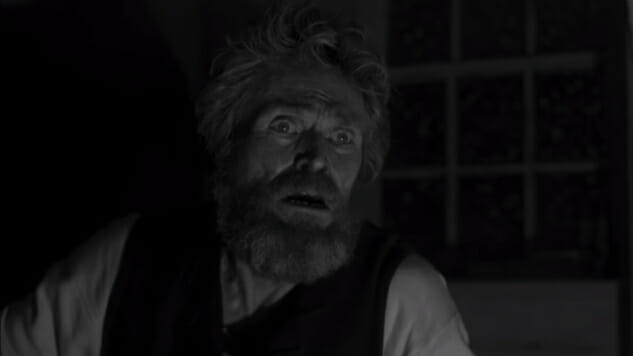 A24 started this Monday morning on a dark note by releasing a new trailer for Robert Eggers' The Lighthouse, a dark drama starring Willem Dafoe and Robert Pattinson.
The story centers on two lighthouse keepers on a remote New England island in the 1890s. Isolated within a toxic cyclone of howling wind, persistent fog and cramped quarters, the two men's minds and actions begin to reflect the outside landscape; rocky as the shores and unpredictable as the crashing waves. The film was shot on 35mm in black and white. This choice seems to suit the story well, creating cavernous shadows on Dafoe and Pattinson's faces as they react to hallucinations or realities yet to be revealed, and making the luminous title quite ironic.
Eggers wrote the script with his brother Max. Production seems to have been nearly as somber as the storyline seems, with Pattinson reporting that he felt an urge to punch Eggers at one point. It seems both actors channeled their feelings for the turbulent conditions into their performances.
This film takes us a few centuries forward from Eggers' breakout The Witch, his first film, which also featured doomed settlers. The Witch relied on the psychological effects of horror to tell a refreshing story. This new trailer seems to solidify the mentally harrowing as the director's style. From the standing ovations The Lighthouse received at Cannes and Toronto film festivals, it's possible Eggers' sophomore film has surpassed its predecessor in caliber. Eggers is next slated to remake the vampire classic Nosferatu, so it seems audiences will have plenty to fear even after The Lighthouse is released.
Find out "what" happens Oct. 18 after watching the trailer below.