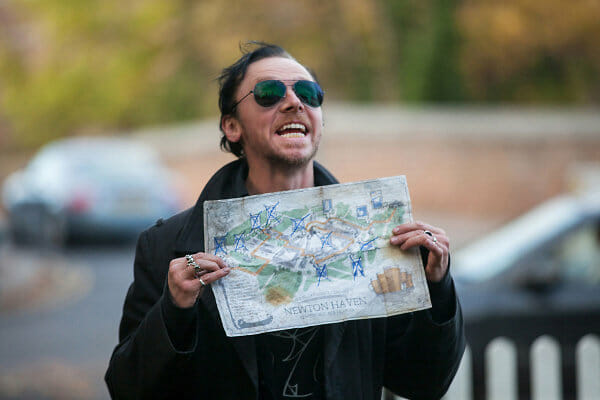 The third installment in Edgar Wright and Simon Pegg's Cornetto trilogy—so named for the ice cream treat that makes a cameo in each episode—is a clever extension of the signature style the director and star/writing partners established with Shaun of the Dead and Hot Fuzz, and an expansion on their themes of friendship, nostalgia and standing up to the Man. Where their 2004 zombie comedy riffed on monster movies and their 2007 actioner took on buddy cop flicks, The World's End mines sci-fi—specifically, a particular brand of mid-20th-century social science fiction (think Invasion of the Body Snatchers)—to explore dichotomous trends in the yearning to recapture youth and the homogenization of culture.
Pegg is ferociously good here as Gary King, a bloke whose search for a good time hasn't let up since secondary school—and he looks it. Still clad in the black duster, aviator shades and dyed-black hair that were his uniform as a teenager, he's manically good-natured and wickedly funny, always at the ready with a groan-inducing pun—the kind of pal who was fun to hang out with in high school but is exhausting now that you've outgrown his shenanigans. In a fresh change of pace, it's the usually doofy Nick Frost who plays the straight man, Andy, 16 years dry after a mysterious accident sobered him up.
Gary cajoles, bullies and lies to his childhood friends—Steven (Paddy Considine), Oliver (Martin Freeman) and Peter (Eddie Marsan)—to get them to reunite for one final adventure. With an urgency the reason for which becomes clear only later, Gary is determined to get the gang back together to finish what they started more than 20 years ago: a pub crawl in their hometown of Newton Haven of 12 ale houses with names like the Old Familiar, the Famous Cock, the King's Head, the Hole in the Wall and, of course, the World's End.
Gary is hell-bent on completing the "Glorious Golden Mile" at any cost, whether that entails finishing half-empties outside a pub from which he's been banned for life, hanging on to his pint during an all-out bar brawl, or making it to the World's End, the last stop on the pub crawl that also serves as headquarters for the alien invasion that has taken over the town. That's right. It turns out there's a reason every pub looks the same now—"Starbucking," they call it—and the creepily polite inhabitants don't seem to remember them. They're robots!
The novelty has worn off Wright and Pegg's shtick a bit, but even the reiterated gags (the characters must traverse garden fences … again) are still funny—winks to their fans rather than lazy writing. For all their horsing around, the truth is Wright is an accomplished filmmaker who embeds story in the very mechanics of cinema. He uses cinematographer Bill Pope's imagery and Paul Machliss' editing as deftly as dialogue to tell jokes and wields Steven Price's score and a cool, largely '90s soundtrack to not only convey mood but advance the narrative.
Moreover, that narrative is steeped in reminiscence—our selective memories when it comes to what it was like to be young and how youth shapes the people we become as adults, from the labyrinthine origins of slang phrases that comprise the private language of a group to the adolescent loves and rivals that still obsess us. The epilogue goes off the rails a little, but Wright and Pegg's willingness to introduce a new reality (like the humans and zombies living side-by-side at the end of Shaun) suggests another motif in their oeuvre—the resiliency of the human spirit.
Exceedingly quick-witted and fast-paced, The World's End merits repeat viewings. If Shaun and Hot Fuzz are any indication, it, like old friends, will be even funnier and wiser than you remember.
Director: Edgar Wright
Writers: Simon Pegg, Edgar Wright
Starring: Simon Pegg, Nick Frost, Paddy Considine, Martin Freeman, Eddie Marsan, Rosamund Pike
Release Date: Aug. 23, 2013