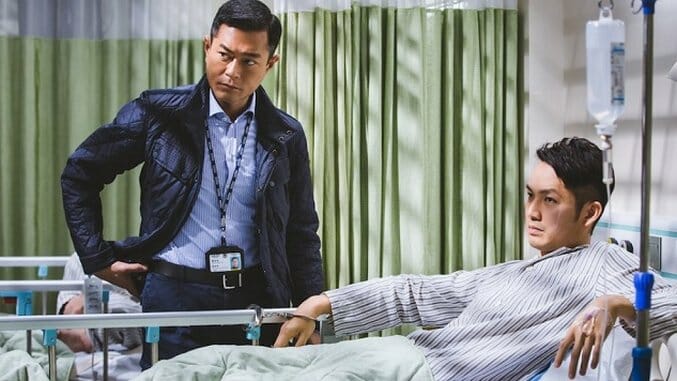 Can you imagine a worse place for cops and robbers to play a game of cat and mouse than a bustling, overstuffed hospital? An orphanage, perhaps, or maybe an elementary school, but houses of convalescence rank pretty high on the list of "least desirable" locations for the police to butt heads with a hardened crook, even when the hardened crook is cuffed to a gurney with a bullet lodged in his brain. But that blatant mismatch of public safety and criminal investigation is part of what makes Johnnie To's new film, Three, so great: The setting gives To a labyrinthine stage to explore, a constrained environment where succor is increasingly tinged by a sense of peril.
Three is both a sort-of chamber piece and a lesson in escalating tension. In it, To, per usual, packages stellar filmmaking with a deceptively simple premise. This time around, Dr. Tong (Wei Zhao), a neurosurgeon whose ambition is her greatest vice, is on duty when Inspector Chen (Louis Koo) and his team bring in a wounded suspect (Wallace Chung) for treatment. Just before he goes under the knife, the suspect refuses medical care and begins an elaborate 80 minute battle of wits with his arrester and his provider. Chen and Tong are professional kindred spirits: Tong's refusal to observe her limits has resulted in a string of bungled operations, while Chen's extralegal overzealousness has paved the way for his and his peers' downfall. Keenly aware of his custodians' vulnerabilities, the suspect starts to screw with them in an attempt to buy time for his men to rescue him, and also to engineer Chen's ruin.
We're told at first that the suspect put that bullet in his brain himself in order to force a ceasefire during a shootout with Chen—but that's nonsense. His method is incompatible with his goal, sort of like having sex to preserve your virginity. It's actually Chen who shot the suspect, sans authorization to discharge his firearm; the suspect's refusal to die threatens to expose Chen's wrongdoing, and that strain becomes the engine of Three's suspense. This is familiar ground for To, who has long been obsessed with lawmen who hold themselves above the law, whether in 2003's PTU or 2013's Drug War. (Both films are excellent, and if you're unfamiliar with To's massive and varied filmography, they're solid starting points.)
"We break the law to enforce the law," Chen proclaims, and to this philosophy he holds: He tricks the suspect into slathering Chen's gun with fingerprints by hiding it in a bag of fast food, and generally strongarms people into helping him sweep his guilt under the rug. (He even gets Tong to violate the Physician's Oath.) If you get the feeling that To's empathy for the suspect is higher than his empathy for Chen, you may be onto something. The suspect is guilty himself, yes, but it's through the suspect, and also through Tong, that To interrogates the integrity of China's judicial system. Everyone knows that Chen is trying to hide something, and everyone knows that the suspect is a thieving, murdering, conniving rogue, but Chen is supposed to uphold order instead of subvert it. At least the suspect doesn't deny his nature.
At the center of Three's ethical conundrum there's Tong, whose calm exterior belies her inward struggle with her failures. In Tong's world, there's no room to feel doubt or shame for one's mistakes, even though she clearly does feel both. Getting caught between Chen and the suspect as they race against the clock and against each other amplifies her uncertainty about her skills as a surgeon by putting her in a position to act either against her better judgment, or without judgment at all. She knows the suspect is one bad dude, but she's also beholden to the fundamental conventions of her field—she can no more allow the suspect to die than she can tolerate Chen's pretenses. (It's also worth noting that Tong's dynamic nature gives Zhao more character to work with than her male co-stars. They're good, but she's absolutely terrific.)
Maybe To couldn't have set Three anywhere but in a hospital. It's the perfect spot for a conflict of morals, and its cool, maze-like qualities reflect both the mounting complexities of the film's plot as well as To's clinical filmmaking style. He orchestrates each sequence with control and precision that feels downright surgical, though the film's speed-ramped finale reminds us that To has maintained his passion for his craft even after directing movies for over 30 years. In his towering body of work, Three is a satisfyingly minor entry, but minor To is better than major films by most any other contemporary filmmaker you can imagine. It's also better than no To at all. Here's hoping he stays this vital for as long as he keeps making films.
Director: Johnnie To
Writers: Yau Nai-hoi, Lau Ho-leung, Mak Tin-shu
Starring: Louis Koo, Wei Zhao, Wallace Chung, Suet Lam, Raymond Wong, Michael Tse
Release Date: June 24, 2016
---
Boston-based critic Andy Crump has been writing about film online since 2009, and has been contributing to Paste Magazine since 2013. He also writes for Movie Mezzanine and Birth. Movies. Death., and is a member of the Online Film Critics Society and the Boston Online Film Critics Association. You can follow him on Twitter and find his collected writing at his personal blog. He is composed of roughly 65% craft beer.