Tom Cruise Announces New Mission: Impossible 6 Title in His First Instagram Post
Photos by Anthony Harvey/Getty, Jamie McCarthy/Getty
Movies
News
Tom Cruise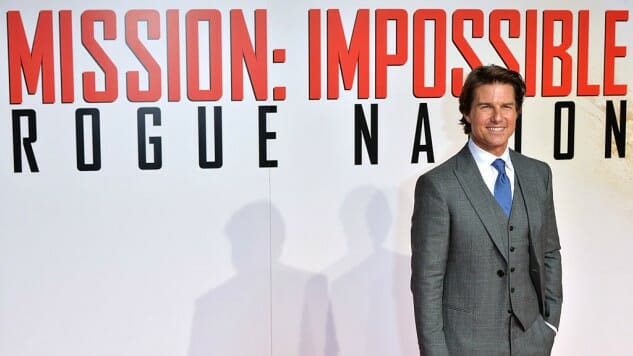 Ladies and gentlemen, Tom Cruise, the man who brought to life Maverick, Lt. Dan Kaffee, Lestat, Jerry "freakin'" Maguire, the unforgettable Les Grossman and so many more, is bringing Ethan Hunt back in the new Mission: Impossible film. The three-time Oscar-nominated actor revealed in his first-ever Instagram post the new title of the sixth installment of the Mission: Impossible franchise: Fallout.
We don't know which is more exciting—how incredibly cool that title sounds, or the fact that Cruise is now on Instagram so we can follow him and all his strange gloriousness. Cruise began shooting the film back in the summer and injured himself while doing his own stunts. Reports indicated that he broke his ankle when he jumped between two buildings and hit the side of one at a strange angle. It's totally fine though, since most men who are in their mid-fifties do their own stunts.
Cruise, best known for always running in his films, has been in the business since the early 1980s. His first film was the 1981 film Taps, about a bunch of military cadets refusing to let local condo developers take their academy's land. Since then he's been proudly running in great films like Minority Report, Days of Thunder, Risky Business, Vanilla Sky and Jack Reacher, plus about 40 more.
Paramount Pictures is set to release Mission: Impossible: Fallout on July 27, 2018. The film also stars Henry Cavill, Rebecca Ferguson, Alec Baldwin and Angela Bassett.
You can check out Cruise's first two Instagram posts below.