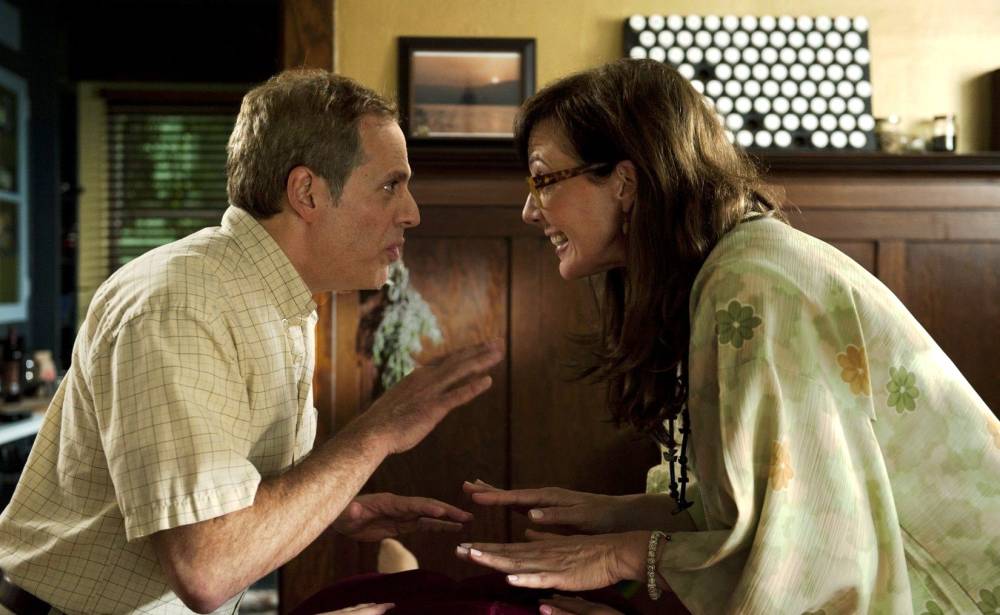 Touchy Feely marks writer/director Lynn Shelton's third feature film in five years. While not quite as prolific as other "mumblecore" colleagues (Drinking Buddies' Joe Swanberg, for example, has churned out eight in only three years), Shelton's brand of low-budget, improv-heavy relationship dramedies lends itself well to a quick turnaround. It's only natural then that such an output would inevitably lead to the occasional misstep. Perhaps that explains why, after the unequivocal artistic success that was 2009's Humpday and 2012's Your Sister's Sister, Touchy Feely feels like a disappointing, watered-down follow-up.
The film depicts two inversely parallel stories. Abby (Rosemarie DeWitt) is a free-spirited, earthy woman who makes a living as an in-demand message therapist. Shortly after her boyfriend (Scoot McNairy) proposes that she move in with him, however, Abby suddenly develops a quite literal sickness to human contact, derailing both her personal and professional lives. Meanwhile, her brother, Paul (Josh Pais), shown to be as uptight as Abby is vivacious, finds his flailing dental business suddenly flourishing after he inexplicably develops a "healing touch" that cures his patients of their every ache and pain. This subsequently provides the first step in thawing the tense relationship he has with his daughter/dental assistant, Jenny (Ellen Page).
Touchy Feely finds Shelton dipping a toe into more conventional filmmaking. While last year's Your Sister's Sister displayed a more polished sensibility, the performances and dialogue nevertheless lent it the organic, naturalistic feel found in her early work.
If there remains any such spontaneity in Touchy Feely, it has been whittled down to the point of non-existence. Gone here are the rough edges and loose feel that define much of Shelton's work. While even her best films could feel meandering at times, such a pace allowed the actors time to craft grounded, well-rounded characters who effectively serviced the films' conflicts. Perhaps due to the sheer abundance of characters this time around, there is much less time spent developing each one. This stands as a significant problem, especially considering the magical realism elements inherent in the premise. Whereas Shelton's touch could previously make even the most ludicrous of plotlines feel emotionally honest—case in point, the drunken sex agreement between two straight friends that drives the plotline of Humpday—much of comedic set pieces and situations in Touchy Feely come across as the kind of overly quirky shtick that one finds in a mediocre Sundance-bound comedy by a first-time director.
The faults are particularly unfortunate given the fantastic cast that Shelton has assembled. Returning from Your Sister's Sister, Rosemarie DeWitt adds a sympathetic layer to a character who could very well have come across as an infuriating know-it-all. Ellen Page, similarly, manages to breathe some depth into a character whose arc seems somewhat short-shifted by the plot.
The men of the film, however, are not so fortunate. As the tense Paul, character actor Josh Pais adapts a body posture reminiscent of a recently reanimated mannequin. While humorous at points, the characterization can't help but feel a tad too broad—as if Paul were from an entirely different movie. Also, barely recognizable now that he's cleaned up and no longer displaying the grimy get-up from his performances in Killing Them Softly and The Place Beyond the Pines, Scoot McNairy makes a great impression in his early scenes, only to be tossed aside for much of the film's mid-section. As such, when he's finally brought back in for an emotional interaction with Page's Jenny, the moment feels decidedly unearned.
Indeed, given the film's scant running time, many of the relationships and connections presented can't help but feel underdeveloped and tenuous. This is most noticeably a problem with Ron Livingston, who appears late in the film's final stretch. Playing Abby's ex, Livingston serves as a kind of emotional deus ex machina, providing Abby's storyline with a disappointedly simple resolution.
Contrary to the gentleness of its title, Touchy Feely executes its intriguing premise as a ham-fisted allegory about the challenges of both physical and emotional connectivity. While not completely devoid of the warmth and memorable characters that distinguish Shelton's style, the overall product signifies an arguable miscalculation in her filmography. That being said, given Shelton's raw talent and admirable work ethic, it will take more than a single project to slow her down. Plus, with her new film Laggies already set for a 2014 release and starring the likes of Keira Knightley, Chloë Grace Moretz and Sam Rockwell, there's no reason to believe the director won't soon bounce back from this particular stumble.
Director: Lynn Shelton
Writer: Lynn Shelton
Starring: Rosemarie DeWitt, Ellen Page, Josh Pais, Scoot McNairy, Allison
Janney
Release Date: Sept. 6, 2013 (limited; available for rental on Amazon)