Halloween Classic Trick 'r Treat Is Getting a Collector's Edition Blu-ray
Photos via Scream Factory
Movies
News
Trick r Treat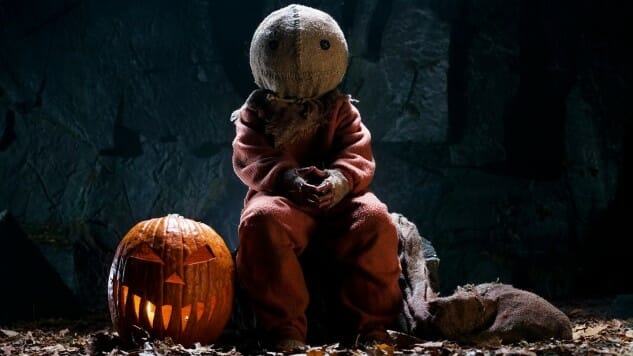 We've made no bones in the past about our love of director Michael Dougherty's 2007 cult classic horror anthology Trick 'r Treat—in fact, we published a piece last October calling Trick 'r Treat the greatest "Halloween night" movie ever made. And it is—Dougherty's sheer reverence and joy in capturing the traditions of All Hallow's Eve, Samhain and all the other pagan traditions of Oct. 31 is positive infectious, making for the rare horror anthology that is equal parts nostalgic, thrilling, funny and frightening. Throw in a superb ensemble cast that includes the likes of Brian Cox, Anna Paquin and Dylan Baker as the homicidal school principal, and you've got a modern classic that seems to be gaining in popularity and acclaim every single year.
Indeed, between the appearance of a Trick 'r Treat haunted house at Universal Studios' Halloween Horror nights and the film's ongoing critical reevaluation and wider exposure, it feels like the movie is sort of having "a moment" in 2018. And the exposure is only going to be widened by the release of a brand new Collector's Edition Blu-ray, announced today by Scream Factory. As you would no doubt expect, the new Blu-ray arrives in October.
According to Bloody Disgusting, the new edition will come with the beautiful slipcover art that you can see below, along with a collection of various extras and special features that are still in progress—in addition to extras from previous DVD releases that will be ported over. New interviews with cast and crew are underway, with director Michael Dougherty involved in multiple aspects. National street date for the Collector's Edition is Oct. 9, 2018.
Dougherty, meanwhile, has seen his stock on the rise in Hollywood in the years since Trick 'r Treat, directing 2015's similar horror-comedy Krampus and writing X-Men: Apocalypse. He's currently wrapping things up on what is by far his biggest directorial responsibility to date: Godzilla: King of the Monsters, the sequel to Legendary's 2014 American Godzilla reboot, which was directed by Gareth Edwards. Whether King of the Monsters propels Dougherty to new heights, as Edwards reached when he directed Star Wars: Rogue One, it must be satisfying to know that his first feature, Trick 'r Treat, is still resonating with so many new viewers.