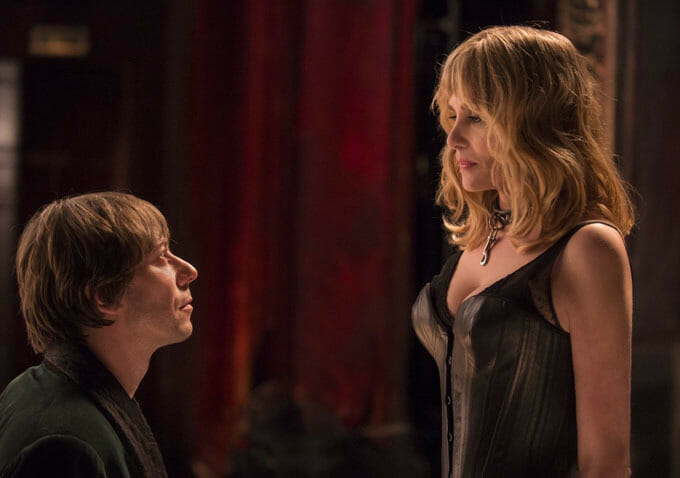 One of the big critical sensations from this year's Cannes was All Is Lost, a daring drama that featured Robert Redford all by his lonesome on screen for the film's entire running time. It's such an impressive feat of acting that it succeeded in overshadowing the festival's other great example of minimalist narrative. Venus in Fur gives us two characters engaging in a battle of wits, practically in real time, in which the power dynamic slowly changes over the course of about 95 minutes. But because we're never quite sure of the true motives of one of the two leads, it's as if the film is populated with three or four different people tormenting the other helpless character.
Based on the play by David Ives (who co-wrote the screenplay), Venus in Fur never shakes its stage-bound origins. That proves not to be a detriment but, rather, a strength. Thomas (Mathieu Amalric) is a playwright looking to cast the lead in a new adaptation of Leopold von Sacher-Masoch's novel Venus in Furs that he'll be directing. However, his hopes to find the perfect actress have proved frustratingly futile, and he's ready to call it a day when into the theater saunters Vanda (Emmanuelle Seigner), terribly late, visibly disheveled and yet insistent that she's perfect for the role. Exhausted from hours of fruitless auditions but too tired to put up sufficient resistance, Thomas acquiesces, figuring that letting this overbearing woman read for the part will be quicker than fighting with her about it.
Even those not familiar with Ives' play will guess that Vanda is more talented than she first appears, but Venus in Fur's deep enjoyment comes from precisely what this actress is able to do. It's not just that she's got genuine dramatic chops—it's that she seems to understand the play (and its playwright) to a disturbing degree. And alone on that bare stage, Thomas, who at first considered her nothing but another vapid actress, discovers that he's trapped with someone who sees through him, who is able to strip away any vestiges of cultural superiority and reduce him to a pathetic, seduced creature in her confident, alluring grasp.
Venus in Fur has been directed by Roman Polanski, and unlike his previous film, an adaptation of the play God of Carnage renamed Carnage, this one seems to fit perfectly in his wheelhouse of thematic interests. Sexual desire, jet-black comedy, kinky mischievousness, an air of tense claustrophobia: It's all there in Venus in Fur, and even if the movie isn't particularly deep, it's a constant playful delight. Where Carnage's humor seemed clipped, here it's cutting and precise, acknowledging the theatricality of the story while still having a ball. The narrative's arc becomes somewhat repetitive—Vanda "performs" the lines of the central character, a ripe temptress, while Thomas "plays" her hapless prey—but Polanski craftily keeps building the sexual tension, the playwright finding himself considering bedding this mysterious woman while trying to keep at bay the fiancée waiting for him at home who keeps calling.
It's not just that both actors are superb—they also complement one another in this close-quarters drama. Amalric, far more expressive and layered than in another Cannes entry, Jimmy P., lends the right amount of ineffectual arrogance to Thomas, who will soon be upended by this sexual dynamo. Seigner has to cover a wider gamut in her role—exasperating dolt to sophisticated vixen—and she's a small wonder, her transformation arousing but also very funny. (You laugh at her cleverness while you swallow hard because of her carnal pull.) She's Polanski's wife in real life, of course, and many have noted the physical similarity between the director and Amalric. You can read Venus in Fur as autobiographical, Polanski exposing his own feelings about how a muse can bring out your darker cravings. But you can also simply enjoy the hell out of this fiendish little back-and-forth for its many surface pleasures.
Director: Roman Polanski
Writers: David Ives, Roman Polanski (screenplay); David Ives (play)
Starring: Emmanuelle Seigner, Mathieu Amalric
Release Date: Screening in the Official Competition at the 2013 Cannes Film Festival