Wes Anderson Is Out of This World in First Trailer for Asteroid City
Photos via Focus Features
Movies
News
Wes Anderson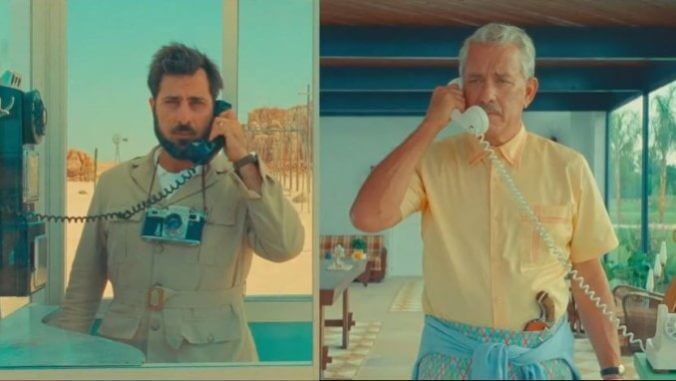 A day after debuting its poster, and the absolutely ridiculous cast list that is its highlight, we have a first look at Wes Anderson's upcoming feature Asteroid City in motion. The trailer for the film, which hits wide distribution on June 23, 2023, shows off the incredible collection of faces in Anderson's 1950s period piece, with a synopsis that is as follows:
The itinerary of a Junior Stargazer/Space Cadet convention (organized to bring together students and parents from across the country for fellowship and scholarly competition) is spectacularly disrupted by world-changing events.
We speculated that those "world-changing events" might be the arrival of aliens yesterday, and the trailer is certainly rife with alien references and a shot of what might be a UFO, and yet we can't help but wonder now if that's all a misdirection of some kind. Regardless, the story here is unspooling in a desert community where a large group of people, brought together by various strands of fate, are now unable to leave under orders of the government. Our lead protagonists appear to be the characters portrayed by Anderson mainstay Jason Schwartzman, his father, played by Tom Hanks, and an actress of Old Hollywood portrayed by Scarlett Johansson. In particular, it certainly feels like there's a budding romance happening between Schwartzman and Johansson as they chirp back and forth at each other from adjoining windows in nuggets of quirky, Wes Anderson patois.
Then there are the visuals–Anderson has given us some fanciful, unrealistic pastel hues before, but Asteroid City seems to be taking that singleminded devotion to aesthetic to a new level. It is absolutely sun-drenched looking, with so much yellow screaming "desert" that it almost overwhelms the senses. One wonders if the director is in danger of producing work at this point that feels like self parody, but who are we to deny the auteur his trademark flourishes? You can check out the first Asteroid City trailer below, and decide for yourself.