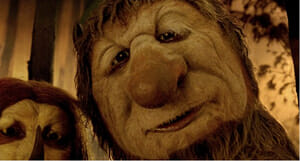 Release Date: Oct. 16
Director: Spike Jonze
Writers: Spike Jonze, Dave Eggers
Cinematography: Lance Acord
Starring: Max Records, Catherine Keener, James Gandolfini
Studio/run time: Warner Bros./100 min.
A classic paean to childhood imagination fails to turn into an imaginative film
Much like the wild and woolly world of his wolf-costumed protagonist, Max, Maurice Sendak's Caldecott-winning children's book, Where the Wild Things Are, became a classic overnight. If only its big-screen adaptation had happened as spontaneously. Five years after director Spike Jonze was hand-picked by the author (after innumerable failed attempts to convert this scantily-worded book into a screenplay), the production became a notoriously knotty one, filled with actor departures (Michelle Williams), personal turmoil (Jonze broke up with the film's soundtrack composer Karen O., then married and divorced Sofia Coppola in that timeframe), a studio hand-off (Universal to WB), and an extended reshoot a year-plus after it originally wrapped.
As Spike Jonze recently justified to Time Out: "I didn't set out to make a children's film – I set out to make a film about childhood." And in the film's earliest scenes, the manic mood swings and emotional turbulence of childhood are poignantly rendered. Framed by the kinked black whiskers of his iconic outfit, Max (played by Max Records) veers from ecstasy to blind rage to teary-eyed confusion to tenderness back into violence in the span of a few minutes.
But once he sets sail for the island where the wild things are, we find ourselves burdened with mopey, emotionally needy, and temper tantrum-prone creatures, both human and monstrous. While the creatures—voiced by Gandolfini, Chris Cooper, and Forest Whitaker and created by Jim Henson's workshops—look remarkable (you can almost smell the musk and mud upon their matted fur), the middle section of the film bogs down. Meandering shots, a plot devoid of conflict, and infantile dialogue justifying violence and abuse among its characters are instead allowed to romp around the screen. Viewers return back to reality with little gained, save that childish adults should scrap that big-budget adaptation of Goodnight Moon now.