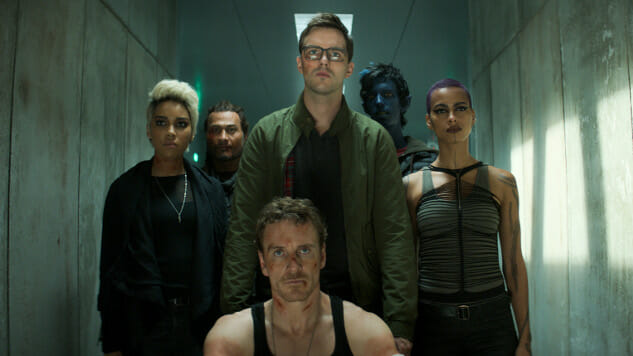 "Everything We Know about … " is Paste's series of deep dives into the forthcoming projects we're most excited about. Explore them all here.
The state of the X-Men movie franchise is currently up in the air, as Disney's planned acquisition of 20th Century Fox could bring the superhero team into the Marvel Cinematic Universe fold. Dark Phoenix and The New Mutants, both of which were originally slated to open in 2018, have had both of their release dates pushed back into 2019, and it's still unclear whether they will be Fox or Disney releases. Here's everything we know so far about the new X-Men movies.
---
Dark Phoenix
In April 2017, 20th Century Fox originally slated Dark Phoenix for release on Nov. 2, 2018, just a few months following the eventual release of Deadpool 2 in May 2018.
In March 2018, it was reported that Fox had pushed back Dark Phoenix to Feb. 14, 2019. Later that month, reports revealed that, following script tweaks on the film's third act, Dark Phoenix, which wrapped shooting in summer 2017, required serious reshoots, which were scheduled for later in 2018.
The film's first trailer premiered on Sept. 27, 2018, still touting a Feb. 14, 2019, release date. However, just days later, THR reported that 20th Century Fox had since slotted Dark Phoenix for June 7, 2019, with Alita: Battle Angel taking over the Valentine's Day 2019 slot.
Written and directed by first-time helmer Simon Kinberg, who has previously produced and written a number of past X-Men movie installments, Dark Phoenix will center on Game of Thrones star Sophie Turner's Jean Grey and feature a '90s take on the X-Men universe.
Dark Phoenix comes with the following synopsis from 20th Century Fox:
In 1992, nearly a decade after the events of X-Men: Apocalypse, the X-Men are national heroes going on increasingly risky missions. When a solar flare hits them during a rescue mission in space, Jean Grey loses control of her abilities and unleashes the Phoenix.
Dark Phoenix will also feature returning cast members James McAvoy (Professor X), Michael Fassbender (Magneto), Jennifer Lawrence (Mystique), Nicholas Hoult (Beast), Tye Sheridan (Cyclops), Alexandra Shipp (Storm), Kodi Smit-McPhee (Nightcrawler) and Evan Peters (Quicksilver).
Jessica Chastain, who in June 2017 was reported to be joining the X-Men universe as Dark Phoenix's main villain, Lilandra, made her debut appearance in the first Dark Phoenix trailer. Chastain's character is described as "a shapeshifter who manipulates the Phoenix."
On Jan. 2, 2019, the official Twitter account for the X-Men movies shared a new image from the film, captioned, "There's still hope." The ominous new image shows McAvoy's Professor X, Shipp's Storm and Smit-McPhee's Nightcrawler holding umbrellas and grieving at what appears to be a funeral for a departed character.
There's still hope. #DarkPhoenixpic.twitter.com/2ZuAMAGhpO

— X-Men Movies (@XMenMovies) January 2, 2019
Dark Phoenix is currently slated to open on June 7.
The New Mutants
Based on the spinoff comic book series of the same name, The New Mutants takes a more horror-oriented spin on the X-Men franchise, following five young mutants who must fight to save themselves while being held in a secret facility against the will. The New Mutants comes from The Fault in Our Stars director Boone, who helmed and co-wrote the script alongside Knate Lee (Kidnap).
The New Mutants is led by Anya Taylor-Joy's Magik and Maisie Williams' Wolfsbane, alongside Charlie Heaton's Cannonball, Henry Zaga's Sunspot and Blu Hunt's Mirage.
In April 2017, Fox announced the spinoff film The New Mutants as part of its 2018 X-Men film slate, and set the film for an April 13, 2018, release. The following month, in May 2017, the studio confirmed that it had set Game of Thrones' Williams and The Witch's Taylor-Joy as the stars of The New Mutants, which would begin production that July.
Also in May 2017, writer-director Josh Boone, perhaps best known for helming 2014's hit The Fault in Our Stars, told EW about how he wanted his project to resemble "Stephen King meets John Hughes."
The first trailer for The New Mutants premiered in October 2017, and later that month, was followed by comments from writer-director Boone suggesting that a New Mutants film trilogy was in the works.
The film's first trailer came with the following synopsis from 20th Century Fox:
The story of the New Mutants, a team of mutant heroes comprised of the first graduates from Charles Xavier's school.
In January 2018, THR reported that The New Mutants had been pushed back 10 months, from April 13, 2018 to Feb. 22, 2019, and in March 2018, following reshoots, the film was pushed back yet again, this time to Aug. 2, 2019.
The New Mutants is currently scheduled for Aug. 2.
Gambit
Following a number of director and release date shake-ups, it's unclear whether the long-gestating Gambit movie starring Channing Tatum will move forward. The project has not yet been officially canceled; as of September 2018, Gambit is still part of Fox's 2020 film slate. As the Disney-Fox merger is expected to close sometime in 2019, however, it's unclear whether Gambit will fit into Disney's plans for the Marvel universe.
Rupert Everett (Rise of the Planet of the Apes) and Doug Liman (Edge of Tomorrow) were both attached to direct Gambit before dropping out early in the film's development.
In October 2017, it was reported that Fox had set a Feb. 14, 2019 release date for Gambit, with Gore Verbinski set to direct. The following month, it was reported that Lizzy Caplan was in talks to play the female lead.
In January 2018, however, Verbinski left the project, leaving Gambit without a director.
Per the most recent reports, in September 2018, Deadline reported that Fox had moved Gambit from June 7, 2019 to March 13, 2020, although the studio still had yet to find a director to replace Verbinski. Tatum is still attached to star, with Reid Carolin and Joshua Zetumer writing the film's script.
---
Watch this space for further updates on the forthcoming X-Men films.