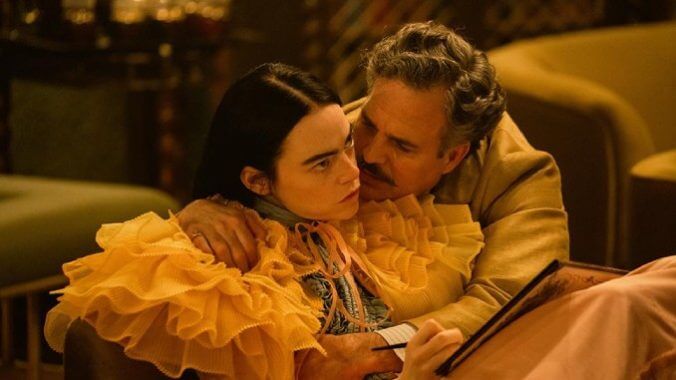 Yorgos Lanthimos' off-kilter, pastel-drenched Poor Things opens with static shots of silken embroidery. It is hard to ascertain the images themselves, threaded so neatly in a near-identical gray. But the slippery, elusive texture is integral to the film, which weaves together something thick and rich with detail. What follows is narrow in its focus and big and engulfing in its scale: The story of a young woman who must overcome the experiments enacted against her while embracing her changing body and irrepressible urges.
As such, this adaptation of Alasdair Gray's book of the same name is difficult to summarize, loosely following Bella Baxter (Emma Stone) as she grows to embrace adulthood despite the overbearing tutelage of her de facto father God (Willem Dafoe). Once introduced to the dashing and cocky Duncan Wedderburn (Mark Ruffalo), Bella recognizes the pitfalls of her sheltered life and endeavors to travel around the world, experiencing life anew before marrying her father's sweet and bumbling assistant Max McCandles (Ramy Youssef). It picks up on many of the themes the director has concerned himself with, digging into the ways in which people will torture one another rather than accept the pain that lies dormant in their past, unwittingly exacting an interpersonal cost. 
Lying in the genre gulf between science fiction and straightforward drama, Poor Things also finds time to unleash Stone's ability as a physical comedian, building a sticky, entrancing bodily language that lives somewhere between twitchy, childlike enthusiasm and mystical knowingness. She wanders through their eclectic family home with an unsteady gait, crashing into delicately hung porcelain displays and cackling rather than cowering at the destruction which follows.
Poor Things is held together by a consistent, if quiet, understanding of bodily autonomy—a radical perspective that hums through the story, animating it with a fresh, loose outlook. Early on, Bella cuddles next to God, naively inquiring, "Bella nowhere girl. Where that be? Nowhere?" That question of placement, and the elusive idea of origin which promises clarity, underscores her character—each new stop in her journey of discovery only upending the truth she had just adopted. As Poor Things progresses, and the cities Bella visits are methodically ticked off, her inner compass is battered against the sharp corners of the world, scrambling her sense of personhood and moving her (and us) further into the arena of the bizarre and uncanny—into "nowhere."
The only lesson Bella must learn (over and over) is that actions have a delicate, uncomfortable but necessary relationship to consequences. Early on in her development, Max holds a small frog out in his palms, intending to teach Bella about a new facet of natural life. She clamps his hands together, squishing the frog and grinning at the stain of inky black blood. It is a moment that is then refracted in the rest of Bella's life, coloring her sexual awakening and philosophical musings. What is destruction? When are we complicit in another's destruction? Are we responsible for our own?
Bella discovers answers to such overwhelming questions slowly, leaping to conclusions and then lurching back in regret. It is a deliciously amoral journey, the kind that has already secured Lanthimos ample praise over the course of his career. But this is perhaps the filmmaker's most garish and confident endeavor, using Bella's naive perspective to design a world so heightened that it exists somewhere between a nightmare and a dream. 
Somewhat surprisingly, Poor Things feels like it is in conversation with Greta Gerwig's Barbie, right down to Stone's robotic, doll-like physique. Where Barbie feels shallow and tentative in its understanding of what it means to physically grow up, Poor Things is bold and radically (at times uncomfortably) honest. It will satisfy fans of Lanthimos' previous work and perhaps win over new viewers who are desperate to engage in the kind of coming-of-age stories that propel the genre forward.
Director: Yorgos Lanthimos
Writer: Tony McNamara
Starring: Emma Stone, Mark Ruffalo, Willem Dafoe, Ramy Youssef, Jerrod Carmichael
Release Date: December 8, 2023
---
London-based film writer Anna McKibbin loves digging into classic film stars and movie musicals. Find her on Twitter to see what she is currently obsessed with.