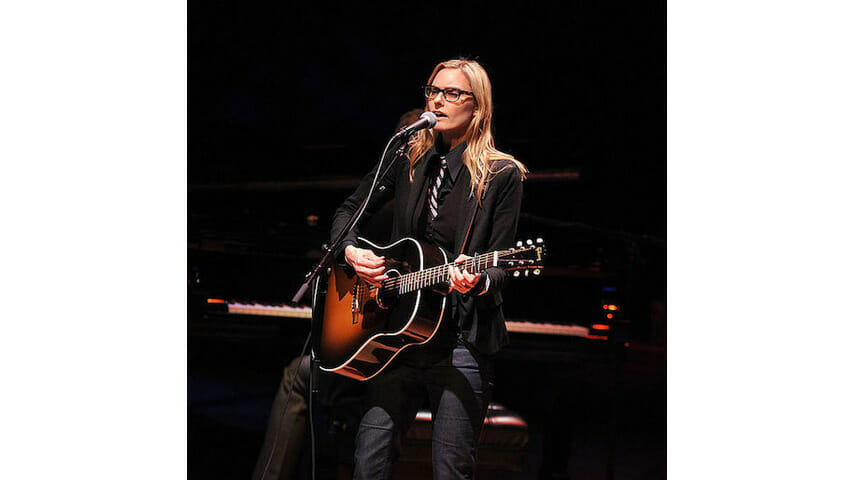 Deprecation, of both the self- and other- variety, ruled Revolution Hall earlier this month, where Aimee Mann and Jonathan Coulton regaled a wildly sympathetic audience with their disappointment in society, friends, family, lovers and above all, themselves.
Coulton is the newest artist on Mann's own SuperEgo Records, a fitting home for his idiosyncratic songs which, like his mentor's, draw tremendous emotional power from the tiniest of details. Shuffling onstage in a rumpled jacket and tie, an acoustic guitar, and the same unassuming sheepishness that Mann has shown for years, he announced, "I'm gonna sing some songs for you…. That's probably obvious by now." Over the course of nine songs -including two with Mann on bass and background vocals—Coulton won over a largely unfamiliar audience. Some of that approval no doubt stemmed from the obvious affection, even pride, he and Mann showed for one another. Mann recounted that the first time she heard "I Crush Everything," a heartbreaking meditation on loneliness, sung from the perspective of a giant squid (!), she couldn't stop crying. "See how you like it!" Coulton quipped triumphantly.
Touring behind the extraordinary Mental Illness, Aimee Mann and her band (Bassist/vocalist Paul Bryan, drummer Matt Mayhall and keyboardist/vocalist Jamie Edwards) delivered a hypnotic performance, rooted in the diligence of their arrangements. The spartan lineup benefitted the stark, roomy songs like Mental Illness's "Patient Zero," which floated atop delicate vocal harmonies and Edwards's pizzicato string accents. But the band proved equally adept at Mann's earlier, more lush material, like "Going Through the Motions" off 2004's The Forgotten Arm. At 56, Mann has incredible control of her colorful voice. She shades every syllable with meaning, altering the timbre ever so slightly to convey worlds of hurt or sarcasm or dismissal.
Coulton joined the band for a handful of songs mid-set, adding a second guitar and fourth voice. That could have crowded songs like "You Never Loved Me" and "Goose Snow Cone," both off the new record, but instead filled them out almost to the point of decadence; the sound was so rich that the audience audibly exhaled at the songs' end.
In ways both large and small, Mann (and Coulton) continually reminded the crowd that their music stems from profound feelings of awkwardness. After playing with Coulton during his set, Mann scurried offstage, head down and shoulders hunched as if apologizing for intruding. When Coulton described Mann and her brother as "a real Luke/Leia situation," Mann replied "Ah, nerd burn." Each apologized only half-facetiously for their material: Coulton for his wholehearted embrace of science fiction, and Mann for singing "sad, depressing, melancholy, moody songs."
All of those small shrugs and jokes and confessions created an improbably intimate feel in a packed, sold-out show. So, during the set closer of "Long Shot" from Mann's 1995 I'm With Stupid, when Mann and Coulton implored "Please love me," no one doubted the sincerity in either the performers' request or in the audience's assent.