The Arizona folk-punk band has released two new singles off their upcoming album Disposable Everything, which contrast and complement one another in tone and sound. While "Death Machine" is a classic punk-rock song, "White Ghosts" is a beautifully written folk ballad.  
"Death Machine" is a fun track, despite dealing with the different anxieties and tensions we feel as the world seemingly collapses in on itself with environmental and political crises. Out the gate, the single revs up with cymbals and a screeching guitar. Sean Bonnette, AJJ's singer/guitarist, exudes urgency with his shaky vibrato and an offbeat timbre. It's a jam-packed single filled with angst and pent-up frustration.
"White Ghosts" is the opposite in regard to energy—muted drums, light finger-plucking, easy keys and a smooth slide guitar echo the cries of the ghosts we carry. It's as if the campfire is starting to burn out, but no one particularly wants to get up and leave yet, so someone starts strumming the guitar. The endearing song's outro finishes with a set of strings, the slide guitar, and a trickling piano chord.
AJJ's band members Sean Bonnette, Ben Gallaty (bass), Preston Bryant (guitar/keys), Mark Glick (cello), and Kevin Higuchi (drums) recorded their upcoming album Disposable Everything in 2022—the first time the five-piece band had gone into the studio together. The band's theology has always been the human experience—the balance between the world going up in flames and precious moments with the ones you love. Their LP explores personal grief and examinations of morality. 
Disposable Everything is out May 26. Check out the album's art work and tracklist below, as well as tour dates with the Front Bottoms, Oceanator, and Gladie.
Disposable Everything Art Work: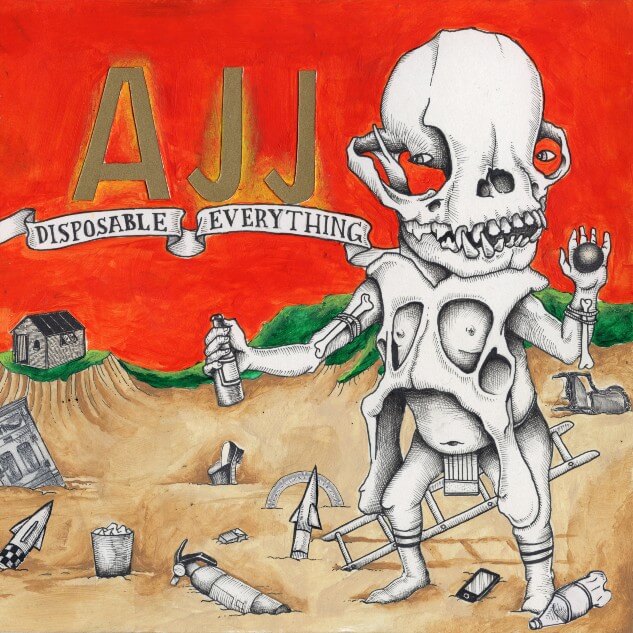 Disposable Everything Tracklist:
1. Strawberry (Probably)
2. Dissonance
3. Moon Valley High
4. Death Machine
5. White Ghosts
6. Disposable Everything
7. The Baby Panda
8. A Thought of You
9. Candles of Love
10. I Hate Rock and Roll Again
11. Schadenfreude
12. I Wanna Be Your Dog 2
13. All of My Woulds
14. In the Valley
AJJ Tour Dates:
May:
19 – Portland, ME @ Aura *
20 – Long Island, NY @ The Paramount *
22 – Burlington, VT @ Higher Ground *
23 – Burlington, VT @ Higher Ground *
25 – Lafayette, NY @ Beak & Skiff Apple Orchards *
26 – New Haven, CT @ College Street Music Hall *
30 – Hamden, CT @ Space Ballroom #
31 – New York, NY @ Webster Hall #
June:
01 – Providence, RI @ Fete Music Hall #
03 – Cambridge, MA @ The Sinclair #
04 – Woodstock, NY @ Colony #
06 – Harrisburg, PA @ HMAC #
07 – Rehoboth, DE @ Dogfish Head (AJJ Only)
08 – Richmond, VA @ Broadberry #
09 – Philadelphia, PA @ Union Transfer #
10 – Washington, DC @ 9:30 Club #
*support for The Front Bottoms 
#w/ Oceanator & Gladie