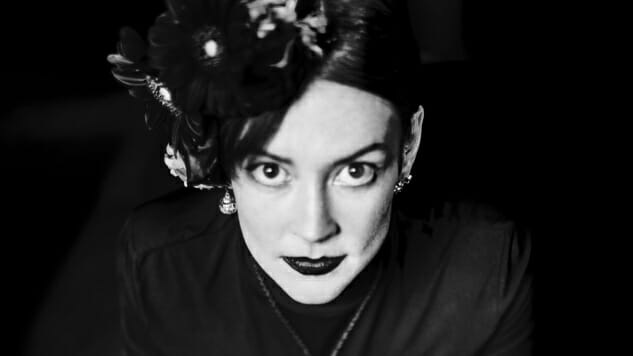 Amanda Shires wrote the bulk of her new album, To The Sunset, in a closet, on the floor, armed only with her journal, a paper shredder, an autoharp—a petite, triangular chordophone famously wielded by June Carter—and quasi-invisibility. As long as she stayed in the closet, which she often did for 10 and 12 hours at a time, she could evade distraction.
"So with the laundry and the shoes I just started writing," she said, sequestered in a window seat in the back of her tour bus. "It's quiet in there, and as you're writing, it would get so quiet, you'd start hearing what it was supposed to sound like, like as if you had really sharp laser focus, or if your ears were bigger."
The closet's ear-expanding powers worked wonders for Shires' fifth studio album—perhaps her sharpest, most illuminating yet in 32 minutes of southern rock swagger, new-age fiddle and deeply affective anecdotes on motherhood, relationships and dancing through dark times. The comfortable confines of hanging blouses and stored coats provided a much-needed sanctuary in a home shared with her husband Jason Isbell and their then-two-year-old daughter, Mercy. "Otherwise it turned into me and her just coloring and playing tubas and not caring about what key we're in," she joked.
But To The Sunset owes as much to her experienced musicianship and practiced pen as to her hard-won solitude. With a 20-plus year relationship with the violin ("My true freest expression"), years of collaborations and solo pursuits alike and a recently-minted poetry MFA from The University of the South in her toolbox, Shires knows what she's doing.
Listening to the record, you'd never guess it was written in a closet. It's expansive, with plenty of room to bend Americana, the category Shires has historically been plopped into, and explore a new vibrant, rock-forward sound. To The Sunset sounds more like it was recorded in a swimming pool at nighttime, where the moon is casting reflection on the water's ripples. Shires recalls telling her producer Dave Cobb, an industry ace who's worked with the likes of Sturgill Simpson and Chris Stapleton, while recording the album's lead single "Leave It Alone" that it needed "to sound like we're playing inside an aquarium."
Feeding her violin through a mellotron pedal was one step to achieving that fluidity. On "Leave It Alone," splashy riffs and distorted vocals add to the motion. On "Swimmer," the lead-off track from Shires' 2011 record Carrying Lightning which she re-worked for this album, she and Cobb swap out rusticity for spacey effects. "She defied what people expected of her," Cobb said, "and she made essentially an experimental rock 'n' roll/pop record that had nothing to do with anything beside what she had in her heart right now. I love following her there. She just broke expectations and forged her own path on this one."
But while To The Sunset is free-flowing, it's not superfluous. Shires is precise in her material, a testament to her poetic training and likeminded influences, among them poets Frank O'Hara, Elizabeth Bishop and Octavio Paza, and, her favorite, musician Leonard Cohen. "Leonard Cohen music, Leonard Cohen everything, Leonard Cohen on my birthday cake please," she gushes. "This year I want a Leonard Cohen birthday cake."
A desire to become a better writer and explore the possibilities of words led her to pursue her master's degree, the thesis for which she completed last year. "My undergraduate degree is in geography and sociology, so I had like no real training with words," Shires said. "I had some literature experience, but a few years after I got out of school I was playing music and writing songs and I started noticing in myself that words and poems were my passion, and songwriting. So I just wanted to be a better writer, and I figured the only way to do that is go to school and get some formal teaching. And then, to be intentional and to be as precise with words as you can when it comes to feelings, because feelings are also vague and abstract anyway."
Feelings may be sloppy, but Shires finds ways to shepherd them into focus. To The Sunset's opener, "Parking Lot Pirouette," is much like "Leave It Alone" in that it makes a case for female desire and does so with spot-on intensity. "Before you turned around I did a parkin' lot pirouette," she sings. "I said, 'You're right, I'm not done with you yet.'"
"I don't think there are enough songs out there that talk about the way that women find guys in relationships attractive without it being fucking raunchy," Shires said. "So I wanted to write a song about a hot dude and how I felt about it."
There certainly aren't enough songs like that one on Top 40 country radio, which often hurts for female representation (unless you count Keith Urban's recent song "Female," which Shires boldly describes, in more or less words, as trash: "Don't get me started on Keith Urban's female song."). The current top spots on Billboard's chart, as of this writing, belong to Brett Young and Dan + Shay.
"Country radio is behind the hell of it," she said. "You look at the charts and it's still two fucking women in the top. Why the hell isn't Kacey Musgraves number one on country radio right now? As a mom, I'm disappointed in top 40 country music, not that I listen to it, but I would if they played fucking Kacey Musgraves like they oughtta be doing, or everybody else that's awesome."
Shires stacks up to Musgraves in terms of their shared penchant for vivid lyrics and genre-fluidity, and they've recorded two of the best country-adjacent albums of the year. But Shires isn't so much concerned with whether her album is country or Americana or rock, and more with how it feels, the ways it stirs people up. She's a storyteller on this record, but she doesn't want listeners to feel boxed in by her vision for a song's meaning.
"I think for me that's okay to tell folks what the intention was with the song, or in some cases what it's about if it needs to be done. But in a way, too, it's just like leaving a little bit of room for the person interpreting it to make it theirs, too. … You can write a song in many layers, and then years pass by and the whole song's about something else anyways now."
Or, in her own case as a listener, sometimes a song's true lyrics and meaning are a surprise. A song about a train isn't about a train at all; it's a metaphor. She cites The Beatles' "I Want You (She's So Heavy)" as one she mistook. "The whole time I thought that the chorus part was about Batman because I thought it was saying 'Batmannn,' but it was really saying 'heavy,'" she said. "But I'm a ding dong."
Several hours after our interview, Shires covered that very song at her show at the Variety Playhouse in Atlanta, Ga. She followed it with a rendition of Jason Molina's Songs:Ohia track "Just Be Simple," a frequent covers pairing on this ongoing tour. She opened the show, however, with To The Sunset's apocalyptic party anthem, "Break out the Champagne," what she calls a "survival song." It was in part inspired by Shires' own experience enduring an emergency landing. While in real life there was no champagne flowing, and no celebrating, as the plane touched down, Shires wanted to rewrite the terrifying experience as if it were a party.
"It was silent and scary and lonely, even on a plane with all those people," she said, "and I think that rewriting it to be a celebration instead—like it'd be a way better way to go down, go down partying."
For Shires, though, the song that stands out the most is "Swimmer," number two in the tracklist. It means as much to her now as it did when she first recorded it seven years ago, and it's easy to see why it's her favorite. It's one of the best showcases of the record's transformed fiddle, sticky lyrics and starry production. "Selfishly I wanted to keep it close to me," she said. "I honestly don't usually ever like my own songs, but I like that song and I like to play that song. It still means a lot to me, that song and the events around that song, so that's why I redid it."
Shires' dislike for her own work might explain why she keeps the aforementioned paper shredder close by while writing. Thankfully, To The Sunset's 10 tracks escaped the device's jaws, leading to perhaps the most progressive array of songs in Shires' catalogue. "Charms" and "Eve's Daughter" are two of the most personal, yet far-reaching. They're both inspired by Shires' own mother, whom she describes as a caring, bad-ass single mom. "I just think my mom is so fucking rock 'n' roll," Shires said. "She handles everything in probably the most positive and rock 'n' roll ass way you could."
When Shires became a mother herself, the door to conversation and connection between her and her mom blew wide open. "She was such a great example, and I'm looking at my own child thinking, 'Do I do the best I can do by her and for her? And what kind of things am I gonna do that are gonna make her whatever her crazy is later on?' Because you want so much for this little person to have it all. If I hadn't had her, I probably wouldn't have thought of ["Charms"] or even got to talk to my mom in greater depth."
The idea for "Eve's Daughter" sparked when Shires' mom called to check in on her during one of those exceedingly long days spent in the cramped closet.
"I was like, 'Sometimes it just feels like a fucking struggle, mom.' And she was like, 'It's just treading water. You know I know all about it.' And then we started talking."
For all To The Sunset's sonic leaps and weighty lyrical content, those two tracks are seemingly the album's most tender offerings, born of Shires' own realizations about motherhood, and her mom's occasional closet check-in. "I didn't get it how much my mom loved me until I had Mercy."