Delilah, the latest album from Anderson East, sounds like a product of Muscle Shoals' FAME Studios with grooves that would have made the Swampers proud and just the right touch of horns. As East begs forgiveness on songs like "Devil in Me," his soulful voice has the finely ground gravel of backwoods Alabama road. In reality, it was recorded in East's adopted hometown of Nashville by Producer of the Year favorite Dave Cobb (Chris Stapleton, Sturgill Simpson, Jamey Johnson, Jason Isbell). But while you can take the songwriter out of Alabama, there's apparently no taking Alabama out of the songwriter.
Athens, Ala., is only about 40 miles east of Muscle Shoals, but growing up, East (born Michael Anderson) wasn't aware of the musical heritage just an hour's drive away. In fact, he wasn't aware of any kind of local music scene as Athens was a dry city until 2004 and he had to drive to Birmingham or Huntsville just to catch a show. But that just made every album he could get his hands on that more special.
"Music was kind of a precious commodity growing up," he says, "every little bit that you could find—whether something that we would probably look on as cool now or just awful music in general. There was no delineation between good and bad at that point. It was amazing just because you had it."
Mixed in with albums from Snoop Dogg and Vince Gill and road trips to see ZZ Top and Lynyrd Skynyrd was music at his church, where his father sang in the choir and his mother played piano. "It wasn't like the most soulful music," he says, "but it was incredibly spiritual and very moving music, and I think just that the essence of it was the commonality—like those songs are meant for the congregation. They're not meant to be a soloist song. That spirit of music was something I didn't really appreciate for a long time, and I probably like even rebelled against it for a long time as well. But that kind of attitude has definitely popped its head back into my mind. It just comes out because that's what was put into me for so long, and they're beautiful! You know, they're beautiful songs that are healing and rejoicing—something higher than you. I'm not saying that we're singing like spiritualized love songs or anything like that, but that essence of just truth I think is kind of what's coming out now."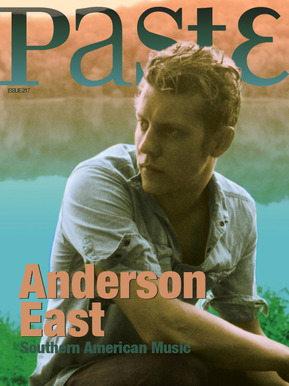 But unlike some small-town Southern homes where the music of the church was the only thing allowed, East's parents actually encouraged his early love of music, buying him a four-track recorder when he was around 13 and watching as his enthusiasm just grew from there.
"I kind of tried my hand at sports and school, and I wasn't very apt at either one of those things," he says. "Anything that was keeping me mostly out of trouble, something that they could obviously see I had passion for, they were incredibly supportive in it. And the ability to capture sound and play it back and manipulate it—everything kind of stemmed off of that. Learning to write songs and play guitar and sing and everything has always led back to that."
But early experiments with that four-track machine just left him wondering why the songs he was recording in his parents' basement and playing over his friends' car stereos with big subwoofers didn't sound like his Michael Jackson album. He started digging into copies of Mix magazine and realizing he had a lot to learn. "There was all this really archaic, esoteric language in there that you really had no idea of what the hell any of this stuff was. And I was just like, 'Okay, well apparently I need one of these big boards that has more knobs, and there's a computer there that I have no idea what the computer's doing, but there needs to be a computer involved.'"
When his parents pushed him towards college, he found that nearby Middle Tennessee State University had a music engineering program, and the choice was obvious—as was the decision to go from there to Nashville.
"It was where music was being made," he says. "And at the time, you could still afford to be a musician and be broke and have cheap rent and know there's such a great community of people that were doing the same thing. It was a really inspiring place—I mean it still is. Rent's gone up, but it's still a very inspiring place. I was just kinda dumb and a kid and was willing to make a fool out of myself in front of people. And people would be like, 'Okay, that was, that wasn't that terrible.' But that's where records are being made everyday."
He worked as an engineer and session musician while working on his own music, first under his given name before adopting his current moniker for a double-album Flowers of the Broken Hearted in 2012. "I went to L.A. for a while, and we recorded most of it there," he recalls. "It was my first experience being solely on the other side of the glass. I wasn't all that happy with it—the ego was far more in control at that time. And so I came back home and recorded a bunch more and the stories of all of them kind of wove together. It was a definite learning process for sure."
He was hesitant to give up control of his songs to another producer until he met Cobb and their introduction played like something from the TV show Nashville.
"I was playing around at the Bluebird Café here in Nashville," he says, "which is, as I'm sure you're aware, like the most Nashville place in town. I think it was the first time either of us had ever been—and I think the last time. But he was there to see a mutual friend of ours and I ended up stopping the show so I could go take a piss, and apparently that made a pretty big impression on him. He kind of came up and introduced himself and he was like, 'Hey man, I'm a producer.' And I was like, 'Yeah, sure, everybody is. What records have you been workin' on?' He rattled off a bunch of people I didn't know and then he said, 'We're just about to start mixing this guy Jason Isbell's record,' and my ears perked up quite a bit because I've been a huge fan of Jason's for a long time. So I was like, 'Alright, if that guy's gonna trust you with it, I'll take you seriously.'"
East visited Cobb's home studio, and the two self-proclaimed gear nerds hit it off immediately and recorded a few songs to get the feel of each other. "We haven't looked back since," East says. "It's been a really amazing friendship and a great working relationship. I owe a lot to that guy for sure."
The new album is out on Elektra and veers from the blue-eyed retro-soul of opener "Only You" to Ryan Adams folk-rock on closer "Lying in Her Arms." But East says there was no conscious effort to make something that recalled his North Alabama roots.
"Honestly, I feel like [the Muscle Shoals sound is] just kind of happenstance," he says. "It was never like a thing, like, 'Oh I'm gonna try to have this flavor,' you know? I was just trying to write songs that I loved and that made me happy. And, from there it was just servicing the song. I just am that guy for the most part. You can't take a kid from north Alabama and growing up in church—some of that is just gonna seep out. I think, at the core of it, it's just really southern American music. Just the same, I think they're just as much a country song as they are R&B songs. I think all that music stems from the same well."