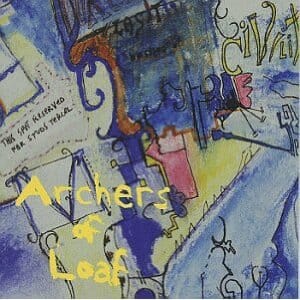 "There's a chance it might get weird, yeah it's a possibility." That's Eric Bachmann singing on the first song on the first side of Archers of Loaf's first album, Icky Mettle. Nearly two decades after they were committed to tape, those lines have proved supremely prescient, neatly summing up the North Carolina indie band's career—or lack thereof. With only a few singles under their collective belt, the quartet signed with Alias Records in 1994, then spent the ensuing five years working, writing and touring as hard as any of their peers. When they broke up in 1999, however, they had little to show for their efforts beyond a very small cult following and a drummer with severe Carpal Tunnel.
Archers deserved better, as their eloquently queasy guitars, non-sequitur lyrics and profanely barked vocals predicted the next era of punk-based indie rock (as well as late-'90s self-absorbed mook rock, but don't hold that against them). Like so many lo- to mid-fi bands of the era—the Grifters, Superchunk, Strapping Fieldhands—they were overshadowed by Pavement and Guided by Voices, who at the time stood in for some many less-popular but still vital bands.
In 2011, things are definitely getting weird: In January, Archers played their first show together in thirteen years, a small, unannounced opening slot for the Love Language. That low-stakes reunion show lead to an ongoing weekend-warrior tour that saw the band playing to aging fans and to newbies who discovered them through such Gen-Next acts as No Age, Yuck, and Wu Lyf. Now Merge Records is launching a reissue series that will finally put the band's catalog back in print after too many years as collector's items and used CD bin discoveries.
First off is Archers' 1994 debut, Icky Mettle, a collection of tightly coiled songs that might be about a break-up or about the group's reservations about investing in a band. "It's awful self-indulgent to think that you might like this song," Bachmann sings on "Might," as his and Eric Johnson's guitars slash violently at each other. This is '90s indie at its most self-aware, its most bilious and contradictory.
Archers' gift for tense melody and slack countermelody distinguished them from their peers at the time and still makes these songs sound caustic and urgent so many years later. These songs are glommed in dissonance and noise, yet reveal a skewed pop sensibility. Opener "Web in Front" sets one catchy hook over a second catchy hook, one guitar theme underneath the main, and the crosscurrents lend Bachmann's coded lyrics about peanuts, spines, and webs something that's awfully close to insight.
With its barrage of guitars and vocals, "Sick File" is barely one step removed from '80s hardcore and its attendant fast-and-loud aesthetic, and "Last Word" is post-grunge indie with coarsely anthemic guitars and all-messed-up-inside sentiments. Yet, for all their glorious bluster, these songs are complex and often eloquent—simultaneously cerebral and emotional, heady and devastating. Merge's new remaster brings out these contrasting elements, which sound all the more abrasive and aggressive so many years later.
In that regard, the second disc of early singles, b-sides and EP tracks provides a useful contrast, revealing not only the various layers of rhythm and melody intersecting furiously in each song but also the different levels of lo- and mid-fi the band mastered. Barring some future set that includes vials of the musicians' blood, sweat, and tears, this will stand as the definitive version of Icky Mettle—an answered prayer to new and old fans that makes these songs sound startlingly present.