Austra Is Too Afraid to "Risk It" on First New Single in Three Years
Photo by Virginie Khateeb
Music
News
Austra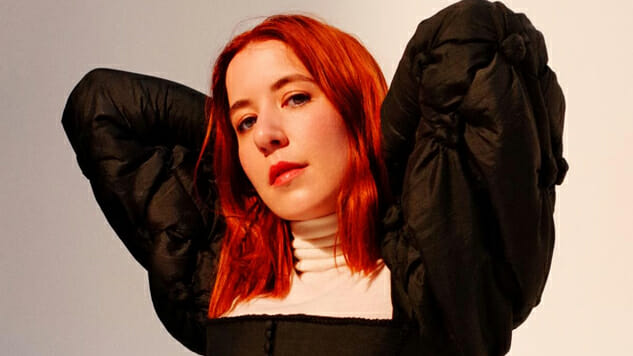 Wednesday, Canada-based act Austra (aka Katie Stelmanis) shared her first piece of music since 2017's Future Politics, further defining the dark synth-pop sound she has been crafting for the last decade. The track, titled "Risk It," also received an accompanying video.
The cinematic takes place over the course of one night, and portrays a vulnerable relationship between two women. The video is inherently queer, showcasing an emotional fragility hearkened by Stelmanis' anthemic, digitally altered falsetto. The track's brassy, percussive sound makes it distinctly new wave and gothy, crafted in collaboration with producers Rodaidh McDonald (The xx, Adele, Savages), Joseph Shabason, Canadian cello duo Kamancello and noise artists c_RL. At its chorus, the track reaches fever-pitch heights, creating a prism of honesty, fear and love. "I'm too afraid," Stelmanis coos, then slides to an inhumanly high register, "to risk it."
"I was losing faith in my own ideas," Stelmanis admits in a statement. She notes she had reached a point within a toxic relationship where she had to cut herself off, to retreat from the professional world and her own personal life. You can see it in the track—despite the big, dancefloor moments on "Risk It," it sounds inherently introverted, offering just a hint of weakness before it curls back in on itself.
You can view the music video for "Risk It" and check out Austra's upcoming tour dates below.
Austra Tour Dates
May
05 – Toronto, Ont. @ Longboat Hall
07 – New York, N.Y. @ The Sultan Room
12 – London, U.K. @ Hoxton Hall
13 – Paris, France @ Le Badaboum
14 – Barcelona, Spain @ Mil.Leni Festival
16 – Palma de Mallorca, Spain @ Mallorca Live Festival
18 – Berlin, Germany @ Theater Im Delphi
20 – Warsaw, Poland @ Niebo
21 – Vienna, Austria @ WUK
22 – Madrid, Spain @ Tomavistas Festival