Belle & Sebastian Forgot Their Drummer in a North Dakota Walmart
Hey, people forget things in Walmart all the time.
Music
News
Belle & Sebastian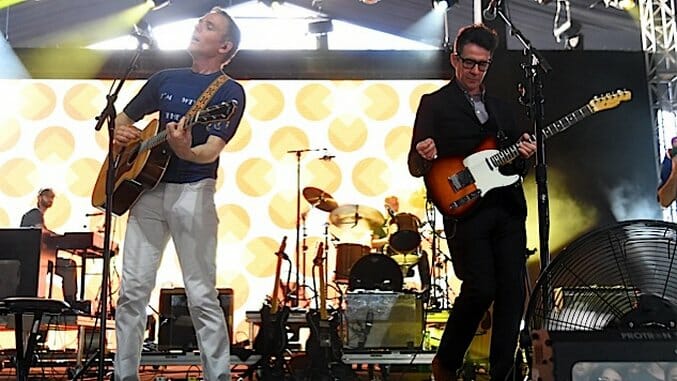 People forget all kinds of things in Walmarts—wallets, credit cards, that last bagful of Chinese-made goods. Last night, Scottish band Belle & Sebastian managed to leave a Walmart in North Dakota without their drummer and proceeded to drive to their next gig in Minnesota without him.
According to frontman Stuart Murdoch, the group had stopped at the Walmart in Dickinson, N.D., for water on their way out of the state. "I was coming out of the Walmart, and [drummer Richard Colburn] was coming into the Walmart, and he was waving very happily, in a good mood," Murdoch told the Current.
"And that was the last time that we saw him."
How do you forget a person in a Walmart—and not realize it until the next day? As Murdoch explained it, the band used to have a system for alerting the bus driver that everyone was back onboard, involving a pass left on the passenger seat. In the era of cellphones, though, "everybody's got a little bit blasé about it."
Colburn, who of course had left his phone on the bus and was wearing his PJs, sat in the Walmart for several hours figuring that the band would realize he wasn't there and circle back. When that didn't happen, he checked himself into a local hotel and went to bed.
That's when Murdoch turned to Twitter, of course. "I just remember there was an episode of The West Wing where the President's daughter went missing," he told the Current. "And I thought, 'What did they do then?' And the word was, get the word out there!"
Belle & Sebastian, after all, had a gig to play in St. Paul the next night.
Shit, we left Richard in North Dakota. Anyone want to be a hero and get him to St Paul, Minnesota somehow. The gig hangs in the balance..????

— stuart murdoch (@nee_massey) August 15, 2017
A hero is what they needed, and a hero is what they got.
UPDATE: we're getting him in a car to Bismarck, a flight to Minneapolis. we should be ok for tonight. ????

— stuart murdoch (@nee_massey) August 15, 2017
Thanks for your help folks. We have Richard on a plane now, so everything is ok. He's in his pyjamas, sitting with a mimosa ????????

— stuart murdoch (@nee_massey) August 15, 2017
Colburn eventually made it to St. Paul in time for Belle & Sebastian's show at the Palace Theatre. No hard feelings?
None of us will ever dare get off the bus again https://t.co/3S7f3164Hz

— belle & sebastian (@bellesglasgow) August 16, 2017