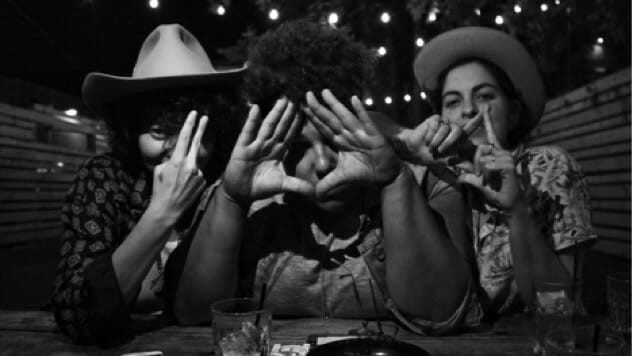 Brittany Howard, lead singer of blues-rock band Alabama Shakes, and her side supergroup Bermuda Triangle have released a new single titled "Till the End of Days."
The Nashville-based trio is made up of Howard, Jesse Lafser and Becca Mancari. The group formed last year (after meeting "in a church of Scientology," Howard joked) and have previously released two other singles, "Rosey" and "Suzanne." Each woman provides skilled vocals to create a balanced blend of rich harmonies.
Lafser and Mancari have solo work of their own. Last year, Mancari put out Good Woman, which you can see her perform at the Paste Studio below. Lafser's follow-up to her 2015 record Raised on the Plains will be released later this year. Aside from Alabama Shakes, Howard has also performed with garage-rock side project Thunderbitch.
"Till the End of Days" sounds like an private portrait of love, as the three women's voices combine in soft, echoing harmonies to gorgeous effect. "Maybe God, maybe God, maybe God does exist / Because of the way you look at me / On mornings like this," the trio sings. There's a rusticness to the track in its simplicity, like it belongs to some unexplored frontier instead of Spotify.
Bermuda Triangle are playing a few festivals this summer, including XPoNential in Camden, N.J. (July 27) and the Newport Folk Festival in Newport, R.I. (July 29). If you can't make either of those, enjoy "Till the End of Days" below. See Howard perform with Alabama Shakes at Paste's office way back when in 2011 further down, and keep scrolling to watch Mancari's set at the Paste Studio.